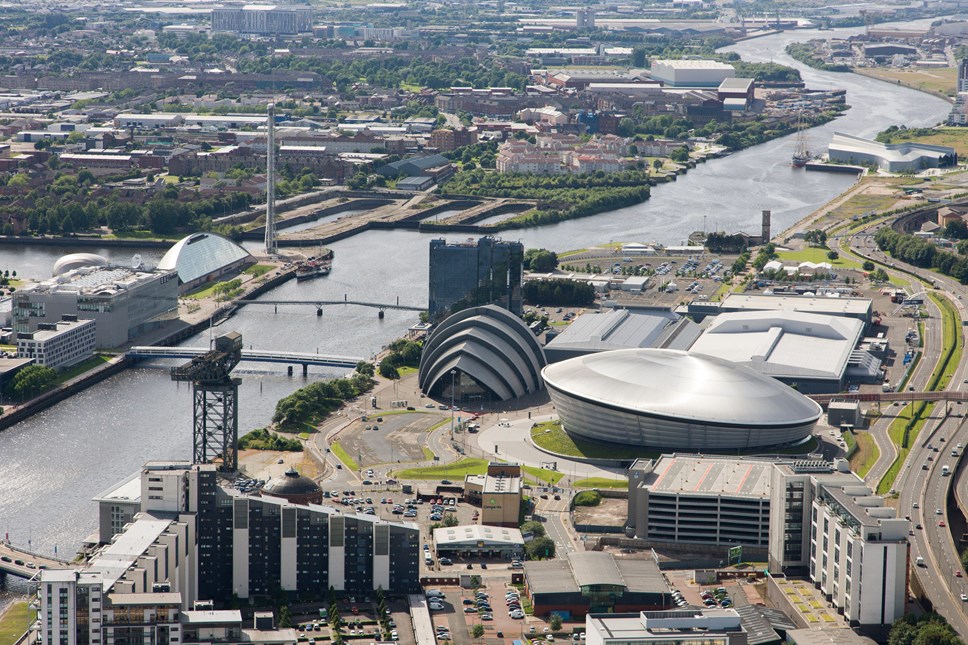 COP26 to showcase Scotland's global commitment to a net zero future
As COP26 gets underway in Glasgow, there's global interest in Scotland. Writing for Taiwan outlet, CommonWealth Magazine our interim Managing Director, Neil Francis outlines Scotland's low-carbon activities and ambitions
For the first two weeks of November, the eyes of the world will be on Scotland.
Leaders, negotiators and diplomats from all four corners of the globe, including those from Asia, will converge on our largest city, Glasgow, as it hosts the 2021 United Nations Climate Change Conference, otherwise known as COP26.
The stakes are high. As Scotland's Net Zero Secretary Michael Matheson has made clear, COP26 represents the world's best chance – perhaps one of our last chances – to avert the worst impacts of climate change.
Climate change is rightly recognised as one of the most pressing issues of our time. It threatens the lives and livelihoods of billions of people due to potential natural disasters, environmental decline and extreme weather patterns.
So, the time to act is now. COP26 will bring parties together to accelerate action towards the goals of the Paris Agreement and the UN Framework Convention on Climate Change. The aims of COP26 are clear: secure global net zero by the middle of the century and aim for limiting global warming to 1.5 degrees.
Given COP26 has such high ambitions, it is fitting that Scotland will host the summit. Our country has world-leading climate change legislation that sets a target date for net zero emissions of all greenhouse gases by 2045.
Climate change leaders have praised Scotland's net zero ambitions. For example, former Executive Secretary of the United Nations Framework Convention on Climate Change, Christiana Figueres, said Scotland's ambition on renewables and low carbon was a "shining example" to other countries.
As the birthplace of the industrial revolution, it's right that Scotland is at the forefront of the green revolution. And it's that positive mindset all of us here at Scottish Enterprise, Scotland's national economic development agency, are taking when it comes to supporting the delivery of a net zero economy.
Scotland's hosting of COP26 is a once in a lifetime opportunity to inspire Scottish businesses to go further and faster towards a net zero transition.
Having such a global event on our doorstep will allow us to highlight our innovative companies that see the economic opportunities which exist in a net zero future, and also showcase Scotland as an incredible investment opportunity for global businesses to achieve their net zero aspirations – after all, we are the most attractive location for inward investment in the UK outside of London.
Scottish Enterprise is working with partners and experts to ensure COP26 has a lasting legacy for Scotland's Just Transition to net zero. We are delivering numerous business and international investor events during COP26 focused on key opportunities including hydrogen, decarbonising heat and Carbon Capture, Utilisation and Storage.
Throughout COP26, we will be sharing best practice with our international partners, informing them how Scotland intends to achieve a net zero economy. Scottish Enterprise has a critical role to play, helping businesses transition and capitalise on alternative low-carbon, renewable energy and climate opportunities globally, utilising the skills honed by their exceptional staff.
Scottish Enterprise has placed the net zero transition at the heart of all our plans and activities. Our Net Zero Framework for Action, published in June 2021, explained how we can be a catalyst for change in accelerating Scotland's just, net zero transition.
This framework commits Scottish Enterprise to:
Expanding net zero opportunities for businesses, industries and investors
Supporting a just transition that safeguards and creates good, green jobs
Leading and influencing change, incentivising more businesses to commit to sustainable practices and maximise the legacy of COP26
Becoming a net zero organisation – aiming to become net zero by 2040. We are making good progress in meeting our interim target of reducing emissions by 75% by 2030

Scottish Enterprise's support for companies in Scotland has assisted so many firms with their net zero ambitions, including:

Emergency One – a Scottish fire appliance manufacturer has created the world's first electric fire engine thanks to Scottish Enterprise grant support
Orbital Marine – Scottish Enterprise's long-term support and funding has facilitated the world's most powerful tidal turbine in Scotland – the latest device, the 02, is now exporting clean power at the European Marine Energy Centre in Orkney


But our net zero activities are not just limited to Scotland's shores.

The international trade and investment arm of Scottish Enterprise, Scottish Development International (SDI), has a presence in more than 30 locations across the world, including Beijing, Tokyo and Taipei, where our Head of Energy and Low Carbon Transition, Asia Pacific, Kevin Liu, is based. These in-market specialists bang the drum for Scotland on a daily basis, opening doors for Scottish companies and delivering inward investment projects for our country.

Taiwan has become one of Asia's top offshore wind markets and will contribute significantly to wider, regional decarbonisation efforts through the development of its industrial capabilities and skills base. More than 20 Scottish companies already operate in Taiwan's offshore wind markets, bringing our supply chains closer together.

Taiwan also leads Asia on fuel cell technology and is set to play an important role in the global hydrogen economy. There is significant potential for Scotland and Taiwan to partner on bilateral hydrogen opportunities, including long-distance road transportation and the production of green hydrogen.

Our work in Taiwan demonstrates how Scotland's commitment to inclusivity and net zero can be shared via our trading relationships.

Having an approach that's transparent on what a country stands for in this pursuit is critical and that's why Scottish Enterprise welcomed the publication of the Scottish Government's Vision for Trade at the start of 2021.

The blueprint introduced a values-based approach to Scotland's international trading relationships, setting out five, interdependent principles that will guide all future decisions. Two of these principles are net zero and sustainability.

Our trade specialists based both in Scotland and overseas have been aligning their activities to meet these opportunities and the principles set out within the Vision for Trade. By doing this, Scotland is showing the world that we are an open and welcoming nation and a leader on social justice, just transition and climate ambition.

So, Scotland is ready to host COP26 and be a good global partner. At Scottish Enterprise, we are ready to share our story with the world about what we are doing to support our country's transition to a net zero future.

------------------------------------------------------------------------------------------------------------------------------------------------------------------------Neil's editorial was published by CommonWealth Magazine on 29 October. You can also view the online version of this article here: https://english.cw.com.tw/article/article.action?id=3108