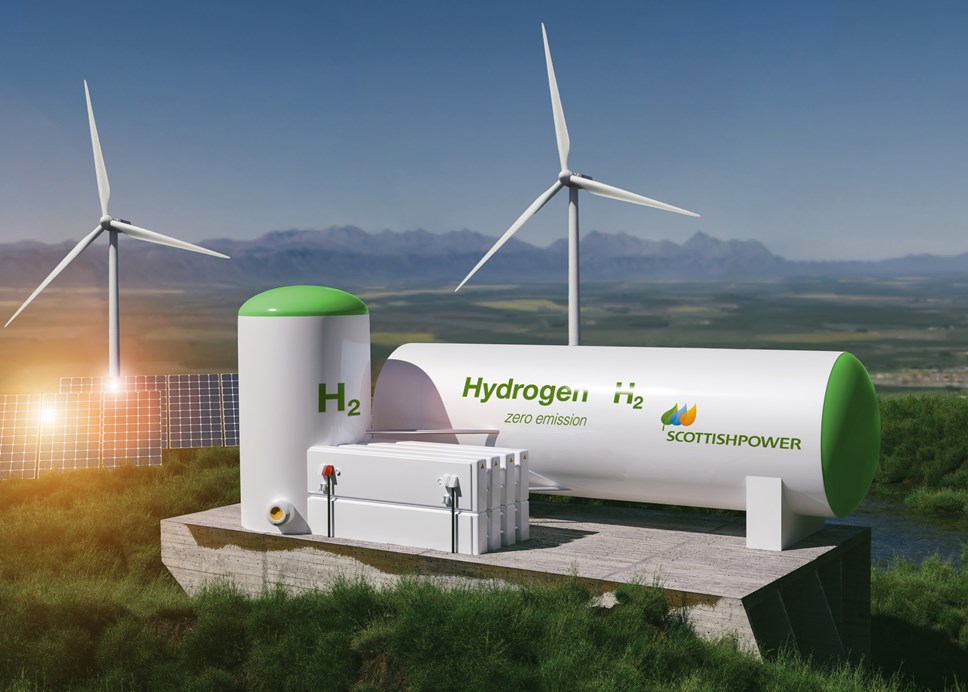 From a wee dram to a Green Hydrogen economy, Scotland powers ahead
As the E-world Energy & Water in Essen, Germany begins today (Tuesday, 23 May), our Berlin-based SDI Trade Specialist Steve Taylor highlights the potential Green Hydrogen export opportunities that exist in Germany for Scottish companies
Anyone fortunate enough to have visited Scotland and experienced its stunning landscape will know that the climate has shaped the land and developed a society that lives in harmony with nature, utilising the strong winds and heavy rains to its unique economic advantage.
First there was whisky, with the fertile soils and plentiful rain enabling robust cereal growth, and pure river water that helped make our national drink. Scottish engineering expertise then created the distilleries and with innovation and determination, took the resulting product from the northern tip of Europe to all corners of the globe in what remains an incredibly important export industry for the country.
As time moves on, those same characteristics are helping shape Scotland's new great export opportunity – Green Hydrogen.
With a pioneering offshore wind industry and one of the world's largest offshore leasing rounds, ScotWind, which will deliver up to 27GW worth of new offshore wind power, those strong winds that blow in from the North Sea are not just shaping the landforms but are also generating renewable energy. Scotland's 12,000 kilometres of coastline and almost 800 islands make it perfectly positioned to take advantage of the natural energy contained in the big blusters that blow its way.
Other than natural resources, what factors influence Scotland's potential to be one of the greenest energy economies in the world? What will we do with all this energy? And where does Hydrogen fit into the story?
Scotland was the first nation to announce a climate emergency. The Scottish Government has also set some of the highest climate change targets in the world and introduced supportive net zero policies, including:
Net zero by 2045
75% reduction of GHG emissions by 2030
Low carbon heating from 2024
Decarbonisation of cars by 2032; trains by 2035; flights by 2040
Green and fair recovery, with opportunity for a more equal society and economy
Hydrogen-specific aims are:
5GW of Green Hydrogen production by 2030 and 25GW by 2045
Up to 94 TWh green hydrogen for export
£100 million of funding to develop the hydrogen economy with industry and international partners
Continue accelerating demand and move small pilots to large commercial projects
Scotland's industrial heritage is clear for all to see. In the early 1970s when oil was discovered in the North Sea, some industry experts said it would never be exploited with such deep waters and tough weather conditions.
However, with true Scottish grit, innovation and engineering excellence, the North Sea oil and gas industry evolved and successfully developed a Scottish workforce with now more than 40 years' experience. As Scotland now carefully undertakes a just transition away from fossil fuels and towards a zero-carbon economy, those skills and experiences are being fully utilised to deliver a successful renewable energy industry.
Scotland is already home to the world's first floating offshore wind farm (Hywind), one of Europe's first Hydrogen valleys in Orkney and the world's first fleet of fuel cell double decker buses in Aberdeen. The country is a net exporter of electricity, with the renewable generation in 2021 enough to power all households in Scotland for three years. With ScotWind coming on stream towards 2030, much of this new renewable energy will likely be exported in the form of Green Hydrogen. Flotta in Orkney is an example of a largescale Green Hydrogen project that will use the new offshore wind resources and deploy German technology and Scottish skill in a joint development that enhances Scottish-German energy linkages.
Another international example is the Scot2Ger project, which demonstrates the viability of generating Green Hydrogen through ScottishPower's onshore wind resources and exporting to Germany to help power German industries. While this study looks initially at transport via shipping, a new project linking the Scottish Net Zero Technology Centre with Germany is taking further steps and establishing the basis for a hydrogen pipeline between the two countries.
This indicates that Scotland is a country that relishes the creation of international partnerships that increase innovation and strengthen global trade links, particularly in sectors where Scotland's greatest export strengths currently lie, such as Energy and Low Carbon Transition.
Adrian Gillespie, Chief Executive of Scottish Enterprise, Scotland's national economic development agency, said: "Scotland is a leader of the energy and low carbon transition, with a growing hydrogen supply chain, innovative firms and an international outlook.
"We welcome international businesses who value a fair, sustainable and low-carbon future and I would encourage companies to get in touch with Scottish Enterprise to hear more about what we have to offer."
Of course, the question will be whether Green Hydrogen can enhance the Scotch Whisky industry.
It's too early to say what impact hydrogen might have on the taste of whisky – we'll have to wait another 12 years while the whisky matures in its barrels before we know that. However, the reduction in CO2 emissions across the industry is already impressive.
Since adopting an environmental strategy in 2009, industry-wide emissions in Scotland have fallen by 53%. New distilleries such as Arbikie are currently installing hydrogen boilers in their plans to be the world's first carbon positive distillery, while the Nc'Nean distillery is already Europe's first certified net zero distillery.
Older distilleries such as Bruichladdich and Highland Park are in the process of converting their heating processes to Hydrogen. Glenrothes on Speyside was already the world's first to use its draff –biodegradable waste – to generate heat through biogas, which has now extended to heat 17 Speyside distilleries and 9,000 nearby homes.
So, a people shaped by a harsh climate, who understand those weather systems and how they influence the land, that work with nature to produce the world's finest national drink are now working with the same nature to decarbonise our energy systems, reduce global climate concerns and export Green Hydrogen to the industrial powerhouses of Central Europe that need international help in their aims to decarbonise.
Let's raise a glass and say Slàinte Mhath to the Scottish Green Hydrogen industry!
----------------------------------------------------------------------------------------------------------------------------------------------------------------------------
Steve's editorial was initially published by the E-World Preview in its May 2023 edition. You can read this here (pages 30-31): https://www.yumpu.com/en/document/read/67942457/e-world-p-review-23-01