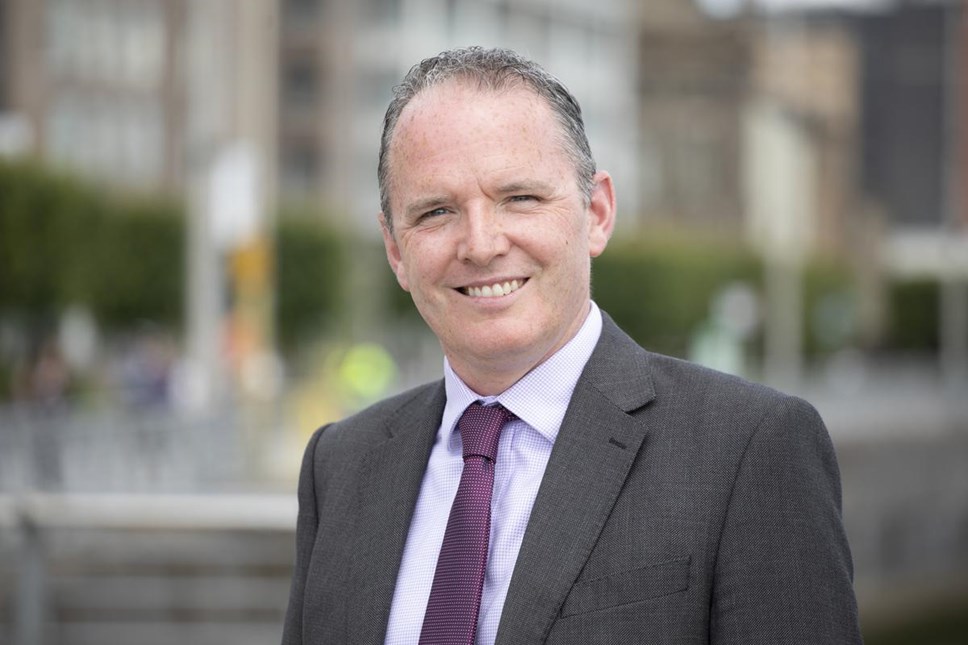 Global appetite to be part of Scotland's financial services sector continues
Writing for Scottish Financial Enterprise, Scottish Enterprise CEO Adrian Gillespie explains why companies in the financial services sector choose Scotland for international growth
Scotland is synonymous with financial services.
Ever since the creation of the Bank of Scotland at the end of the 17th century, our country has enjoyed a reputation for monetary excellence.
But as important as it is to recognise those past achievements, time stops for no one. Through technological advances, the world has become a smaller place and other countries have emerged as important financial centres.
As with other sectors, attracting financial services inward investment to Scotland has become incredibly competitive with more nations and regions committing resources to secure investment projects.
However, given our unyielding commitment to innovation, world-class workforce, outstanding universities and the technological expertise that exists on our shores, multi-national companies in the financial services sector, no matter where their HQ is located, continue to choose Scotland to support their global growth ambitions.
Financial services is critical to Scotland's economy. According to SFE, financial services is the biggest sectoral contributor to Scotland's economy, representing £13.6 billion. Financial and insurance activities also account for 7% of Scotland's total exports.
And companies that are headquartered outside Scotland have contributed significantly to those numbers.
Scottish Government figures show financial and business services companies that are registered overseas account for 19.4% of the sector's total employment[1]. Scotland also attracted 1.5% of the total financial services projects that came into Europe and 0.7% of the jobs over the last three years.
Once multi-national financial services companies arrive in Scotland, we find they inevitably want to stay.
For example, last month BNP Paribas officially opened its new offices at 177 Bothwell Street in Glasgow. The 20,600 sq. feet of offices will accommodate the BNP Paribas' 300 employees, demonstrating the company's commitment to Scotland. BNP Paribas also has an office in Dundee.
Meanwhile, JP Morgan Chase (JPMC) will shortly underline its own long-term commitment to Glasgow as it prepares to move to a new city centre site. The company, which employs more than 2,200 people in Glasgow, will relocate to Argyle Street next year which could further increase JPMC's Scottish headcount.
And last year, Barclays formally opened its new campus in Tradeston. The campus increases the strategic importance of Glasgow to Barclays' future, and this was a project we were delighted to support.
So, what's attracting such institutions to locate and grow in Scotland?
Scotland's financial services sector is regarded as one of the leading finance centres in Europe, offering a breadth of services. We have a thriving ecosystem consisting of more than 2,000 financial services businesses.
Working in partnership with industry are our universities, three of which are in the top 200 and five in the top 250. Nine Scottish universities provide more than 50 specialised finance-related courses, and 8,500 students study finance and accounting in Scotland's universities each year.
This means Scotland is blessed with an incredibly skilled and diverse workforce, something we know is key for international companies when choosing a location for growth.
Having so much talent means Scotland is a hotbed for innovation, which is evident in our thriving fintech sector.
Scotland is now home to more than 200 fintech enterprises, focused on open finance data, climate finance, payments, and transactions and financial regulation. The sector has a strong international reputation and in September, FinTech Scotland was recognised as a leading Fintech Cluster Management Organisation in Europe.
Scotland's fintech sector is also an exemplar of partnership working in action. We have adopted a 'Team Scotland' approach, which sees public bodies, academia and industry work together to promote the very best Scotland has to offer. Businesses have told us that this joined-up approach is a reason why they chose Scotland.
By bringing together all partners, we can also create, co-develop and share knowledge, leading to more innovation to unlock Scotland's economic potential.
And finally, we are finding our values-led approach to attracting global projects is resonating with investors. Scotland's leading role in tackling the global climate emergency has been underlined by international companies choosing to develop their low-carbon projects here, while all partners are committed to developing Scotland as a Centre of Excellence for Green & Sustainable Finance[AG1] .
Alongside the quality of life on offer in our beautiful country – not to mention lower costs compared to other financial centres – these are the reasons why global finance companies continue to choose Scotland.
It's a compelling case and explains why Scotland remains the most attractive location in the UK outside of London for Foreign Direct Investment. This is also the proposition our SDI inward investment specialists based in more than 30 locations across the world, alongside our prestigious international networks such as GlobalScot, share with globally minded firms and investors.
Financial services in Scotland is a historic industry with a bright future and Scottish Enterprise is committed to promoting this globally to encourage even more companies to invest, locate and grow here. We value our relationship with SFE and its members and would welcome the opportunity to explore joint promotional opportunities.
Our door is always open and together, we can continue to highlight why Scotland remains an international centre of financial excellence.
[1] Growth Sector Briefing - Financial and Business Services, Office of the Chief Economic Adviser, 7 September 2022
---------------------------------------------------------------------------------------------------------------------------------------------------------------------
Adrian's editorial was initially published by Scottish Financial Enterprise on Wednesday, 16 November. You can view this here: https://www.sfe.org.uk/news-database/global-appetite-to-be-part-of-scotlands-financial-services-sector-continues