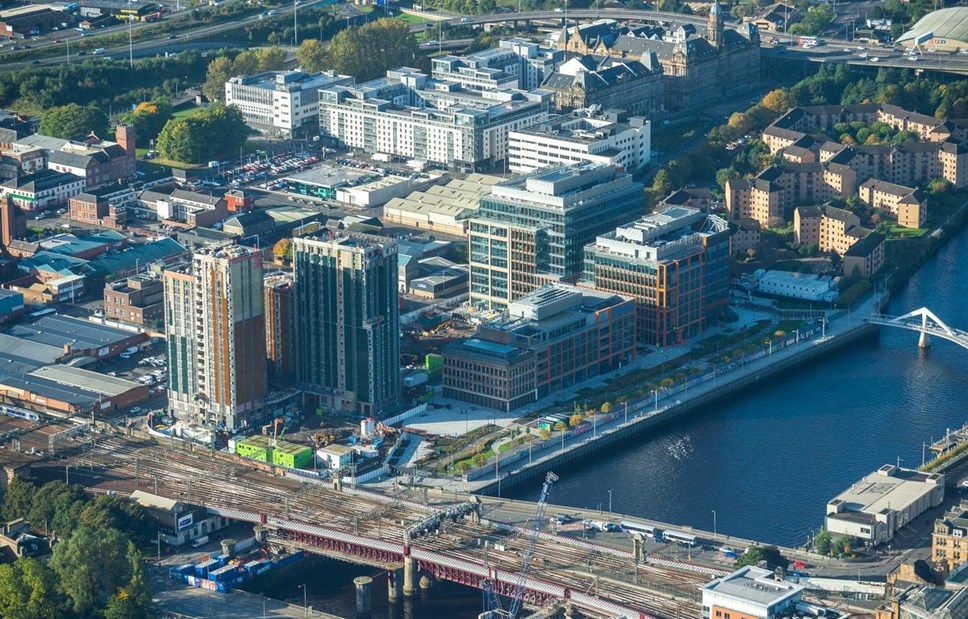 Reasons to be cheerful as Scotland remains magnet for inward investment
Our interim Managing Director, Neil Francis looks ahead to 2022 and Scotland's ongoing ability to attract global economic opportunities
As one year ends and another begins, there's always a collective sense of optimism. Resolutions are made and hopes are renewed.
And while confidence has been in short supply because of the COVID-19 pandemic, there's every reason to believe that Scotland will continue to be an unparalleled destination for international companies to locate, grow and flourish in.
For those of us working in international trade and investment, we start 2022 in good heart. The previous year ended on a positive note, with 14 tech companies choosing Scotland in the last quarter as a business location, creating more than 500 jobs between them.
Attracted by Scotland's burgeoning reputation as a global digital and analytics hub, North American companies such as Sparkgeo and Channel Bakers opened new offices here, while innovative firms including Bigtincan and Global have unveiled plans to create tech hubs on our shores.
Scotland's reputation for digital excellence has also recently been bolstered following analysis from the UK's Digital Economy Council, which named Edinburgh as one of the UK's leading tech cities. And only this week, FinTech Scotland research revealed a 27% increase in the number of fintech enterprises in Scotland, many of whom are international firms.
All of this good news followed fast on the heels of a successful COP26 in Glasgow in November, where Scottish Enterprise was thrilled to announce many inward investment projects that will take place in Scotland.
This included Dutch-headquartered global health & nutrition company, DSM choosing its site in Dalry, North Ayrshire to manufacture its ground-breaking feed additive, Bovaer®, which results in a 30 per cent or more reduction in methane produced by cattle. The project, supported by Scottish Enterprise, will create and safeguard hundreds of high-quality jobs.
Meanwhile, Mitsubishi Electric Air Conditioning Systems Europe Ltd revealed that it would invest £15m in its manufacturing facility in Livingston to develop the next generation of heat pumps. Scottish Enterprise is contributing to the company's investment project with a wide package of support, creating and protecting almost 400 jobs.
Indeed, Scottish Enterprise figures show that we secured more than 4,300 planned real living wage jobs for Scotland through Foreign Direct Investment (FDI) in FY20/21.
Scottish Enterprise supported 74 inward investment projects in FY20/21, ranging from companies headquartered in North America, Asia, continental Europe and Australia. Thirty of these were new investor projects choosing to locate in Scotland for the first time. In total, inward investment accounts for approximately 34% of employment (624,000 jobs) in Scotland.
Despite global flows of FDI dropping to a 30-year low due to COVID-19, this is an admirable performance and underlines that Scotland remains an incredibly attractive location for overseas investors.
Looking forward to the year ahead, our dedicated specialists based here and in more than 30 locations around the world, alongside our prestigious international networks such as GlobalScot, will continue to promote Scotland as a perfect place for companies to locate. This is due to our incredible talent, competitive cost base, world-class universities and supportive business environment.
Using the Scottish Government's Inward Investment Plan as our North Star, we will focus our activities on delivering projects in opportunity areas where Scotland is a genuine world leader. These sectors include low carbon transition, digital, health and life sciences and high value manufacturing.
We already have a robust pipeline of inward investment projects for 2022 that will deliver economic opportunities for communities across Scotland, not to mention providing a catalyst for innovation, the sharing of ideas with native businesses and mutual growth. And the biggest winner of all will be the Scottish economy.
So, while we need to be mindful of COVID-19's ongoing impact on the economy, we can nevertheless remain positive that 2022 will continue to see international companies choose Scotland for growth. All of us at Scottish Enterprise will continue to highlight the very best our country has to offer to companies and investors alike over the next 12 months.