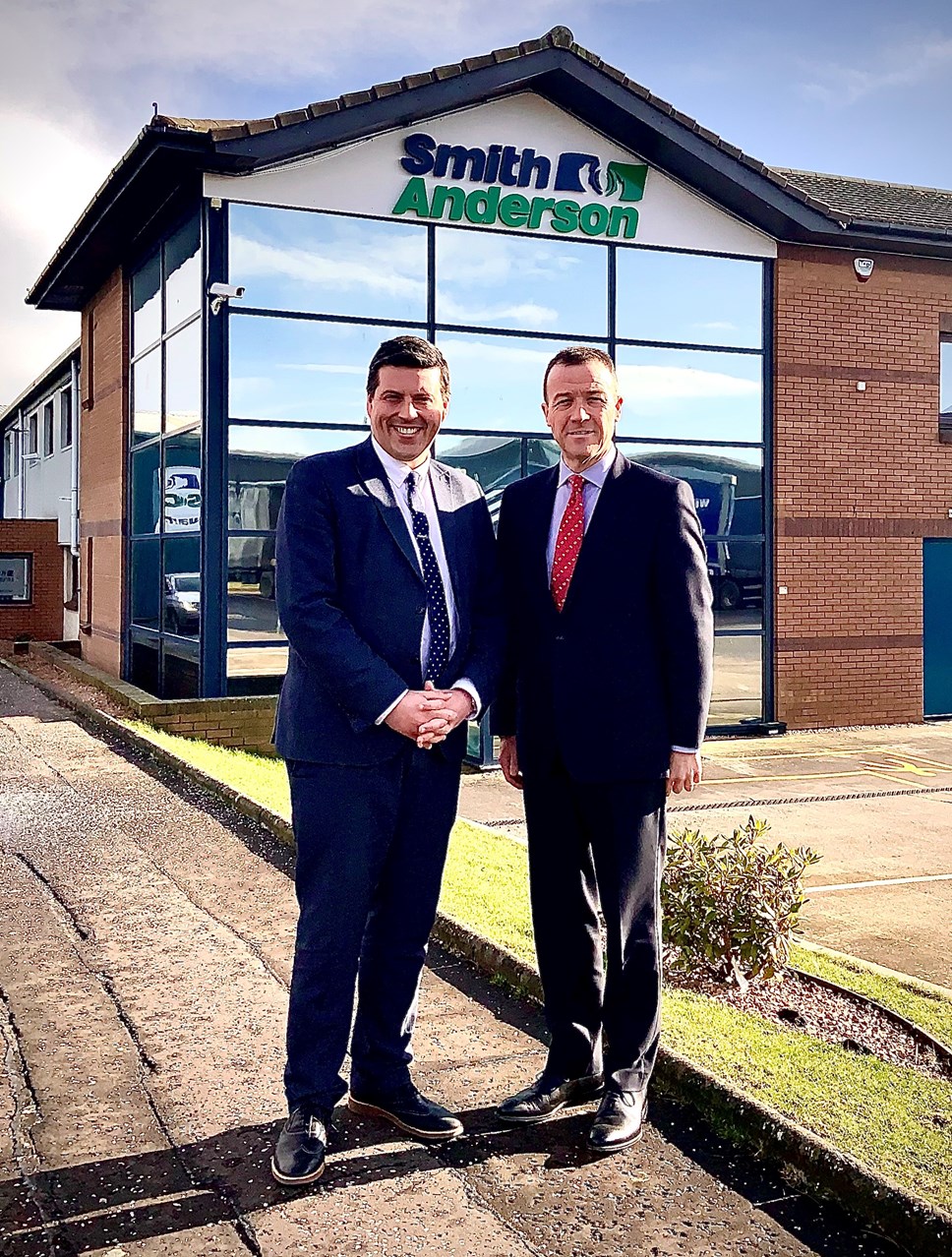 A Sustainable Future for Innovative Fife Firm Following Scottish Enterprise Support
A Fife family owned company that can trace its origins back 160 years to the mid-19th century is looking to the future after receiving a Scottish Enterprise RSA award.
Smith Anderson has invested in state-of-the-art machinery to increase capacity at their site in Kirkcaldy as part of a £3m capital investment, which includes a £450k Regional Selective Assistance grant from Scotland's national economic development agency.
The company, founded in 1859 with the purchase of the Fettykil Paper Mill in Leslie, will create 22 new jobs as part of an investment project, ensuring Smith Anderson remains the market leading paper bag manufacturer in both Scotland and wider Europe.
Speaking after a visit to the company today, Scottish Government Minister for Business, Fair Work & Skills, Jamie Hepburn, said: "Not only will this grant support jobs in Fife, it will also allow Smith Anderson to achieve more cost-effective production and increase their capacity, thanks to this new state-of-the-art machinery.
"It's crucial we continue to invest in our manufacturing industry and support innovation across Scotland to grow the economy, which we're doing through the £65 million National Manufacturing Institute Scotland initiative."
The machinery investment will allow Smith Anderson to deliver even more cost-effective production whilst increasing foundational machine capacity and operational output.
It will also allow the company, which now employs 243 staff, to target new customers, ensuring Smith Anderson meet the constantly increasing demands of its existing clients.
Smith Anderson's Chief Executive Officer, Michael Longstaffe, said: "After a number of extremely challenging years, during which we continued to invest, we can now celebrate the arrival of this new equipment. It consolidates our European market leading position, encourages growth and supports the hard work and dedication we enjoy from what is a fabulous 'Team Smith Anderson'.
"I am extremely proud of the company, what we have achieved and how well we have been supported by Scottish Enterprise in this process."
The new machinery enables Smith Anderson to capitalise on innovations it has brought to the food-service market, focusing on growing demands for sustainable home delivery packaging.
David Leven, Head of High Value Manufacturing at Scottish Enterprise, added: "We're committed to delivering investment and jobs into our communities. Our funding will help Smith Anderson hone its global competitive advantage by investing in modern and innovative technology and facilities capable of enhancing capacity and productivity.
"With innovation and sustainability at its heart, Smith Anderson's investment in new machinery demonstrates the company's commitment to deliver new products for today's emerging markets. I am pleased that the Minister had the opportunity to hear more about Smith Anderson's innovative plans.
"Smith Anderson has a strong standing in the Fife community, and they have again shown a real commitment to continuing to invest in the area and its people. We look forward to continuing our productive working relationship with the company."
Contact Information
Robbie McGregor
Notes to editors
The photographs shows Mr Hepburn with Michael Longstaffe, Chief Executive Officer of Smith Anderson