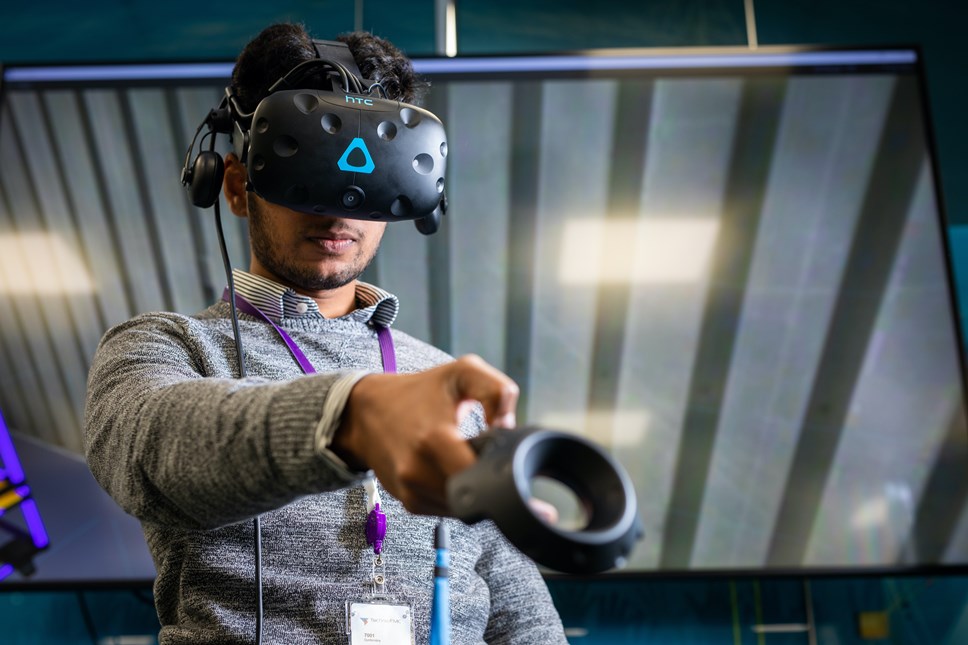 Adapt to survive and thrive in future, Scottish manufacturers hear
COVID-19 has shown Scottish manufacturers that technology and innovation can help them withstand future shocks like pandemics – as well as improving their efficiency, according to Scottish Enterprise's Scottish Manufacturing Advisory Service (SMAS).
Scotland's largest manufacturing conference, the SMAS National Manufacturing Conference 2021, will be held virtually on 15-16 June and is expected to bring together 600 manufacturers from across the country.
The event this year takes the theme of Making Scotland's Future and will showcase how Scottish manufacturers have responded to the pandemic.
It will also focus on how they recover in a sustainable way, by embracing new and low carbon technologies that will increase their competitiveness, which is particularly apt in the year that Scotland hosts COP26, the United Nations climate change conference. These technologies can also help Scotland meet its target of generating net zero emissions by 2045.
Nick Shields, SMAS director at Scottish Enterprise, said: "Similar to many parts of the world, Scottish manufacturing has been deeply affected by the pandemic, with output contracting more than 20% over the past 12 months and nearly half of industrial businesses reporting a decrease in turnover as a result.
"As manufacturers now emerge from the pandemic, they have an opportunity to re-imagine a business resilient future. Scottish Enterprise can help businesses consider new technologies that will not only help them do this, but make them more efficient and productive to exploit future growth opportunities."
Pre-COVID figures show that manufacturing was worth £12.5bn to the Scottish economy. It employed 170,000 people and generated £30bn in exports.
To support Scottish manufacturing over the course of this year, the Scottish Government, in partnership with its enterprise and skills agencies, industry partners, trades unions and academics, has developed a Manufacturing Recovery Plan.
This recognises the significant impact COVID-19 has had on manufacturing in Scotland and focuses on four priority areas: collaboration and networks, supply chains and competitiveness, adaptation and transformation, and skills and workforce, with a wide range of 21 actions for public agencies, industry and academia to take forward in order to secure a strong, sustainable future for the sector.
Mr Shields said SMAS's experience was that businesses who had already switched to using automation and cloud-based systems had been able to navigate the impact of the pandemic more easily than those who had yet to make those decisions.
Businesses attending the SMAS National Manufacturing Conference 2021 will be able to take part in workshops, clinics and best practice sessions on topics including supply chain resilience, Industry 4.0 technologies, leadership and culture, operational excellence and sustainability. There will also be networking through an online meeting hub and a virtual exhibition hall.
Globally recognised industry speakers will address the event. They include Henrick von Scheel, the Danish strategist best known for originating the concept of the 'Fourth Industrial Revolution' and Rami Goldratt, who has pioneered a solution to industrial bottlenecks known as the 'Theory of Constraints.'
Other keynote speakers include Kevin Sneader, the Scots-born global managing partner of management consultancy McKinsey & Company and GlobalScot, based in New York, and architect Indy Johar, a thought leader in system change and founding director of collaborative urban design studio 00 and urban renewal specialist Dark Matter Labs.
The SMAS National Manufacturing Conference 2021 is sponsored by Bank of Scotland, the National Manufacturing Institute Scotland (NMIS), Booth Welsh with iTech and Michelin-Scotland Innovation Parc.
Bank of Scotland is part of Lloyds Banking Group – the UK's largest Retail and Commercial Bank – and works with organisations from entrepreneurs and micro-businesses to large multinational corporations. Dave Atkinson, UK Head of Manufacturing at Lloyds Bank, said: "Manufacturing is the engine room of Scotland's economy – responsible for most of our exports, R&D and innovation – and it will be a critical enabler of Scotland's drive towards a net zero economy. As we emerge from the pandemic, there are huge opportunities to do things differently in Scotland and bring a positive reset to 2021. At Bank of Scotland, we're pleased to support this transition and the SMAS National Manufacturing Conference 2021."
The National Manufacturing Institute Scotland (NMIS) is a group of industry-led manufacturing research and development facilities with a manufacturing skills academy and a network of partners across Scotland brought together to boost the manufacturing community. Chief Operating Officer Sarah Jardine said: "Moving forward into a post-pandemic world, manufacturers will be faced with complex situations on a number of fronts, none more so than embracing the drive towards a net-zero economy. NMIS is here to help the community refocus, embrace innovation and seize the opportunities that can emerge from adversity. Collaborating and sharing knowledge is a key part of this journey, so we're delighted to be supporting the SMAS National Manufacturing Conference."
Booth Welsh is an engineering technology company that helps businesses improve industrial processes using digital technology. Booth Welsh Managing Director, Martin Welsh said: "There has never been a better time for Scottish manufacturers to embrace digital technology to achieve low carbon ambitions that will boost their bottom lines, as well as helping the planet. The climate emergency and COP26 United Nations climate summit puts Scotland on the global stage this year as a world leader in the race to net zero emissions. As a specialist in engineering transformation and automation, Booth Welsh is well placed to support the Scottish Manufacturing Advisory Service and Scotland's manufacturing sector to achieve this."
Michelin Scotland Innovation Parc is a 32-hectare site in Dundee being developed into a world class innovation centre in a joint venture between Dundee City Council, Michelin and Scottish Enterprise. Chief Executive Greig Coull said: "If we are to reach net-zero carbon emissions, manufacturing processes must evolve. As a new Scottish hub for sustainable mobility and decarbonisation, Michelin Scotland Innovation Parc will play a key part in supporting this transition. We're pleased to support this year's SMAS Conference and the important role manufacturing plays in Scotland's economy."
To book a ticket for the SMAS National Manufacturing Conference, please visit https://www.smas.co.uk
About SMAS
Scottish Enterprise's Scottish Manufacturing Advisory Service (SMAS) was established in 2004 to provide small and medium sized manufacturers with practical support and advice on new manufacturing technology and best practice. It helps businesses identify cost savings and efficiencies; adopt digital technologies; build a business improvement culture and identify supply chain opportunities. Specific services include an operational review to identify opportunities for cost savings and efficiencies and an Industry 4.0 Review to help manufacturers invest in the right digital tools to underpin growth and increased competitiveness. SMAS is part of Scottish Enterprise and has more than 20 advisers working across the whole of Scotland.
Contact Information
Ruth Andrew