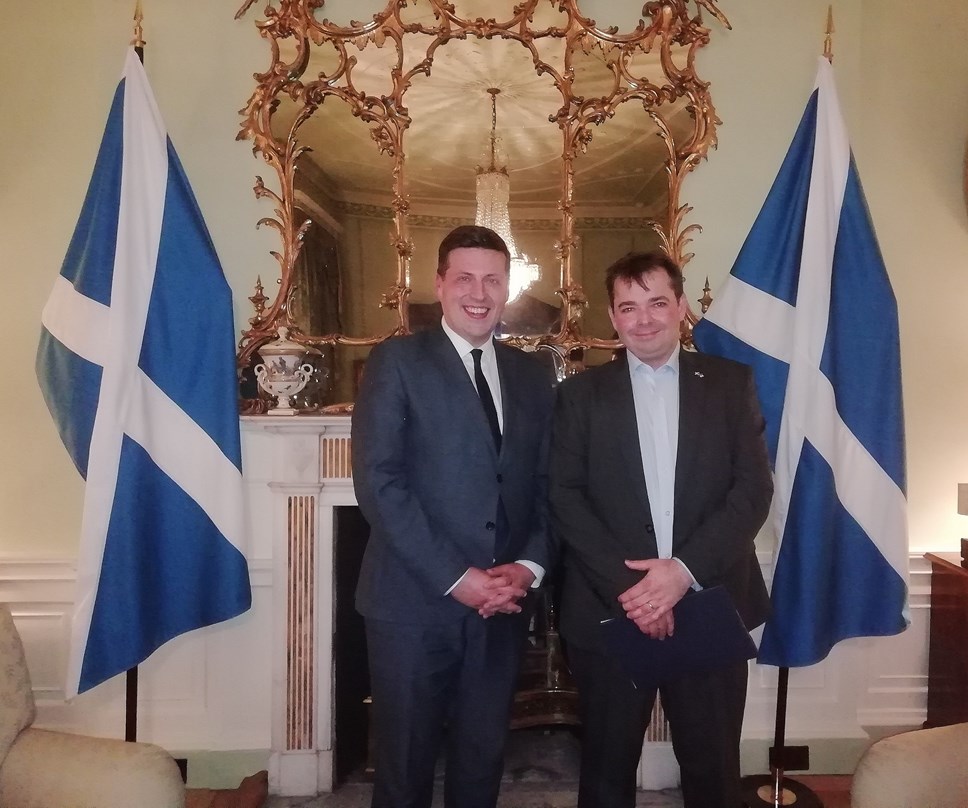 Canadian Fintech Leader Latest Addition to GlobalScot Network
As a delegation of Canadian Fintech leaders arrived in Scotland as part of a recent UK-wide trade mission, for one of the participants it marked a return home.
Robin Grosset, Chief Technology Officer of MindBridge Ai, a fast-growing Ottawa-based firm that develops artificial intelligence software for auditors, originally comes from Edinburgh.
Having grown up in Duddingston and attended George Watson's College, Robin's career path led him to Canada where he has developed an exceptional reputation firstly as an entrepreneur and then a technological innovator at MindBridge Ai, where he leads the development of a next generation AI Auditor that helps professionals detect and prevent financial anomalies.
And to coincide with Robin's return to Edinburgh, he was invited to join the prestigious GlobalScot network, a worldwide network of entrepreneurial and inspirational business leaders, dedicated to supporting Scotland's most ambitious companies.
Robin was officially welcomed into the GlobalScot network at a Bute House reception hosted by the Scottish Government's Minister for Business, Fair Work and Skills, Jamie Hepburn MSP, in honour of the visiting delegation on Wednesday, October 23.
Robin said: "My first company was registered here in Edinburgh eighteen years ago. A little later an acquisition took me to Canada.
"I am delighted to return home on this trade mission with this group of exceptional Canadian entrepreneurs. I want to thank SDI for hosting the mission. I see a lot of potential in connecting Scottish and Canadian innovators in this way."
Steve Dunlop, CEO of Scottish Enterprise, said: "Robin has built a wonderful career in Canada, so we are thrilled that he has become the latest addition to the GlobalScot network. His experience and willingness to support our efforts enhancing Scotland's international trade relationships, particularly with Canada, will be absolutely invaluable.
"As identified in the Scottish Government's A Trading Nation report and also in Scottish Enterprise's new strategic framework, Building Scotland's Future Today, there are big plans to expand and increase the contribution of our international networks. In particular, we will strengthen and realign our GlobalScot network to target key growth sectors within priority markets and markets of interest.
"It is vital that Scottish Enterprise and SDI are able to curate the talent our networks possess, organise them and point them in the directions we want to gain maximum benefit from it. We are building capacity, an engine room behind it that means if you are a GlobalScot you will be well informed, and you will know what you can contribute."
Robin has a track record as an entrepreneur, having founded successful software start-ups. He joined Cognos and then IBM through acquisitions, spending almost ten years with the organisation.
During this time, Robin was appointed an IBM Distinguished Engineer. At IBM, he was also part of the Watson group, where he served as technical lead and chief architect of IBM Watson Analytics.
Robin holds many patents in the areas of analytics, data processing and security. He achieved a first-class honours degree in Physics and Computing Science at Newcastle University
MindBridge Ai is a venture-backed Fintech company based in Ottawa, Canada. The company's main product, Ai Auditor, enables fast financial analysis capabilities that replace existing auditing tools and manual processes. Ai Auditor reduces the risk of missing errors or fraud within financial data.
With a total of 115 employees, MindBridge Ai has approximately 300 clients in 12 different countries, including the UK.
GlobalScots are experienced professionals who have built their reputations in the highest echelons of the international marketplace and have a real desire to give something back by helping Scottish companies to develop and grow.
The network boasts the brightest business brains in growth sectors such as financial services, technology, life sciences and tourism that can make connections, provide advice and open-up opportunities to Scottish companies keen to grow their business.
ENDS
Notes to Editor
Contact Information
Robbie McGregor