12 April 2018
CHINA OCEAN ENGINEERING SHANGHAI CO ANNOUNCES STRATEGIC INTENT TO ESTABLISH A PROJECT BASE IN SCOTLAND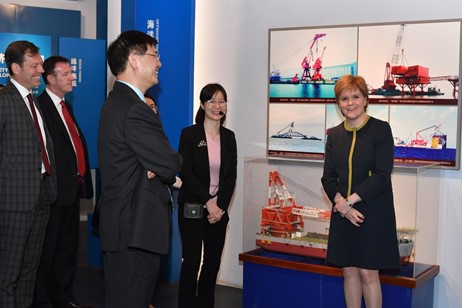 The China Ocean Engineering Shanghai Co (COES) have indicated their strategic intent to establish a project base in Scotland during a meeting with Scotland's First Minister Nicola Sturgeon in Shanghai.
COES is a Chinese state owned company, globally recognised for providing more than 60 years of service to the marine construction and offshore industry.
The company who specialise in offshore construction and decommissioning, ocean going towage, salvage and wreck removal and offshore renewable activity worldwide have been scoping out premises and port facilities to determine the best location logistically central to all the ports on the eastern seaboard of Scotland which will offer the capability and available capacity to serve offshore markets in the UK, Norwegian and Dutch sectors. Dundee has been selected as the location for the COES Scottish project office base. The company anticipates the creation of jobs in Scotland, linked to contract success.
This new presence will allow the company a better position to capitalise on the massive opportunity in Scotland's offshore oil and gas decommissioning market. Latest forecasts from the industry trade association Oil and Gas UK estimates decommissioning expenditure at £17 Billion on the UK continental shelf alone covering the period through until 2025. Forecast annual decommissioning spend on the Norwegian and Dutch sectors are put at between £400 - £800 Million and £650-£800 Million respectively.
The First Minister said: "I welcome the announcement that COES intends to establish a base in Scotland. Throughout my visit to China I have been travelling with the message that Scotland is a fantastic place to invest and do business. I look forward to hearing more details of COES's plans in due course."
COES has a flexible fleet of over 40+ specialised assets and an excellent track record of successfully completing the most complex of projects. It is hoped that the company's capabilities will prove of great interest to prospective clients in the UK, Norwegian and Dutch offshore sectors. COES has recently invested substantially in the construction of 2 new state of the art construction engineering vessels which are currently under construction and are expected to will bring pivotal and game changing marine capabilities to the region.
In 2017, COES received international acclaim by marine experts for successfully completing, arguably, one of most difficult offshore single lift wreck recoveries ever attempted. The Raising of SEWOL passenger ferry, which sank off the southwest coast of Korea was the most complex and sensitive of projects and by way of achievement it was a:
World first - single piece, intact wreck removal 7,900 MT from 45m water depth in extreme sea and seabed conditions.
World record trailer load in operation
Enviable Health, Safety & Environmental record which included 12,000 hours working under water.
Scottish Enterprise
is Scotland's national economic development agency and aims to deliver a significant, lasting effect on the Scottish economy. Our role is to help identify and exploit the best opportunities for economic growth. We support ambitious Scottish companies to compete within the global marketplace and help build Scotland's globally competitive sectors. We also work with a range of partners in the public and private sectors to attract new investment to Scotland and to help create a world-class business environment.
Follow us on Twitter at
http://twitter.com/scotent
Follow us on Facebook at
http://www.facebook.com/scottishenterprise