09 February 2017
Chinese Skymoons Investment in Edinburgh is a Game Changer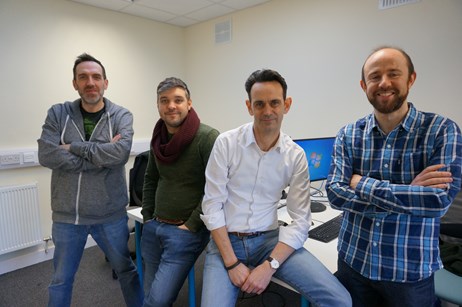 Mobile games giant Skymoons has launched a studio in Edinburgh – the first Chinese games investment Scotland has seen - creating initially 21 highly skilled games development jobs.
The studio will develop an MMO (multi player on line game) with Michael Boniface, formerly from Reloaded Productions, at the helm as Director. Mr Boniface, with his extensive experience of the games sector in Scotland has been able to identify appropriate, experienced talent able to support this development.
Skymoons has also been supported by Scottish Development International to help select Edinburgh for its new studio, allowing it to tap into Scotland's dynamic games industry based on a well-established reputation for excellence and innovation.
First established in Chengdu, a hotbed for game development in China, Skymoons Digital Entertainment Co is now one of the most established publishers of mobile games in the country, and currently expanding its business to the global digital entertainment market.
While this initial investment will create 21 jobs, the company are actively seeking more opportunities and hope to expand further over the next two years.
Michael Boniface, Director at Skymoons Edinburgh, said: "The establishment of Skymoons's new studio in Scotland is a game changer, and an exciting opportunity for those who make up the strong resource of locally based talent. I am very pleased to be representing Skymoons in this venture and will be recruiting new staff shortly, aiming for all 21 jobs to be filled by the end of June. We are delighted to work so closely with Scottish Development International in bringing this plan to fruition and are confident that it will have great success."
Minister for Business, Innovation and Energy Paul Wheelhouse said: "This is a great example of international investment in Scotland's growing digital economy and a good example of Scottish Development International support. Scotland is known around the world for our dynamic and successful creative industries – having produced some of the best known and bestselling games in the world.
and "This investment will help create a very welcome outcome for Edinburgh's games development sector. We wish Skymoons the very best of fortune with their new studio which I have no doubt can become yet another success story for the Scottish games development community."
Managing Director of Scottish Development International, Paul Lewis, said: "We are very pleased to welcome Skymoons to Scotland – an ideal location for its new studio. Scotland is a leading location globally for innovation in the games sector and Symoons will now join the many international investors who benefit from our competitive business environment, strong skills base and effective support network, which help make Scotland the top performing location for inward investment after London."
ENDS
Scottish Enterprise
is Scotland's main economic development agency and aims to deliver a significant, lasting effect on the Scottish economy. Our role is to help identify and exploit the best opportunities for economic growth. We support ambitious Scottish companies to compete within the global marketplace and help build Scotland's globally competitive sectors. We also work with a range of partners in the public and private sectors to attract new investment to Scotland and to help create a world-class business environment.
Follow us on Twitter at
http://twitter.com/scotent
Follow us on Facebook at
http://www.facebook.com/scottishenterprise