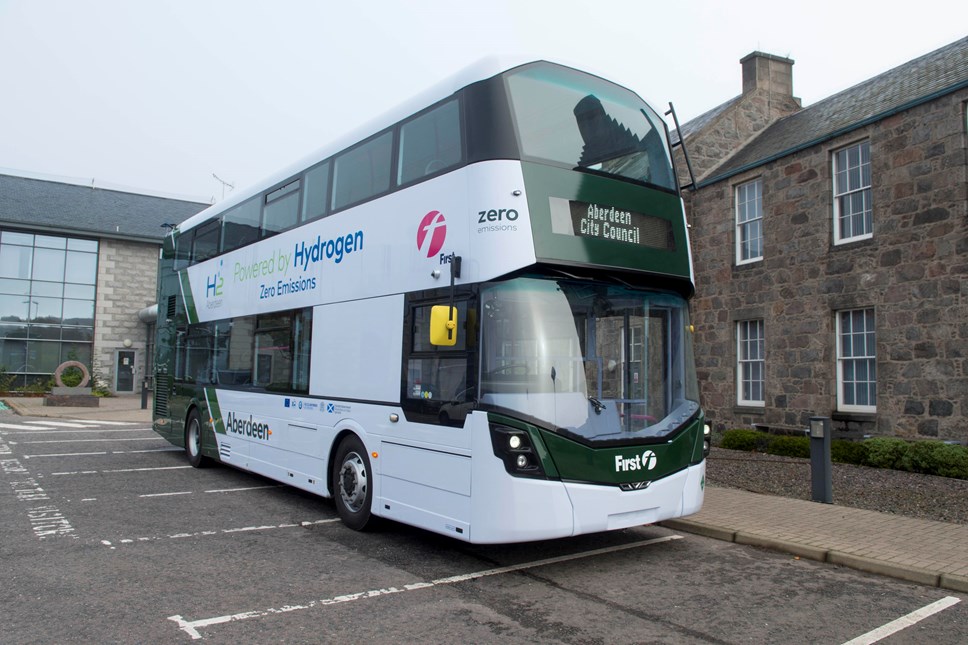 Creation of Scottish Sustainable Mobility Cluster will create growth and a greener way to travel
Work is underway to decarbonise Scotland's transport sector and make Scotland a world leader in sustainable mobility.
Scottish Enterprise is working on a range of sustainable transport projects and the latest begins this month with Urban Foresight appointed to lead a cluster project that will support collaboration across the public and private sector and modes of transport from vessels to driverless vehicles.
Urban Foresight is a smart city consultancy based in Dundee and will take forward the Sustainable Mobility Cluster Builder over two years having received £129,000 from Scottish Enterprise to link SMEs with growth opportunities across the Scottish and global mobility ecosystem.
Sustainable mobility and its associated industries, vehicles and technology ranges from electric buses and trains to heavy-duty vehicles, marine transport and connected autonomous vehicles as well as artificial intelligence and battery manufacturing.
Research conducted by Scottish Enterprise and Transport Scotland found that considerable strengths exist across a range of areas relevant to zero emission vehicles and smart, sustainable transport systems however there are opportunities to expand the sector and support the supply chain.
The cluster builder is one of several initiatives to strengthen the connections between companies and academic institutions to accelerate the development and adoption of these technologies.
Urban Foresight will establish an industry and innovation cluster for sustainable mobility across Scotland, which will support the Scottish Government's targets to decarbonise the Scottish transport sector; address market failures due to lack of information on market opportunities within the Scottish SME community and foster better linkages between the research base and SMEs.
Cabinet Secretary for Transport, Infrastructure and Connectivity Michael Matheson said: "As we work to position Scotland at the forefront of sustainable mobility, I'm pleased to see the development of this new sustainable transport project between Scottish Enterprise and Urban Foresight.
"Decarbonising our transport sector is a critical part of our response to the Climate Emergency. In doing so, there are incredible opportunities that can be realised for all of Scotland as we transition to a net zero economy.
"I look forward to seeing the results of the Sustainable Mobility Cluster Builder as it works to join the work of our valued SMEs with other businesses, academics and research centres across the country."
Scottish Enterprise head of low carbon transition Andy McDonald said: "I look forward to working with Urban Foresight to help fuel growth across the sustainable mobility sector and related industries for the benefit of the Scottish economy.
"We have taken huge steps in sustainable mobility including the creation of the Michelin Scotland Innovation Parc, as well as rail, bus and hydrogen projects. The cluster project allows us to reach further across the zero emission transport supply chain into areas like marine, aerospace and other heavy-duty vehicles as well as autonomous transport.
"Whether it is sharing knowledge around energy solutions, to creating future net zero travel systems, or innovative manufacturing, we will work with partners such as Transport Scotland towards establishing Scotland as a world leader in sustainable mobility."
Urban Foresight Director Rachel Beeton said: "Scotland is hugely well-positioned to take advantage of the ongoing disruption in transportation, having the legacy of manufacturing the first automobile in Britain, significant capacity in the sustainable energy sector and growing capability in AI and machine learning.
"Urban Foresight is delighted to be able to bring our expertise in transport innovation and economic development to facilitate collaboration and grow value for stakeholders in the sector."
If your organisation is interested in being involved in the Scottish Sustainable Mobility ecosystem, please contact: hello@urbanforesight.org
The project is 50% ERDF funded through the Scottish Programme for Research Innovation and Technology Ecosystem (known as SPRITE).
Contact Information
Press Office
Notes to editors
About Scottish Enterprise
Scottish Enterprise is Scotland's national economic development agency. We're committed to growing the Scottish economy for the benefit of all, helping create more quality jobs and a brighter future for every region.
Follow us on Twitter at http://twitter.com/scotent and https://twitter.com/ScotEntNews
Follow us on LinkedIn at https://www.linkedin.com/company/scottish-enterprise/
About Transport Scotland
Transport Scotland is the national transport agency for Scotland. seek to deliver a safe, efficient, cost-effective and sustainable transport system for the benefit of the people of Scotland, playing a key role in helping to achieve the Scottish Government's Purpose of increasing sustainable economic growth with opportunities for all of Scotland to flourish.
About Urban Foresight
Urban Foresight is an innovation consultancy that helps cities to deliver better services and outcome-focused investments to improve quality of life. This includes using technology, data and new ways of working to deliver transformational social, economic and environmental benefits. More information: hello@urbanforesight.org