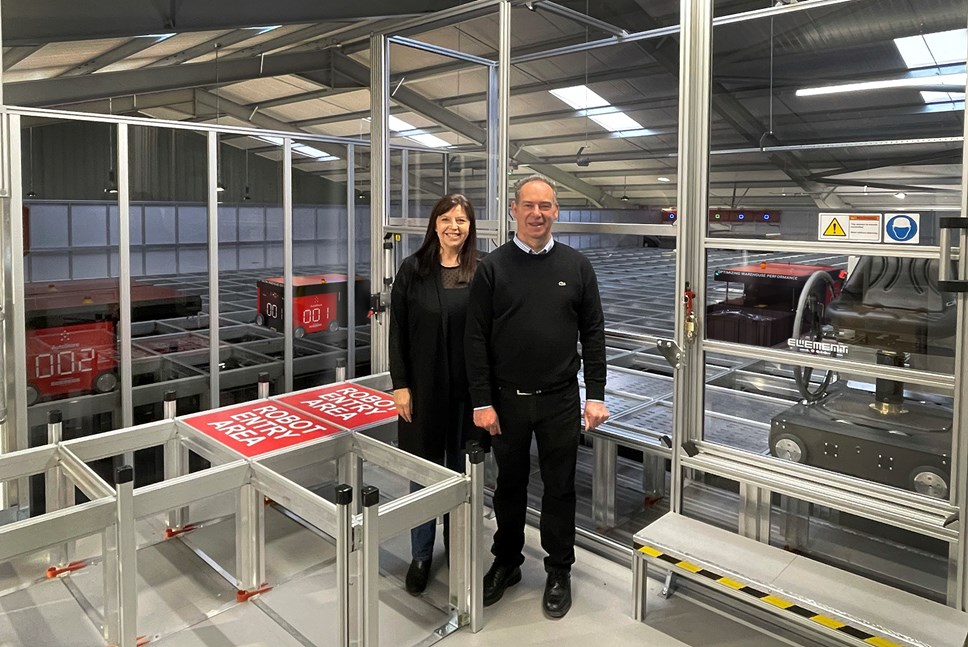 Direct Soccer invests £1.9million in Dundee factory following grant from Scottish Enterprise
Dundee-based teamwear specialist Direct Soccer Limited is celebrating the expansion of its warehouse and installation of innovative automated machinery following an investment of over £1.9million supported by Scottish Enterprise that will also create 25 new jobs.
The firm secured a Regional Selective Assistance grant of £450,000 from Scottish Enterprise to support its expansion and investment in an automated Autostore robotic solution, the first to be installed in Scotland that will improve its warehouse operation.
Direct Soccer was established over 20 years ago with three stores and in 2002 moved online with the extension of its industrial unit in Dundee now providing room for growth to target more club, individual and public sector customers at home and globally.
The teamwear company provides football kits, equipment and trophies, as well as a personalised print and embroidery service to customers across the UK and Europe suppling major brands including Nike, Adidas, Mitre and Joma.
Scottish Enterprise managing director of business advice and services, Jane Martin, said: "We have worked with Direct Soccer for many years and it is fantastic to witness the company's transition from its traditional retail roots through to a thriving e-commerce business and plans for international growth as it kits out the factory and adds to its team.
"As the impact of Covid 19 is seen across the economy it is vital that Scotland has an innovative, ambitious and outward-looking manufacturing sector that can capitalise on future opportunities for international trade, investment and supply chain development.
"Direct Soccer is a fantastic example of this, and we look forward to continuing to support them as they enter this new phase of ambitious expansion investing and creating new jobs in Dundee."
Direct Soccer Director Joyce Gibson said: "Covid 19 has proved a challenge during 2020 with social distancing and safety measures having an impact on fulfilment speed as we focused on putting health, quality and safety first whilst processing orders.
"However, measures were put in place swiftly to minimise the impact on our business allowing us to push forward with our expansion plans during a very turbulent year.
"The investment programme of £1.9million over the next three years will increase the capacity to match the needs of our growing business and we look forward to the next stage in our business journey with the support of Scottish Enterprise."
This news follows the recent announcement of a manufacturing recovery plan developed by the Scottish Government, its enterprise and skills agencies, industry partners, trades unions and academics to support the sector over the next 12 months.
The plan recognises the significant impact coronavirus (COVID-19) has had on the manufacturing sector in Scotland and focusses on four priority areas: collaboration and networks, supply chains and competitiveness, adaptation and transformation, and skills and workforce.
The proposals to secure a strong, sustainable future for the manufacturing sector are available for consultation until 15 January 2021. Manufacturers are encouraged to provide feedback on the plans, with more information available at www.gov.scot/publications/making-scotlands-future-recovery-plan-manufacturing-draft-consultation
Contact Information
Elaine Walker
Notes to editors
Picture caption: Bryce Gibson and Joyce Gibson in front of the new Autostore machinery.
Scottish Enterprise is Scotland's national economic development agency. We're committed to growing the Scottish economy for the benefit of all, helping create more quality jobs and a brighter future for every region.
Follow us on Twitter at http://twitter.com/scotent and https://twitter.com/ScotEntNews
Follow us on LinkedIn at https://www.linkedin.com/company/scottish-enterprise/
About Direct Soccer
Direct Soccer is a one stop shop for all footballing needs. Inhouse, full personalisation service offers high quality embroidery and printing making it simple and great value. Family run business that started on the high street in 1997, making the transition to online in 2002. For over 20 years Direct Soccer has been providing teams and individuals with high quality, branded goods at discounted prices in the form of teamwear, clothing, footballs and equipment. Direct Soccer has more than 20 employees operating out of its facility in Dundee and is experiencing sustained growth, with 38% increase in sales in 2019.