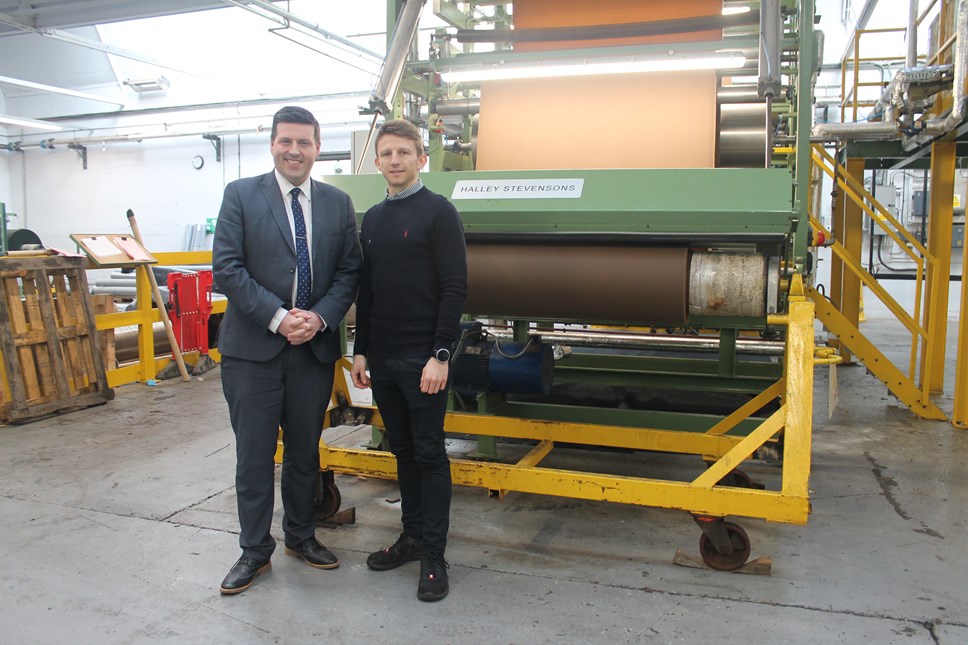 Dundee textile firm Halley Stevensons Ltd receives £300k grant from Scottish Enterprise towards £1M capital investment
Business Minister Jamie Hepburn visited Halley Stevensons to find out how the £300k grant is supporting the company to invest in equipment that will allow the firm to develop products from recycled materials and plant-based waxes.
Minister for Business, Fair Work and Skills Jamie Hepburn visited Halley Stevensons Ltd in Dundee to learn of the textile firm's plans to invest £1m in new equipment to produce sustainable fabric supported by a £300k Scottish Enterprise Regional Selective Assistance grant.
The expansion will be the largest capital project that Halley Stevensons has undertaken since the current owners purchased the business 19 years ago and will allow the firm to develop new products from recycled materials and plant-based waxes.
The investment will safeguard 26 existing positions and create four new jobs as the company invests in new equipment at its site in Dundee.
The funding will support the installation of a new fabric drier and water efficient dyeing equipment in addition to coating technology to improve the manufacturing process.
Minister for Business, Fair Work and Skills Jamie Hepburn said: "Not only will this grant support jobs at Halley Stevensons and carry on the textile firm's legacy, it will also allow them to purchase new equipment to create sustainable products which are in demand globally.
"It's crucial we continue to invest in our industry, which is exactly what we're doing through the £65 million National Manufacturing Institute Scotland which will support business to innovate, expand and diversify."
Head of Business Support Services at Scottish Enterprise Anke Heggie said: "It is fantastic to see a company with such a rich heritage enter an exciting period of expansion.
"Halley Stevensons continues to create innovative textiles in Dundee that are used across the UK and globally by major brands and its ambition to create products from sustainable sources such as recycled cotton and environmentally friendly wax is exemplary.
"It is vital that companies embrace new ideas in consideration of climate change and this is a key principle of Scottish Enterprise in supporting a sustainable and prosperous economy."
Managing Director of Halley Stevensons James Campbell said: "Product development is the life-blood of our business and this investment will allow us to continue the good progress we have made so far and challenge ourselves to make new sustainable products.
"Technology is evolving at a rapid rate and sustainable manufacturing requires the latest equipment to improve efficiency.
"Environmental responsibility is at the forefront of our latest developments and products. We use raw materials and processes that are largely biodegradable and sustainable/low impact. The new machinery planned will allow us to develop improved new products that last a lifetime."
Halley Stevensons can trace its heritage back to 1864, when it started as a jute mill, and then evolved into dyeing and finishing.
The company led the development of waxed cotton, with its first patent awarded in 1910, and is now the market leader in the innovation and manufacture of waxed cotton and waterproof fabrics.
The business has recently achieved OCS accreditation (Organic Content Standard), which will allow a platform of trace-ability to trade in organic cottons.
Contact Information
Elaine Walker
Notes to editors
Picture caption: Business Minister Jamie Hepburn pictures with Halley Stevensons General Manager Billy Tosh.
Scottish Enterprise is Scotland's national economic development agency. We're committed to growing the Scottish economy for the benefit of all, helping create more quality jobs and a brighter future for every region.
Follow us on Twitter at http://twitter.com/scotent and https://twitter.com/ScotEntNews
Follow us on LinkedIn at https://www.linkedin.com/company/scottish-enterprise/
>>
Halley Stevensons can trace its heritage back to 1864, when it started as a jute mill, and then evolved into dyeing and finishing. The company led the development of waxed cotton, with its first patent awarded in 1910, and is now the market leader in the innovation and manufacture of waxed cotton and waterproof fabrics. The business has recently achieved OCS accreditation (Organic Content Standard), which will allow a platform of traceability to trade in organic cottons. http://www.waxedcotton.com Twitter: @HS_WaxedCotton