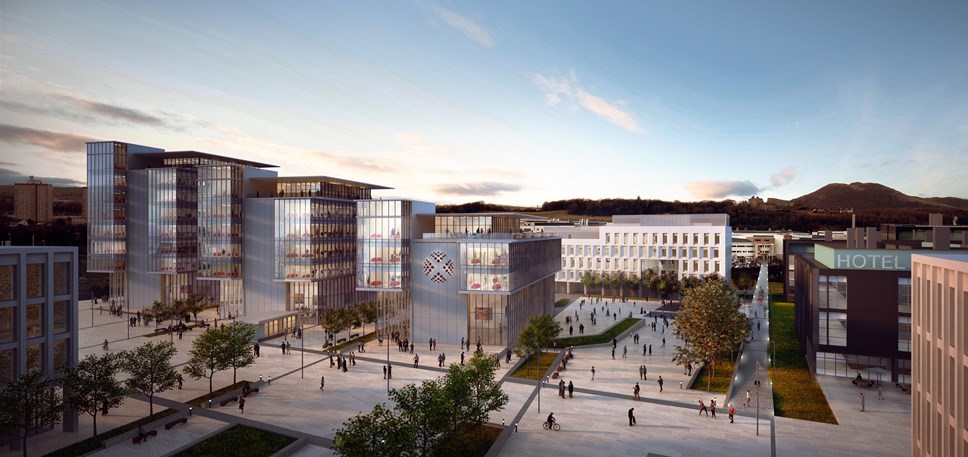 Edinburgh BioQuarter reveals vision for expansion
Scottish Enterprise and partners unveil plans for new community based around world-leading research hub
Edinburgh BioQuarter has released the first images of a £750m planned transformation which will create a new vibrant mixed-use neighbourhood, supporting a community of more than 20,000 people.
With ambitions to accelerate the development of BioQuarter and create Edinburgh's Health Innovation District, the long-term vision for the site now includes plans for residential housing. There will be more space for research and healthcare innovation, commercial use, hotel, gym, retail and leisure. The expansion will support an estimated 9,000 new jobs, plus additional construction jobs and to grow the pipeline of successful companies.
Scottish Enterprise Head of Place Derek McCrindle said: "Edinburgh BioQuarter is one of the most significant long-term programmes Scottish Enterprise has undertaken to accelerate growth in the Life Sciences sector, and we are now seeing how successful that has been as demand has outstripped the supply of space.
"Placemaking is crucial to ensuring an economy thrives, and our work to secure the success of the BioQuarter means we are now in a place to build a vibrant new community around that base.
"It's an incredibly exciting prospect and will bring real economic and social benefits for Edinburgh, as well as continuing to grow a world-leading medical research and innovation base right here in Scotland."
Over the last two decades, Edinburgh BioQuarter has played a pivotal role in cultivating world-leading medical research and life sciences innovation that is improving people's lives around the world. The 160-acre site, which lies three miles South of Edinburgh City Centre, is currently home to 8,000 people who work and study within its boundary and includes 13 award winning life sciences businesses based at BioQuarter's Innovation Centre, the globally renowned Edinburgh Medical School, 900-bed Royal Infirmary of Edinburgh and one of Europe's largest clusters of stem cell research at the Scottish Centre for Regenerative Medicine.
Scottish Enterprise and partners in the BioQuarter - City of Edinburgh Council, NHS Lothian and the University of Edinburgh - have already invested over £500m in the existing site, with a further £300m investment planned in the next five years through pipeline projects, including the new £68m University of Edinburgh Usher Institute.
BioQuarter is developing a masterplan and place-making strategy and intends to seek a joint venture partner through a formal OJEU (Official Journal of the European Union) process to accelerate developments.
Commenting on the vision for the new BioQuarter, Hugh Edmiston, Chair of Edinburgh BioQuarter Strategy Board, said: "This is the start of an exciting journey in the next chapter of Edinburgh BioQuarter's development. As we move ahead, we want to ensure that we involve our staff, students and the local communities in this long-term vision.
"The opportunities here are vast and, once realised, can deliver significant and long lasting economic and social benefits for Edinburgh, Scotland and beyond."
Once completed the new vision could deliver one of the largest single developments in the UK focussed on life sciences innovation, health care delivery, medical research and teaching.
Interim Programme Director Anna Stamp said: "We want to build on the success to date of the BioQuarter. Our plans are to create a vibrant new neighbourhood of Edinburgh centred around a world-leading community of healthcare innovators. By developing at scale and at pace together with a private sector partner we will accelerate solutions to global health challenges.
"It is vital that BioQuarter develops as a welcome and accessible place for those who live around it, as well as those who work or study here. We can do this by fostering a inclusive environment which promotes wellbeing to create a welcoming place where people live, learn, work, play, relax and discover as part of Edinburgh's Health Innovation District."
Notes to Editors
BioQuarter is home to some of Scotland's leading life sciences companies based at NINE, its Life Sciences Innovation Centre. Notable companies based at the site include GSK, Concept Life Sciences, LifeArc, Aquila, RoslinCT, Fios Genomics and CALCIVIS. More details and case studies can be found at: https://edinburghbioquarter.com/biolife/case-studies/
Over the last two decades, Edinburgh BioQuarter has played a pivotal role in Scotland's successes in the life sciences sector, which has a turnover in excess of £6bn and employs over 37,000 people.
Mr Hugh Edmiston is the Vice Principal of Business Development and Director of Corporate Services for the University of Edinburgh and the nominated Chairperson for the Edinburgh BioQuarter Strategy Board. This role rotates between its four partners:
Scottish Enterpriseis Scotland's national economic development agency. We're committed to growing the Scottish economy for the benefit of all, helping to create more quality jobs and a brighter future for every region.
Follow us on Twitter http://twitter.com/scotent and https://twitter.com/ScotEntNews
Follow us on LinkedIn at https://www.linkedin.com/company/scottish-enterprise/
NHS Lothian provides a range of primary, community and acute hospital based healthcare for the populations of Edinburgh, East Lothian Midlothian and West Lothian. As s a national centre of expertise, specific specialties are also provided to people in neighbouring Fife and the Borders and right across Scotland. Innovation and continuous quality improvement in patient treatment, care and safety is among the organisation's core objectives. NHS Lothian has an annual budget of 1.6 billion and employs around 26,000 staff.
The University of Edinburgh is a global university, rooted in Scotland. We are internationally recognised for our research, development and innovation and we have provided world-class teaching to our students for more than 425 years. We are the largest university in Scotland, with more than 43,000 students and nearly 16,000 staff. We are a founding member of the UK's Russell Group of leading research universities and a member of the League of European Research Universities.
Contact Information
Donna Watson