31 October 2017
Edinburgh's growing BioQuarter adds new commercial building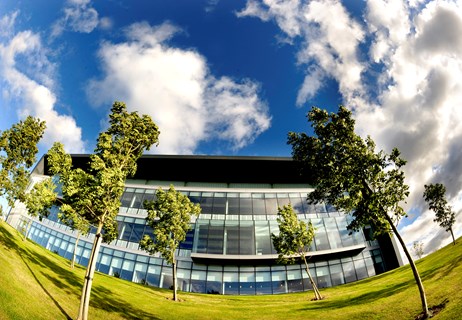 Edinburgh's expanding BioQuarter is adding a new commercial facility to help meet demand for space at the health and science campus.
Work officially started today (31 October) on a new two-storey 1200 square metre modular building, which will provide a mix of specialist office and lab space. The building will open in early 2018 and is situated in the south of Edinburgh BioQuarter - adjacent to Nine and the Centre for Dementia Prevention.

The development follows on from the success of Nine, Edinburgh BioQuarter's first commercial building, which is now fully occupied. Nine is home to over 20 innovative and award-winning Life Sciences businesses, including Iomet Pharma, Aquilla BioMedical and LifeArc.

Derek McCrindle, Head of Business Infrastructure at Scottish Enterprise, said: "Edinburgh BioQuarter is one of the most significant long-term programmes Scottish Enterprise has undertaken to accelerate growth in the Life Sciences sector.

"Demand has outstripped supply at Nine, demonstrating the pull of the location as a base for Life Science businesses.

"Edinburgh BioQuarter offers something truly unique with access to world-class researchers, scientists, healthcare staff and patients all in one place."

The start of these works brings the value of construction projects currently taking place at Edinburgh BioQuarter to over £200m.

Construction started earlier this month on the University of Edinburgh's £50m Centre for Tissue Repair. The new Centre will increase the number of stem cell scientists based at Edinburgh BioQuarter, making it one of the largest concentrations in the world. NHS Lothian's £150m Royal Hospital for Children and Young People and Department of Clinical Neurosciences is due to open in 2018. This relocation will bring many benefits to patient care and increased expertise to the campus.

Hans Möller, Director, Edinburgh BioQuarter, said: "I'm delighted to see work starting on the new building which will increase the number of new and growing companies based here. The offering at Edinburgh BioQuarter - with all its clinical, research and academic expertise - as a place to base your life sciences company is, in many ways, unrivalled.

"We're moving into an exciting new chapter with three major construction projects all underway. The size and scale of these investments will have many benefits both in terms of improved patient care through scientific research and healthcare innovation. But also fundamentally through job creation, and the positive impact on the local and national economy."

Philip Hutton, Business Development Director, Extraspace Solutions Ltd, said: "Extraspace are delighted to be selected as the Principal Contractor to deliver this high quality office facility for Scottish Enterprise.

"The design and build project will see over 1200 square metres of stylish commercial accommodation delivered and operational on site within just four months of construction work on site. We are looking forward to a successful project working with Scottish Enterprise and the entire team."
Scottish Enterprise
is Scotland's main economic development agency and aims to deliver a significant, lasting effect on the Scottish economy. Our role is to help identify and exploit the best opportunities for economic growth. We support ambitious Scottish companies to compete within the global marketplace and help build Scotland's globally competitive sectors. We also work with a range of partners in the public and private sectors to attract new investment to Scotland and to help create a world-class business environment.
Follow us on Twitter at
http://twitter.com/scotent
Follow us on Facebook at
http://www.facebook.com/scottishenterprise