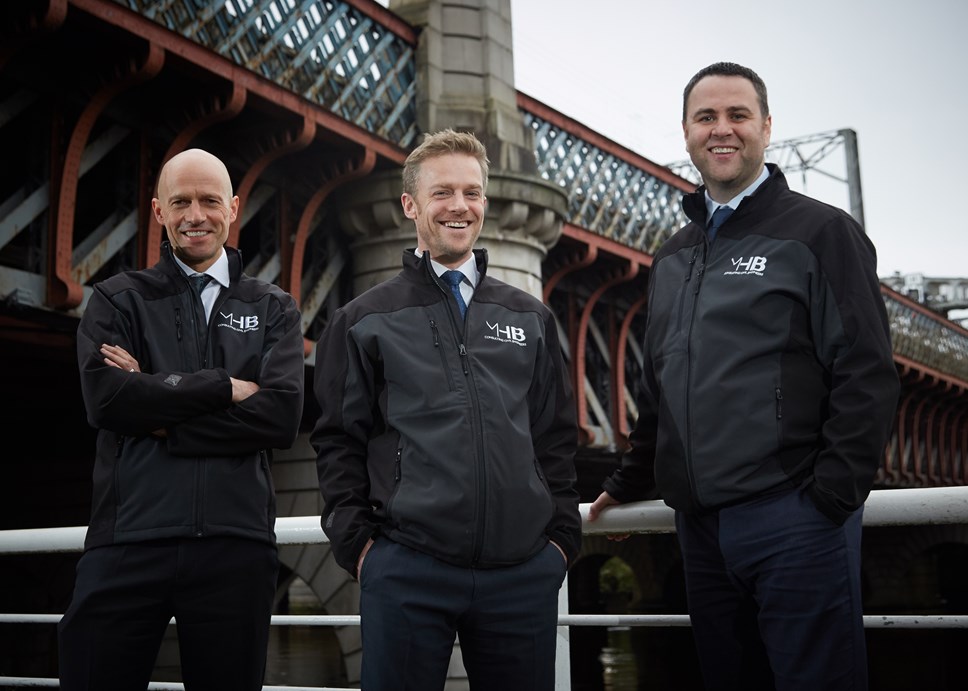 Employee ownership is the way forward for civil engineering consultancy MHB
Civil engineering firm MHB Consultants is the latest company in Scotland to become employee-owned, with 40 members of staff given a stake in the business.
Founded by managing director Hendrie Barbour in 2006, MHB Consultants is an engineering design consultancy specialising in bridge design, civil and geotechnical engineering, temporary works and land surveying. Together with fellow directors Fergus Aitchison and Alistair Gray, Hendrie has grown the firm organically to 40 staff, with headquarters in Glasgow and regional offices in Edinburgh and York. Clients include construction firms, transport agencies, local authorities, engineering consultants and private clients throughout the UK.
Hendrie wanted to plan for his eventual exit over a number of years by considering succession options early, therefore allowing for a smooth transition. Along with the other two directors, Fergus Aitchison and Alistair Gray, the management team wanted a solution that would ensure the business remained independent and retained the company's strong values and culture.
Hendrie explained: "All of us have been involved in building MHB, and we are proud of the successful business that it has become and the team of employees that we have. We don't want any exit plans to impact what we've all built or change the way the business operates and our way of doing things."
With a planned deal completion date of mid-2020, the arrival of the COVID-19 pandemic created some uncertainty over the timing, however the decision to go ahead was seen as a positive long-term statement and one that would engage staff moving forwards.
"Goodwill from employees is important right now as we must all pull together in the right direction. What better way to do this than with all of us as owners?"
Hendrie attended seminars on succession planning delivered by Co-operative Development Scotland, the arm of Scotland's enterprise agencies that supports company growth through collaborative and employee ownership business models. As the benefits of employee ownership became clear, the management team knew it was the right fit for MHB.
Hendrie continued: "We are all genuinely enthused by the idea that there is a way of transferring ownership without needing to sell MHB to another company and risk destroying what has been built up over the years. We believe that employee ownership will be the start of an exciting new chapter at MHB."
Due to remote working, staff meetings were held by video-conference to share the news, what it would mean, and why it was being done. A ballot to elect the employee member of the Ownership Trust was carried out, with senior engineer Gillian Pettigrew being elected to the role.
Just into her new role, Gillian said: "Staff are very much looking forward to having a say in the future of the business, and the opportunity to contribute to its success."
Hendrie added: "I contacted our key clients in advance to make them aware of the change and to reassure them that the day-to-day operations of the company would remain the same. I will continue as managing director and Fergus and Alistair will remain in their positions too. When I do decide to take a step back from the business, I can do so gradually to ensure a smooth transition."
An Employee Ownership Trust has been formed and holds 100% of the shares on behalf of the employees. The transition to employee ownership was supported by Co-operative Development Scotland (CDS), with the process managed by Co-ownership Solutions LLP and legal services by Lindsays.
Head of Co-operative Development Scotland, Clare Alexander, added: "It is fantastic news that MHB Consultants has chosen to transfer ownership to its employees. Employee ownership drives engagement, productivity, long-term thinking and innovation, brought about by enhanced employee wellbeing. Employee-owned businesses also tend to be more resilient than their non-employee-owned counterparts, something which stands them in better stead for the new world we now find ourselves in following the COVID-19 pandemic.
"The crisis has highlighted what is important to business owners; safeguarding the long-term future of their company, keeping it rooted in its local community and retaining jobs, skills and investment. These are all characteristics of employee-owned businesses and will help to create a stronger, more resilient, productive and fairer economy."
Within Scotland, there are now around 110 employee-owned companies operating, with approximately 7,500 employee-owners generating a combined turnover of around £950 million.
Contact Information
Press Office
Notes to editors
Pic caption: Left to right Hendrie Barbour, Alistair Gray, Fergus Aitchison
About CDS
Co-operative Development Scotland (CDS) is the arm of Scotland's enterprise agencies that supports company growth through collaborative and employee ownership business models.
An employee-owned business is one in which the employees hold the majority of the shares either directly or through an employee ownership trust. Selling to employees allows owners to manage their exit and achieve fair value while safeguarding the long term future of the company. Employee ownership gives employees a meaningful stake in their organisation together with a genuine say in how it is run. It roots business in Scotland, drives performance and delivers economic wellbeing.
For further information on CDS follow CDS on Twitter @cdscotland or look at the blog www.cdsblog.co.uk