31 January 2018
Employees to take the wheel at Jerba Campervans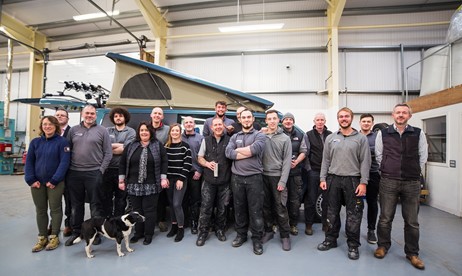 A North Berwick-based company which specialises in converting Volkswagen Transporter vans into luxury campervans has become Scotland's latest employee-owned business, with 15 staff becoming owners.
Founded in 2006 by husband and wife team Simon Poole and Catherine Brookes, Jerba Campervans carries out internal layout conversions on the iconic brand's VW Transporter T6 model, offering six standard configurations to meet a range of different needs. Having spent long periods of time travelling in a VW camper, both as a couple and later as a family of five, Simon and Catherine use their experience to identify optimum layouts and features, working with a highly-skilled team to make their designs a reality.
In addition to producing around 50 vans a year, Jerba offers a selection of its conversions for hire, which allows customers to try before they buy, as well as enabling the company to test new products, fixtures and fittings.
Commenting on the decision to become employee-owned, Simon Poole said: "The matter of succession had originally been in the back of our minds as something we would need to properly consider in around five years' time, however, when we started exploring employee ownership as a potential solution, we were so sold on the benefits that we decided to make the transition sooner rather than later.
"Employee ownership is an excellent business model which benefits everyone. Catherine and I can continue with our day to day roles in the business for as long as we need to, with the knowledge that the future is taken care of, while our employees are given a stake in the business and a say in how it is run. Not only do we envisage this driving job satisfaction, productivity and innovation, it ensures that the business' unique ethos is preserved.
"We established Jerba following a decade of owning and hiring campervans all over the world and finding that the layout could be significantly improved to suit our specific needs. Our success lies in our extensive first-hand experience, insights from which have been passed on to our team. We felt that this intimate approach and the niche upon which the business was founded could be lost if Jerba was sold to another business.
"Protecting jobs was also an extremely important factor in our decision. Many employees have been with us for between five and ten years and have played a vital role in the growth and success of Jerba Campervans. Moving into employee ownership gives job certainty to everyone who works here and enables them to have proper control of their future. The staff are very excited about the opportunities it will bring for the future growth of the business."
An Employee Ownership Trust has been formed and holds 100% of the shares on behalf of the employees. The transition to employee ownership was supported by Co-operative Development Scotland (CDS), with the process managed by Co-ownership Solutions LLP and legal services by Blackadders LLP.
Jerba is one of the few official Volkswagen registered vehicle body builders for the Transporter T6, demonstrating diligent compliance with a wide range of key areas. By transferring their shares to an Employee Ownership Trust, Simon and Catherine have also helped to ensure that the requirement for this specialist knowledge and skillset is anchored in the local area.
Sarah Deas, director at Co-operative Development Scotland, the arm of Scotland's enterprise agencies which promotes employee ownership, said: "Simon and Catherine wanted a solution that would enable them to manage their succession long term, whilst ensuring that employment was retained in the local area, which is very rural. The move to employee ownership solves both of these issues, while bringing a host of additional benefits for all parties in the deal."
There are 95 employee-owned companies operating in Scotland, with approximately 7,000 employee-owners generating a combined turnover of around £940million.
Jerba is also receiving further support from Scottish Enterprise in the way of a 'By Design Grant', which is being used to develop a rear elevating roof for a T6 VW Campervan, and through the placement of a digital marketing specialist for a twelve-month appointment through the ScotGrad programme.
ENDS
For further information, commentary or photography, please contact the CDS team at Smarts Communicate on 0141 222 2040 / 07970834354 or email cds@smartscommunicate.com
NOTES TO EDITORS
Statistics consistently demonstrate that employee-owned businesses outperform their non EO counterparts in terms of higher levels of profitability; improved business resilience during times of recession; increased productivity brought about by higher levels of engagement and enhanced employee wellbeing.
About CDS
Co-operative Development Scotland (CDS) is the arm of Scotland's enterprise agencies supports company growth through collaborative and employee ownership business models.
An employee-owned business is one in which the employees hold the majority of the shares either directly or through an employee benefit trust. Selling to employees allows owners to manage their exit and achieve fair value while safeguarding the long term future of the company. Employee ownership gives employees a meaningful stake in their organisation together with a genuine say in how it is run. It roots business in Scotland, drives performance and delivers economic wellbeing.
For further information on CDS see www.scottish-enterprise.com/cds or call on 0141 951 3055. Follow CDS on Twitter @cdscotland or look at the blog www.cdsblog.co.uk
Scottish Enterprise
is Scotland's national economic development agency and aims to deliver a significant, lasting effect on the Scottish economy. Our role is to help identify and exploit the best opportunities for economic growth. We support ambitious Scottish companies to compete within the global marketplace and help build Scotland's globally competitive sectors. We also work with a range of partners in the public and private sectors to attract new investment to Scotland and to help create a world-class business environment.
Follow us on Twitter at
http://twitter.com/scotent
Follow us on Facebook at
http://www.facebook.com/scottishenterprise