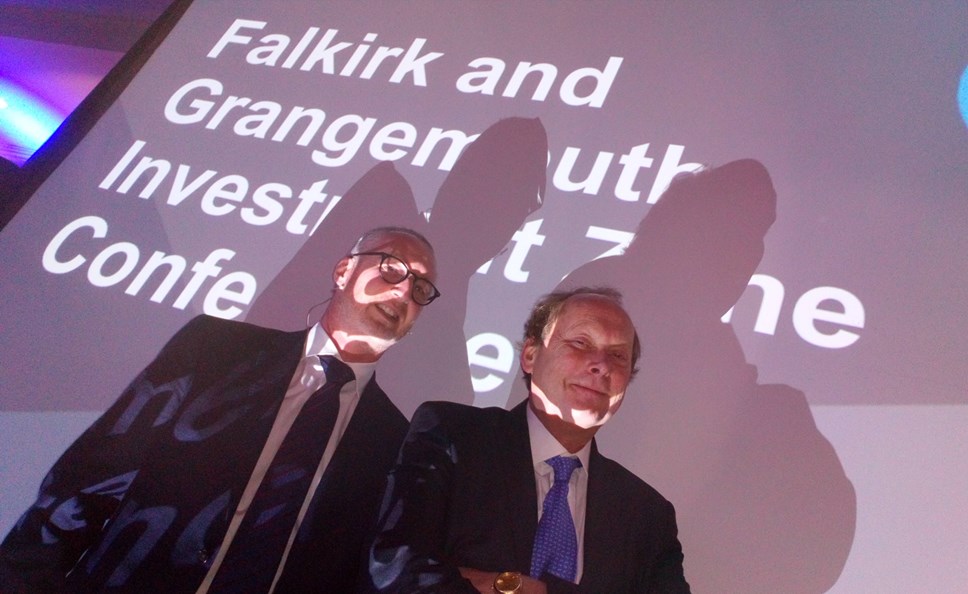 Falkirk and Grangemouth area is ready for major investment
Over £2bn of private sector investment planned or already underway
£235m Growth Deal initiative could see 6,000 new jobs created
Local businesses encouraged to embrace local opportunities and back Growth Deal
Senior leaders from the public, private and third sectors gathered in Falkirk today (15th January 2020) to hear about the Falkirk and Grangemouth Investment Zone and major economic opportunities for the local area that could see thousands of new jobs created and hundreds of millions of pounds of new investment being made through the Growth Deal initiative.
Almost 250 delegates at the Falkirk and Grangemouth Investment Zone conference heard that the area, already a major contributor to the Scottish economy through the INEOS oil refinery and petrochemical plant, the largest container port in the country at Grangemouth and two of the most talked about tourist destinations in recent years (The Kelpies and The Falkirk Wheel), is ready for significant investment with over £2bn of private sector investment planned or already underway.
Overall, since 2009 there has been continued growth in the local tourism sector:
4% increase in the economic impact
57% increase in visitor numbers
6% increase in visitor days
6% increase in employment
Investment plans in The Falkirk and Grangemouth Investment Zone include over £900m by INEOS at its Grangemouth site, £150m from CalaChem into its energy from waste plant, £100m for Grangemouth flood defences and an £80m plus investment in a new STEM focused campus at Forth Valley College.
The region, which is home to some of Scotland's most important economic sectors - chemicals, petrochemicals, logistics and tourism – is seeking £235m from the national Growth Deal initiative to enhance the economic infrastructure and innovation capability of the area and move towards a Net Zero carbon future.
The importance of the Investment Zone to the local and wider Scottish economies was highlighted with figures showing that up to 6,000 new jobs could be created with £3 billion generated for Scotland.
The themes for the Growth Deal are:
'Innovative Industry' – which will see a bid for £79m that will centre around the area's strengths in chemicals and automotive manufacture and help moving the area towards a low carbon economy.
'Enhancing National Infrastructure' (£72m) that would see large scale improvements to the area's road, rail, sea and pipeline infrastructure.
£80m will also be used as part of 'Creating Greater Places' that would see improvements in sustainable travel, tourism and energy supply.
Speakers at the conference included:
Michael Matheson MSP (Cabinet Secretary for Transport, Infrastructure and Connectivity)
Colin Robertson CBE (Chief Executive of Alexander Dennis)
Stuart Wallace (Chief Operating Officer for Forth Ports)
Catherine Topley (Chief Executive of Scottish Canals)
Leonard Russell (Managing Director of Ian McLeod Distillers)
Nick Skelton (Director of Stantec)
David Reid (former Vice President of global engineering business Jacobs)
Cecil Meiklejohn, Leader of Falkirk Council said: "The major investment already being made by chemicals, manufacturing, logistics and tourism businesses in the area is great news. It means that we must also make transformational public sector investment in the region's infrastructure so the area can build on its current position as one of Scotland's economic hot spots. This is why the Investment Zone is so important for Falkirk and Grangemouth.
"The Investment Zone would bring many positive changes to the area and boost Falkirk's competitiveness, nationally and internationally, and ensure the benefits of inclusive growth are shared among all. It would allow us to invest in innovative technology that will transform industry in Grangemouth, respond to climate change and work toward a greener, more sustainable future and improve productivity through technology and skills. By investing in places that people want to live, visit, learn and work will also provide opportunities to access high-value jobs."
Allan McQuade, Director of Place at Scottish Enterprise, said: "Today's event highlighted the many ways in which a growth deal for Falkirk and Grangemouth could have long-lasting and far-reaching benefits for local, regional and national residents by creating a sustainable, long-term investment area that is smarter, greener, more resilient and more inclusive.
"The proposed deal has ambitions to create more high-quality jobs for future generations, while at the same time increasing innovation, boosting exports, increasing tourism footfall and improving business productivity – all of which will help attract additional private investment into the area."
Catherine Topley, Chief Executive of Scottish Canals said: "It's clear that the Falkirk and Grangemouth Investment Zone has a strong position on the national stage in Scotland and the UK, with international opportunities ready to be seized. Scottish Canals is proud to be at the helm of tourist and community development activity in the area –building on its rich industrial heritage and leading innovation.
"From The Falkirk Wheel to the beloved Kelpies and Helix Park, these cultural icons are celebrated on the world stage. With the Year of Coasts and Waters in full swing, we're excited to be continuing our work with partners to bring a host new of activities and experiences to Falkirk and Grangemouth. This Investment Zone bid demonstrates the ambitious and energetic approach that is consistently taken by partners working to secure a bright future for everyone living, working and visiting here."
Matt Lancashire, Director of Policy and Public Affairs at the Scottish Council for Development and Industry (SCDI) said: "The three key themes of the conference - Innovative Industry, National Infrastructure and Creating Great Places are all crucial elements to the Scottish economy. SCDI look forward to engaging and working with SCDI member Falkirk Council in the future to deliver inclusive economic growth in the Falkirk region."
Falkirk Economic Partnership is a public/private partnership which aims to enhance the performance of the Falkirk area economy. The partnership includes Falkirk Council, the Scottish Government, Scottish Enterprise, Forth Valley College and Business Leaders.
The Falkirk and Grangemouth Investment Zone and Growth Deal Bid has three key themes which are Innovative Industry, National Infrastructure and Creating Great Places.
For further information on Invest Falkirk please visit: http://www.investfalkirk.com/
Ends
Pic caption: (L to R) Stuart Wallace, Chief Operating Officer from Forth Ports and Leonard Russell, Managing Director of Ian McLeod Distillers.
Issued by Wave PR Ltd. For further information please contact Jonathan Kennedy on 0141-225-0400
Contact Information
Jennifer Stevenson