26 May 2017
Family whisky firm goes from strength to strength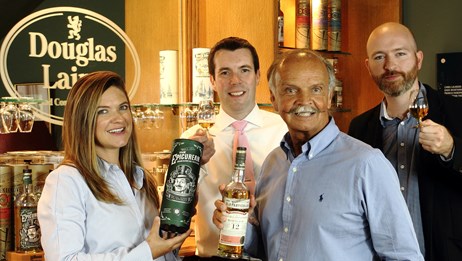 International expansion at heart of family firm's growth strategy as Scotch whisky specialist Douglas Laing reveals profits increased by 17% to £1.6m in 2016.
Double digit growth three years on the trot has fuelled recent expansion with a series of ambitious upcoming new ventures, which includes the appointment this month of a new Finance Director.
Sales of Douglas Laing's whiskies grew by 29% in 2016, with more than 60,000 cases shipped globally. According to their recent results, Douglas Laing's cask and spirit inventory grew by 22% - and Cara Laing, Director of Whisky comments "We have long-term, focussed plans to grow and develop the business via our brands. To bring them to fruition, we need to ensure we maintain our core business - as such, having the finest quality spirit (mature and maturing) is a key investment for us today and in the future."
International sales expansion is at the heart of the latest stage of the firm's growth strategy, but there are a number of other projects in the pipeline which are integral to the future development of Douglas Laing.
The company has been supported by Scottish Enterprise on a number of innovative and internationally focussed projects and these recent performance figures are testament to the international focus of the management team which has set its sights on identifying and targeting exciting new global markets. Derek McCamley, Douglas Laing's Account manager at Scottish Enterprise said "This is an exciting period for the company who are reaping the benefits of a well-executed and evolving growth strategy. We look forward to continuing to work with Douglas Laing as it drives forward its international growth ambition."
It is opportune timing therefore that the company has just appointed Danny MacLennan, formerly with BrewDog and William Grant & Sons, to join the Douglas Laing board as Finance Director, taking over from Alick Bisset who assumes the role of Non-Executive Director within the growing business.
With deep roots in the drinks sector, MacLennan joins with a key remit to head up the Finance function and play an integral part in various strategic projects.
MacLennan adds "I am looking forward to working with the strong team already in place at Douglas Laing. It's an impressive business with great Brands, and a raft of exciting plans which I am looking forward to playing a key role in crystallising."
Fred Laing, Managing Director commented "As we continue to put in place an exciting future for Douglas Laing, we are delighted to have Danny join our growing team as Finance Director. He brings a great value, expertise and understanding of the drinks category with proven results behind him in terms of managing growth and success".
Chris Leggat, Commercial Director concluded "Douglas Laing has doubled its size in the last three years - now we truly begin building on these solid foundations and we have just started phase two of our longer term plan. We are three years into our ambitious but closely managed thirty year strategy and we are already delighted with the results. Of course there will be challenges ahead, but we look forward to managing them and will continue to absorb and build. It's an exciting time for the business, our great team and our global partners."
Scottish Enterprise
is Scotland's main economic development agency and aims to deliver a significant, lasting effect on the Scottish economy. Our role is to help identify and exploit the best opportunities for economic growth. We support ambitious Scottish companies to compete within the global marketplace and help build Scotland's globally competitive sectors. We also work with a range of partners in the public and private sectors to attract new investment to Scotland and to help create a world-class business environment.
Follow us on Twitter at
http://twitter.com/scotent
Follow us on Facebook at
http://www.facebook.com/scottishenterprise