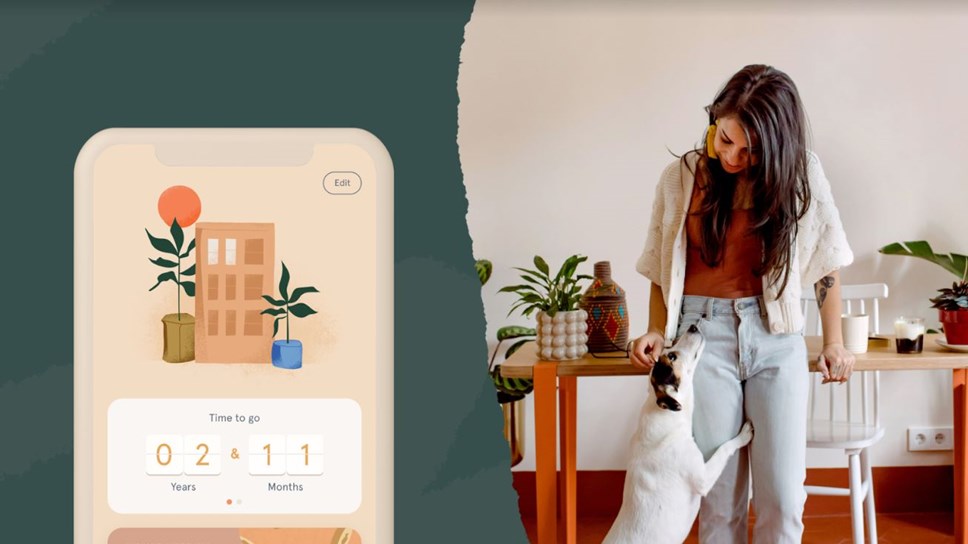 Fintech start-up Nude raises £3.3m on Seedrs to make saving for a first home easier
New home savings app secures Future Fund backing
In the UK up to 13m 18-35 year-olds want to own a home and Nude is here to make it happen
Scottish start-up Nude, which helps people save for their first home, has raised £3.3m, following the launch of a Seedrs campaign. Since going live on 6 July, Nude has surpassed 96% of its £3.5m target, much of which was secured over the weekend before the campaign was fully launched to the public.
Nude was formed to stand up for first-time buyers, improve the outdated home-buying experience and change a part of society that they believe is unfair. The new savings account, financial coach and app has been designed to help aspiring home-owners better understand their finances and the home-buying process, so they can save for and buy their home faster.
It's estimated that up to 13 million 18-35 year-olds in the UK* want to own their home - it's Nude's mission to help them make it happen.
Crawford Taylor, CEO and Founder of Nude commented: "The challenges facing young people are huge, with a massive wealth imbalance, a complex financial system and little help. We've been planning, testing and building Nude to make the financial world fairer and easier, starting with helping people buy their first home faster and easier than ever before."
The experienced founding team of Nude comprises of CEO and co-founder Crawford Taylor, previously a partner of the UK's largest independent actuarial firm Hymans Robertson, Co-founder and CMO, Marty Bell, Co-founder of Tens sunglasses and Founder of viral website Poolside FM, Head of Legal, Kate McKay, an ex-Partner at an angel investor syndicate and lawyer, and Co-founder and COO, Stephen Doherty, previously CTO of Hymans Robertson and Chief Product Owner at RBS.
Marty Bell, CMO and Co-founder of Nude added: "We don't think the financial world is very friendly, or easy, and it definitely doesn't make you feel as good as you should when you're managing to save up a house deposit — we're here to change that. Nude is like having a friend that's really good with money with you, all the time."
Last year the business raised £1.7 million in growth capital and was the recipient of a £440,000 SMART: Scotland innovation grant from Scottish Enterprise. Investors in this funding round include the UK Government's Future Fund.
The ambitious start-up also plans to apply for a banking license to launch Nude mortgages, all part of its journey to become one of the most exciting finance companies in the world.
Leah Pape, head of scaling services at Scottish Enterprise, said: "Nude has a really interesting and innovative product that we were pleased to support in its early stages. Its app is needed more now than ever, at a time when many young people are having to manage their finances closely in order to get that first footing on the property ladder. We're excited to explore how we can continue our support of Nude as it grows in popularity and expands its product range."
Nude is raising investment on Seedrs here: www.seedrs.com/nude
Capital at risk. Approved by Seedrs.
-ENDS-
Notes to Editors
*The 'up to 13 million 18-35 year-olds in the UK want to own a home' statement is a combination of findings from various sources. Surveys with UK-based 18-35 year-olds from both Nude and Santander confirm that 90% of this age group aspire to own their own home. 90% of the entire UK population within this age bracket is approximately 13 million, as reported by Statista in 2019.
Statista: www.statista.com/statistics/281174/uk-population-by-age
Santander: www.santander.co.uk/assets/s3fs-public/documents/santander-first-time-buyer-study.pdf


About Nude
Nude is a savings account and financial friend for first-time buyers. Analyse your spending and find clever ways to save a home deposit in record time.

About Scottish Enterprise
Scottish Enterprise is Scotland's national economic development agency. We're committed to growing the Scottish economy for the benefit of all, helping create more quality jobs and a brighter future for every region.
Follow us on Twitter at http://twitter.com/scotent and https://twitter.com/ScotEntNews
Follow us on LinkedIn at https://www.linkedin.com/company/scottish-enterprise/
Contact Information
Jennifer Stevenson