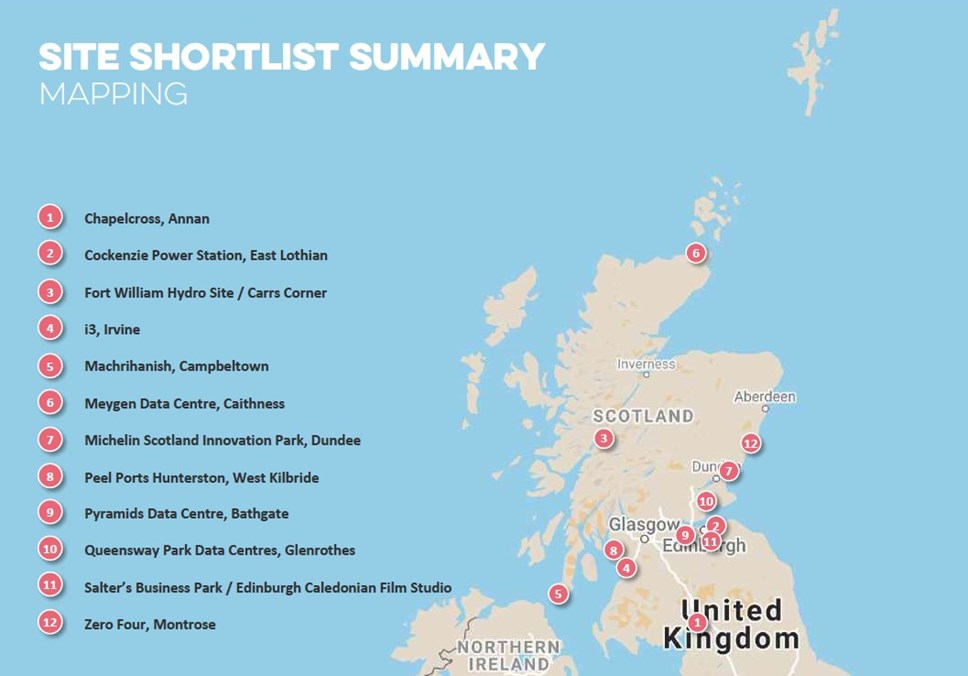 First class datacentre sites identified in new reports
Twelve prime sites have been identified as the result of a study which has been developed to help establish Scotland as an attractive location for green datacentres and to accelerate inward investment from the datacentre sector.
Host in Scotland, a datacentre sector support initiative set up by infrastructure experts the Scottish Futures Trust, and in partnership with Scottish Enterprise and Crown Estate Scotland have today published two datacentre site selection reports, which were undertaken by datacentre specialists TechRE on their behalf, highlighting a wide range of locations across Scotland that fulfil a number of key datacentre criteria.
The 12 sites are:
Chapelcross, Annan
Cockenzie Power Station, East Lothian
Fort William Hydro Site / Carrs Corner
i3, Irvine
Machrihanish, Campbeltown
Meygen Data Centre, Caithness
Michelin Scotland Innovation Park, Dundee
Peel Ports Hunterston, West Kilbride
Pyramids Data Centre, Bathgate
Queensway Park Data Centres, Glenrothes
Salter's Business Park / Edinburgh Caledonian Film Studio
Zero Four, Montrose
The reports provide the identification and review of high potential datacentre sites across the country that will support Scotland's digital ambitions and rollout of improved connectivity.
In developing the reports, over 100 sites across the country were reviewed and concluded with a Longlist and a Shortlist of sites to assist the datacentre market in their consideration of Scotland as a new territory in which to locate or for the expansion of the indigenous Scottish market.
The shortlist represents sites that have a very clear, unique proposition and represent excellent site conditions that could quickly and easily lend themselves to becoming a large-scale datacentre facility. The longlist also provides strong datacentre site locations which could be utilised for data centre provision but which may, in some cases, require further remediation works or upgrades in connectivity.
James King, who heads up Host in Scotland said "The outputs from this important commission has identified the huge opportunities that exist right across Scotland. We have long known that Scotland has a tremendous offering to the data centre sector and these two documents provide evidential support for this with a particularly strong renewable energy story. We would welcome engagement with data centre owners, operators and investors to provide further detail and support to their consideration of Scotland as a location for their new facilities."
Colin Palmer, Director of Marine for Crown Estate Scotland continued "We're very pleased to have been able to support this important work, which we hope will help inform future decisions. Our ability to keep up with the global improvements in connectivity are in large part reliant on the development of new state of the art data centres, and on the development of the new subsea cables that those data centres will require, both of which Scotland is well placed to host."
Scottish Enterprise head of place Derek McCrindle said: "The scale, space and infrastructure on offer to companies looking for their next datacentre location is evident in this report with sites across the length and breadth of Scotland offering access to unique hubs that are well connected as well as providing opportunities in the supply chain and access to talent.
"The Datacentre Development report follows the launch of the Scottish Government's Green Datacentre and Digital Connectivity Vision and Action Plan and will also attract investors looking for a place to host data that can provide the right solutions for the climate and the economy."
Reports can be found here
Contact Information
Press Office
Notes to editors
Established by Scottish Government in 2008 as a centre of infrastructure expertise, the Scottish Futures Trust provides additional skills, resource and knowledge to public sector organisations, supporting them plan, fund, deliver and manage their construction projects and buildings better.
Host in Scotland was created in 2017 and is an umbrella organisation to represent and promote the interests of the Scottish data centre sector industry. Host in Scotland is funded by Scottish Futures Trust and Scottish Government, with the aim to promote new investment in the space, be it from existing operators seeking to expand or new entrants to Scotland.
Crown Estate Scotland is a public corporation that manages land and property on behalf of Scottish Ministers. We invest in property, natural resources and people to generate lasting value for Scotland. This includes ensuring families, businesses and communities can live, work and thrive on the assets. All revenue profit is paid to Scottish Government for public spending.
Scottish Enterprise is Scotland's national economic development agency. We're committed to growing the Scottish economy for the benefit of all, helping create more quality jobs and a brighter future for every region.
Follow us on Twitter at http://twitter.com/scotent and https://twitter.com/ScotEntNews
Follow us on LinkedIn at https://www.linkedin.com/company/scottish-enterprise/
TechRE is a fully integrated, specialist data centre consultancy offering a comprehensive understanding of the complex requirements needed for investing, operating, purchasing or managing data centre assets. Our extensive portfolio of services delivers a comprehensive range of solutions, a unique 'one-stop-shop' for individuals, consortiums, companies or associations, whether buy-side or sell-side.
TechRE works across the established and emerging datacentre markets in Europe, the Middle East, Africa and Asia. We are recognised as a leading specialist consultancy for datacentre research and development across the globe with an international team of local professionals based across the EMEA and APAC regions