09 April 2018
First Minister Announces Scotland-China Partnership Agreement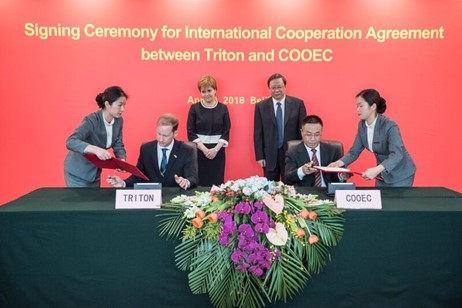 The First Minister has today witnessed the signing of an agreement between Aberdeen based Triton Marine & Engineering Consultants and China Offshore Oil Engineering Corporation (COOEC), a subsidiary of China's 3rd largest National Oil Company, China National Offshore Oil Corporation (CNOOC).
Triton Director Sean Holland visited Beijing to sign the deal alongside, Mr. Jin Xiaojian, President of COOEC.
The deal will see COOEC provide inward investment in to Triton over the next 2 years allowing them to grow their team in Aberdeen to support COOEC, and giving them the capacity to bid for large Decommissioning, EPCi and Wind Projects.
The partnership comes after months of negotiations which have seen COOEC's Senior Management visit Scotland.
Speaking after the signing First Minister, Nicola Sturgeon, said: "This agreement is great news for the oil and gas industry in Scotland and for Aberdeen in particular. CNOOC's investment is further evidence that Scotland is increasingly seen by international markets as a fantastic place to do business and invest."
Mr Holland said: "We are delighted to have secured this significant partnership with COOEC, one of the largest EPCi companies in the Asia Pacific Region. COOEC have substantial decommissioning experience and have recently completed a significant Decommissioning project for Chevron Thailand, receiving their highest safety award.
"Although Triton and COOEC come from different economic and cultural regions we have the same goal – to supply innovative integrated solutions to the Oil and Gas and Wind industries. We believe with COOEC's vast capabilities, expertise and experience we can offer a fresh approach in the North Sea.
"COOEC's inward investment into Scotland is the first key step to ensuring the long term success of this venture, and will provide a foundation upon which we will build together.
"I want to extend a special thanks to Scottish Development International, who have provided both Triton and COOEC with excellent support, as well as the Team at Triton, who have worked diligently to ensure the future success of this partnership."
Scottish Enterprise
is Scotland's national economic development agency and aims to deliver a significant, lasting effect on the Scottish economy. Our role is to help identify and exploit the best opportunities for economic growth. We support ambitious Scottish companies to compete within the global marketplace and help build Scotland's globally competitive sectors. We also work with a range of partners in the public and private sectors to attract new investment to Scotland and to help create a world-class business environment.
Follow us on Twitter at
http://twitter.com/scotent
Follow us on Facebook at
http://www.facebook.com/scottishenterprise