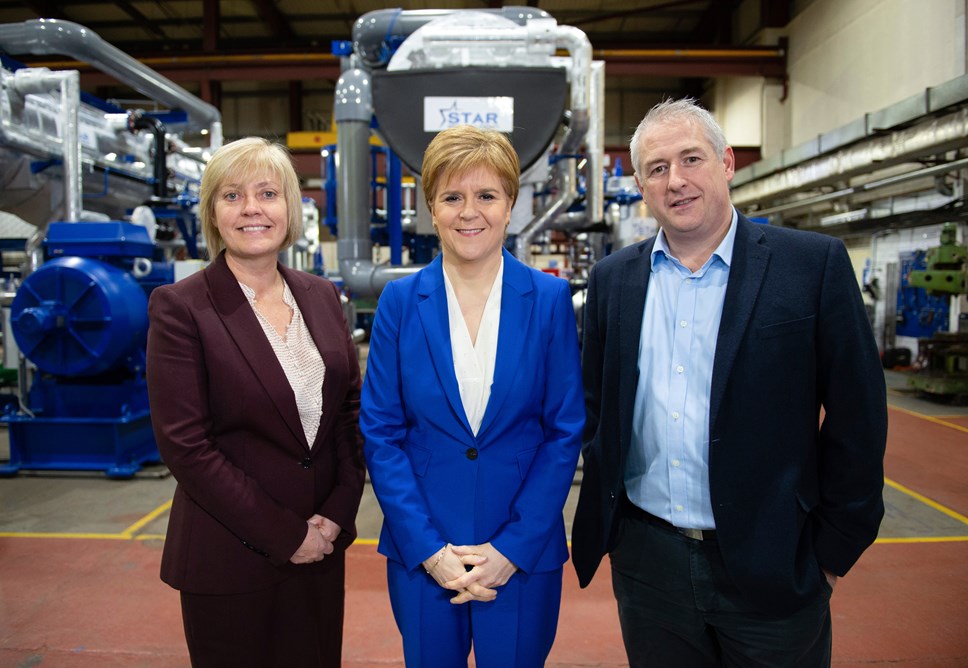 First Minister launches £6M Scottish Enterprise fund as a catalyst to support SMEs low carbon capabilities
First Minister Nicola Sturgeon launched a £6 million Low Carbon Challenge Fund to support SMEs to grasp opportunities around climate change.
The Scottish Enterprise administered fund will be open to public, third sector and academic institutions working to create opportunities to advance the low carbon capabilities of SMEs within Scotland.
Speaking at Glasgow's Star Refrigeration, the largest industrial refrigeration company in the UK which has also developed its own water source heat pump through a subsidiary company Star Renewable Energy the First Minister said: "The launch of the Low Carbon Challenge Fund is another step towards our target of ending Scotland's contribution to global climate change by 2045.
"Being at the forefront of the global transition to a low carbon economy is not just good for the environment - it is stimulating innovation and opening up new opportunities for our businesses. This fund will back projects that help small and medium size companies across Scotland expand their expertise, develop products and build partnerships to enable them to exploit these new emerging markets.
"Star Refrigeration is a great example of how tackling climate change can also be good for jobs and business. As we prepare to host the UN Climate Change Summit – COP26 – in Glasgow in November, it is fitting that Scottish companies are providing practical solutions to the environmental issues our world faces.
"The Low Carbon Challenge Fund is supported by the European Regional Development Fund and is yet another example of how Scotland benefits from membership of the European Union. We are still waiting to hear how the UK Government proposes to replace this funding after it drags Scotland out of the EU against our will in 16 days' time."
Star Refrigeration Ltd is the largest industrial refrigeration company in the UK and has also developed its own water source heat pump through a subsidiary company Star Renewable Energy.
Scottish Enterprise Chief Executive Steve Dunlop said: "This support for SME's is intended to support the development of new low carbon solutions to harness opportunities and move from a climate emergency to a climate opportunity.
"Scottish Enterprise is working with partners to meet Scotland's net zero target and ultimately provide the right environment for businesses to focus on more sustainable ways of working and the Low Carbon Challenge Fund is part of that.
"We will create initiatives across Scotland so we can really build momentum with our partners in the public sector, universities and the third sector and unlock opportunities around the climate emergency.
"All eyes will be on Scotland as Glasgow hosts COP26 later this year and the timing of our low carbon fund is right as we work to create a greener, more inclusive economy and I can't wait to see what projects will be created."
The fund will create initiatives for SMEs in a range of areas from innovation, supply chain to market expansion with expertise sought across the low carbon spectrum from electric vehicles to low carbon homes of the future.
Dave Pearson, Director of Star Renewable Energy recently won a Champion of Renewables award at the Scottish Green Energy Awards in December 2019 and is currently involved in a water-source heat pump project at Queens Quay in Clydebank.
He encouraged organisations to get involved as is passionate about sustainable projects and said: "River source heat pumps provide a scalable solution in cities and with the alignment of heat as a decarbonisation, clean-air priority as well as work by Scottish Government to advance opportunities for clean heat – the timing is great for the LCCF.
"The creation of the LCCF to fast track upskilling and efficiency improvements through knowledge sharing is of key strategic importance."
Up to £6 million of grant funding is available from the European Regional Development Fund and will be awarded on a competitive basis, to support the creation of a national network of regionally-based initiatives for SMEs to access.
The LCCF is a two-stage process and will contribute up to a maximum of 50% of eligible project costs. The deadline for stage one applications is Friday 21 February.
A range of information on the fund, including eligibility criteria, application process, contact details and timescales is available at www.scottish-enterprise.com/LCCF
Contact Information
Elaine Walker
Notes to editors
More pictures available on request.
Scottish Enterprise is Scotland's national economic development agency. We're committed to growing the Scottish economy for the benefit of all, helping create more quality jobs and a brighter future for every region.
Follow us on Twitter at http://twitter.com/scotent and https://twitter.com/ScotEntNews
Follow us on LinkedIn at https://www.linkedin.com/company/scottish-enterprise/
Star Renewable Energy: Dave Pearson is Director of Star Renewable Energy, Chair of CeeD-Scotland (a platform for industry and academia best practice sharing), former board member of Scottish Renewables and past Chair and current Board Member of the European Commission's "Renewable Heating and Cooling" Platform.
For further information on Star Renewable Energy, please visit https://www.neatpumps.com