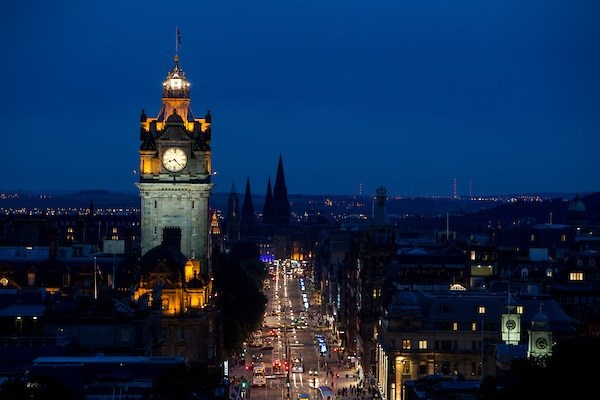 Focus on fintech as latest company attracted to Scotland
Efforts to reset and restart Scotland's economy from the devastating impact of COVID-19 are now underway.
As the recent Advisory Group on Economic Recovery (AGER) stated, Scotland needs to focus on its strengths as we emerge from the COVID-19 crisis.
And a key sector where Scotland excels is its burgeoning fintech industry.
With around 150 fintechs now operating in Scotland, the country is becoming a global leader in fintech innovation and development.
Throughout September, FinTech Scotland has hosted its annual festival, which has virtually showcased the very best of what the sector has to offer. The festival has seen conferences, discussions, online networking events and much more.
The latest festival event takes place today (Wednesday, 30 September) and features yet another company that has chosen to locate in Scotland.
fastP.A.Y.E. provides an ethically responsible Advance Salary App that supports employee financial well-being by allowing them to draw down some of their already earned money before payday.
And the company will announce its arrival into Scotland by hosting a discussion, Can Fintech Companies Materially Improve Employee Financial Wellbeing?, that will feature a virtual introduction by Economy Secretary Fiona Hyslop.
fastP.A.Y.E. is a subsidiary of ShopWorks Technology (SWT), a Software-as-a-Service company.
Headquartered in London, SWT has recently opened an office in Edinburgh after receiving a £1m R&D award from Scottish Enterprise. The grant will help develop advanced artificial intelligence tools for employers, creating 19 jobs in the process.
Mark Hallan, Director of Global Investment at Scottish Development International, said: "SWT is an innovative company delivering cutting edge AI solutions to make staff scheduling easier for employers.
"Providing support to fast-growing firms, such as SWT, to attract them to Scotland is a key priority for Scottish Enterprise. Inward investment will be absolutely critical to our country's economic recovery and we will continue to promote sectors where Scotland excels, one of which is fintech."
Ian Hogg, CEO & Co-Founder, ShopWorks and fastP.A.Y.E. said: "We've had a fantastic experience with the excellent technology skill base that is available in Scotland and are very keen to grow our office here.
"We wish to integrate within the community and repay the support given to us by Scottish Enterprise by creating high quality employment opportunities."
Economy Secretary Fiona Hyslop said: "I am pleased to welcome ShopWorks/fastP.A.Y.E. to our fintech fold in Scotland and congratulate the company on its £1m R&D funding from Scottish Enterprise. This funding will help ShopWorks grow by supporting the recruitment of 19 staff at its Edinburgh office.
"A strong financial services sector and a vibrant tech scene has fuelled the growth of the fintech community in Scotland. The success of the fintech sector relies on the talent of the people it employs and I know that ShopWorks has been delighted by the quality of candidates it has recruited in Scotland.
"Scotland now has 150 fintech companies and the availability of skills and a supportive business environment are essential in ensuring that the sector is able to capitalise on current and future opportunities."
Stephen Ingledew, CEO of FinTech Scotland, said: "We're delighted to welcome fastP.A.Y.E. in the fintech community here in Scotland. They join a fast-growing group of innovative payment firms that are changing the way we use money. When we met with the team we were inspired by their passion and dedication to change the status quo around how people receive their hard-earned wage.
"Helping employees access their salary when earned and not at the end of the month is what fintech is all about, using data and technology to provide better outcomes for everyone. This fintech will feel at home in Scotland with so many fintechs driven by social purposes."


Contact Information
Robbie McGregor
Notes to editors
• Anyone wishing to attend the webinar on 30 September can still register here: https://www.fastpaye.com/event-registration. The webinar recording will be made live online after the event
• fastP.A.Y.E is a subsidiary of ShopWorks Technology (SWT) and it is an add on product to the company's core business
• The 30 September event is branded separately for marketing reasons; fastP.A.Y.E is not part of Scottish Enterprise's R&D grant, but the company is recruiting in Edinburgh for this product