02 October 2017
Food and drink goes global with Showcasing Scotland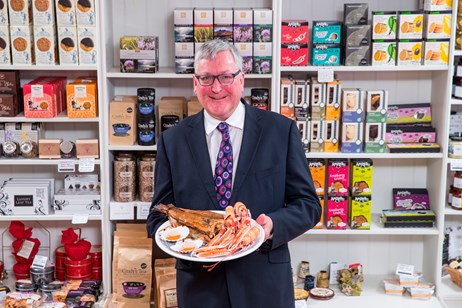 150 global buyers from nineteen countries are set to descend on Gleneagles on 3rd and 4th October for Showcasing Scotland; the most important date in the food and drink calendar.
From artisan producers to some of Scotland's largest brands, this two-day unique 'meet the buyer' event allows 145 food and drink producers to engage with key buyers in speed dating style. A showcase of the very best of Scotland's exceptional products, the event has previously proven to generate significant new domestic and international business for Scotland's thriving food and drink sector.
Back in 2015, Showcasing Scotland attracted over 130 buyers from around the world to meet with 100 Scottish producers, holding over 1,200 meetings in 48 hours. During the event, new business opportunities worth £33 million were identified by companies across a diverse range of sectors. One producer who attended this event said, "In all my years selling, the 48 hours I spent at Gleneagles were the most productive."
Cabinet Secretary for the Rural Economy, Fergus Ewing said:
"Scotland's food and drink sector is one of the cornerstones of our economy and culture, and its quality is globally renowned. We want more of our food and drink businesses to sell more to growing markets at home and abroad in order to achieve the industry's ambitions of doubling turnover by 2030.
"Enabling producers to engage with key buyers is fundamental to achieving that ambition and Showcasing Scotland has a track record of doing just that and delivering results for our producers."
James Withers, Chief Executive of Scotland Food & Drink, said:
"Showcasing Scotland is the most important trade event in our industry's calendar. It is a truly unique and outstanding opportunity for a number of our most innovative, established and emerging food and drink manufacturers.
"Beyond the commercial opportunity, the event will showcase Scotland's credentials as a Land of Food and Drink to key UK and global decision makers. Based on previous years, this year looks set to continue the momentum for our industry and the scale now truly reflects our ambition to more than double the size of our sector to £30 billion by 2030."
Susan Beattie, Head of Food & Drink at Scottish Development International, said:
"This event has a track record of delivering results for Scottish companies and buyers from UK and international markets. This year we have 100 international buyers attending, a direct result of the relationships established by the Scotland Food & Drink team of in-market specialists.
"We have delivered an intensive programme of support to help Scottish companies make the most of the opportunity and are anticipating a significant increase in international business as a result."
Attending buyers will be invited to participate in a full programme of events, including a gala networking dinner and sector visits, which will allow them to visit the places and people behind Scotland's outstanding produce.
Showcasing Scotland is run by Scotland Food & Drink and Scottish Development International and aims to grow sales of Scottish food and drink in UK and international markets, through connecting suppliers with buyers and highlighting the top-quality producers that help give Scotland its reputation as a Land of Food and Drink.
Showcasing Scotland is supported by Perth & Kinross Council. The networking dinner is sponsored by Santander.
For more information about Showcasing Scotland 2017, please visit: www.showcasingscotland.com
Scottish Enterprise
is Scotland's main economic development agency and aims to deliver a significant, lasting effect on the Scottish economy. Our role is to help identify and exploit the best opportunities for economic growth. We support ambitious Scottish companies to compete within the global marketplace and help build Scotland's globally competitive sectors. We also work with a range of partners in the public and private sectors to attract new investment to Scotland and to help create a world-class business environment.
Follow us on Twitter at
http://twitter.com/scotent
Follow us on Facebook at
http://www.facebook.com/scottishenterprise