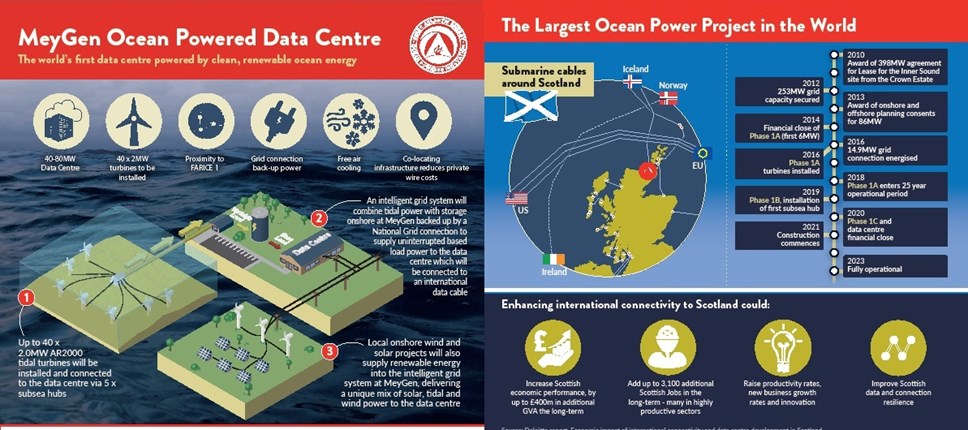 From the race track to the North Sea, data is everywhere - find out more at DataFest Aberdeen 11 March
A special event as part of DataFest is taking place in Aberdeen on Wed 11 March to highlight projects from a data centre powered by the ocean to using data to reduce energy industry carbon emissions with speakers including former F1 pit crew member Marc Priestly.
Scottish Enterprise is supporting the thought-provoking discussion 'Beyond Data' that will consider how data can drive sustainability with presentations from SIMEC Atlantis Energy, representatives from Wood and local tech innovators hosted at ONE Tech Hub.
Delegates will learn of plans for the world's first ocean powered data centre in Caithness from SIMEC Atlantis CEO Tim Cornelius who has hailed data as the new oil.
He said: "Data is arguably becoming the world's most valuable resource, and the amount of data requiring storage is increasing at a staggering pace.
"However, data centres are undeniably power hungry and the clients of data centre operators are rightly demanding power be sourced from renewable and sustainable sources."
Integral to wider net zero discussions, Aberdeen Headquartered OPEX Group, will reveal how data science and predictive technology can have an immediate impact on reducing CO2 intensity and emissions from oil and gas operations.
Digital representatives from the Offshore Renewables Energy Catapult will also provide data-innovation insight related to offshore wind technology as well as an update on supply chain engagement opportunities the ORE Catapult offers.
Scottish Enterprise Digital Economy Lead Julie Roberts commented: "Scottish Enterprise is a supporter of many of the initiatives, projects and companies that will take part in Data Fest across Scotland in what is a truly inspiring fortnight of digital economic activity.
"The north east of Scotland has a strong heritage of innovation and is globally recognised for the technologies that have been developed for use in the North Sea.
"Energy transition has been hailed as a potential 'green boom' and set alongside the emerging area of 'climate tech' with data-driven innovation at its core, DataFest Aberdeen and regional fringe events will shine a spotlight on world-leading projects happening here."
DataFest Aberdeen is supported by Scottish Enterprise and is part of a wider two-week festival of data innovation led by The Data Lab taking place across Scotland from the 9 – 20 March to showcase Scotland's role in data science.
More information is available at: www.datafest.global/events-feed/2020/3/11/datafest-aberdeen and you can also download the DataFest20 app from the App Store, or Google Play.
Contact Information
Elaine Walker
Notes to editors
Scottish Enterprise is Scotland's national economic development agency. We're committed to growing the Scottish economy for the benefit of all, helping create more quality jobs and a brighter future for every region.
Follow us on Twitter at http://twitter.com/scotent and https://twitter.com/ScotEntNews
Follow us on LinkedIn at https://www.linkedin.com/company/scottish-enterprise/
The Data Lab is Scotland's innovation centre for data and AI. Through hubs in Edinburgh, Glasgow, Aberdeen and Inverness, we foster innovation through collaboration, build skills and grow talent, and champion Scotland's data science community. We help Scotland maximise value from data and lead the world to a data-powered future.
SIMEC Atlantis Energy is the global developer, owner and operator of sustainable energy projects with a diverse portfolio of more than 1,000 megawatts in various stages of development. This includes a 77% stake in the world's largest tidal stream power project, MeyGen, and a 100% stake in the 220MW Uskmouth Power Station conversion project.
More on SIMEC Atlantis Energy's project to build the world's largest ocean powered data centre in Caithness