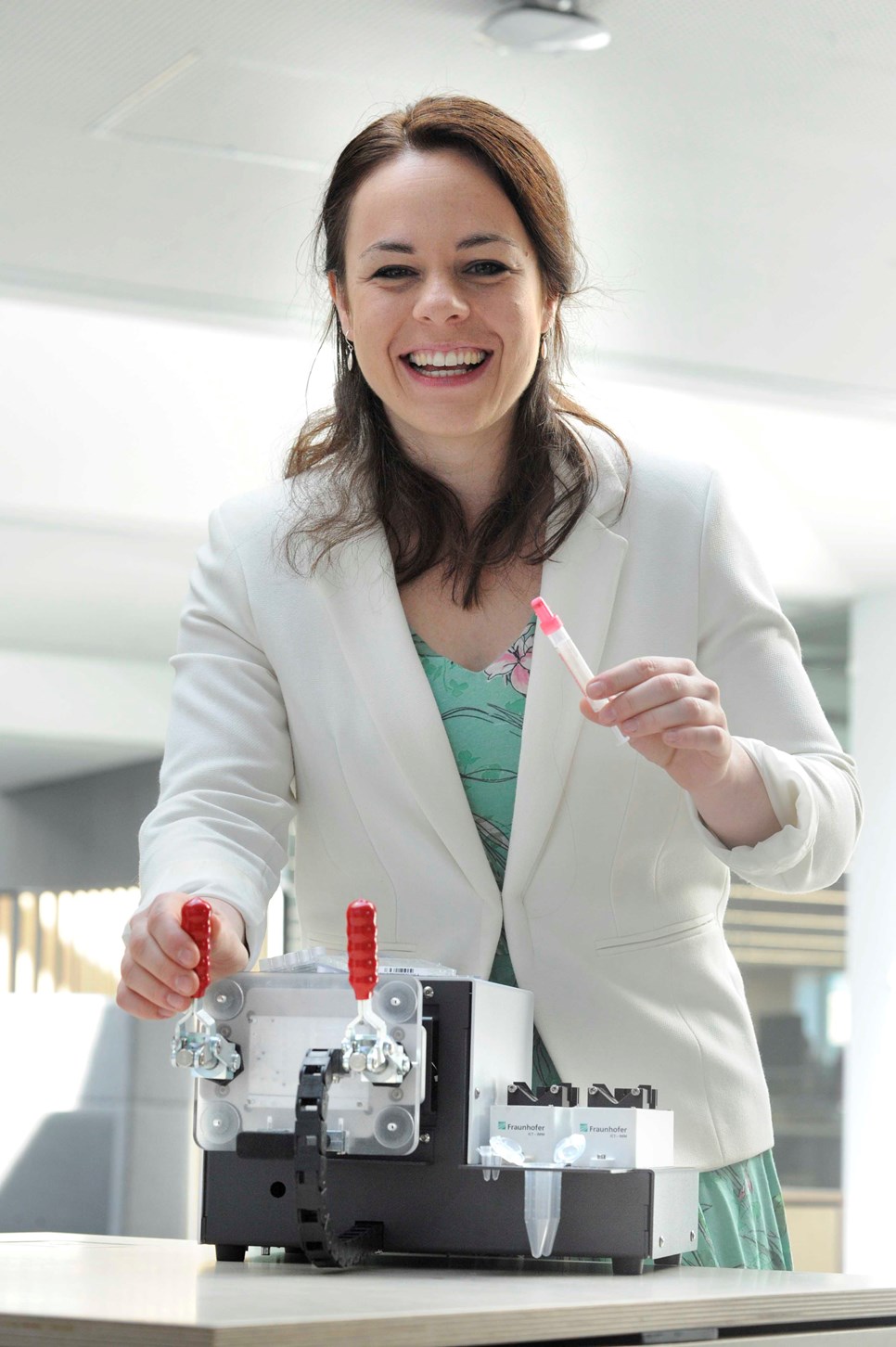 Funding boost helps university team improve cancer diagnosis and treatment
Researchers from Heriot-Watt University's Natantis team are developing an innovative device that could revolutionise the way blood samples are prepared for use in cancer diagnosis and treatment monitoring, after being awarded £574,500 from Scottish Enterprise's High Growth Spin-out Programme (HGSP).
The Natantis team, which hopes to spin-out into a commercial venture by 2020, has created the CNAsafe device to extract cell-free nucleic acids (cfNA) from whole blood. The demand for the type of testing this facilitates – known as liquid biopsies – is growing, as it replaces invasive and often impractical tissue biopsies.
Extracting cfNA from blood has until now been a labour-intensive, highly-skilled and time-consuming process taking place across two distinct stages, often in different locations up to one week apart. Using CNAsafe samples could be extracted in just 45 minutes to deliver results that are more reliable, of a higher quality and cheaper to produce.
The unique device consists of a portable base unit and disposable, single-use cartridges. It is operable by non-experts without the need for additional lab equipment. Main applications to date have been in cancer and prenatal screening, with potential uses in toxicology and transplant monitoring.
The Natantis team has already attracted commercial interest in the technology and is in discussion with a number of potential investors. The liquid biopsy market as a whole is worth $2-3 billion and is estimated to grow to $5-6 billion by 2022.
Public Finance Minister Kate Forbes visited the Natantis team to see the device first-hand. She said: "Scotland has a thriving life sciences community, and a long history of world-changing innovation. The Scottish life sciences sector is incredibly innovative, accounting for almost a quarter of Scotland's Business Enterprise Research and Development spend in 2017.
"The results of this can be seen in projects like Natantis which, with its CNAsafe device, has designed a truly innovative Scottish product with the potential to have a real impact on the liquid biopsy process.
"The product has already shown promising commercial interest, proving its very real market and giving Natantis the opportunity to develop into a major contributor to Scotland's life sciences sector."
The visit took place at Heriot-Watt's new GRID building. Located at the university's Edinburgh campus, this ground-breaking facility is designed to foster strong collaboration between the university, industry and enterprise partners. GRID – which stands for Global Research Innovation and Discovery – is fully-equipped with next generation technologies that empower students, entrepreneurs and start-ups to commercialise creative ideas and shape future industry.
Andrew Henderson of Scottish Enterprise's High Value Manufacturing and Health team, said: "Through HGSP we work with leading academics all over Scotland to help turn their innovative ideas into successful business ventures. The Natantis team is an excellent example of this, with its innovative solution for faster, cheaper, more reliable and better-quality samples for vital health screening.
"There is a very real market opportunity here and with its CNAsafe device the Natantis team is primed to seize that opportunity. I look forward to following the team's progress as they spin-out into a fully-fledged company and make their mark on the world of medicine."
Natantis' Principal Investigator Dr Maiwenn Kersaudy-Kerhoas said: "Scottish Enterprise's High Growth Spin-out Programme is a fantastic opportunity to bridge the gap between the academic lab and the commercial enterprise. We are getting essential support from both Scottish Enterprise and Heriot-Watt and we're looking forward to moving to the new GRID building as an incubator for Natantis, just a stone's throw from Edinburgh Airport, with all the benefits of the campus' facilities."
Contact Information
Press Office
Notes to editors
Contact information:
Jennifer Stevenson
Scottish Enterprise
0141 468 5779
07919 227 836
jennifer.stevenson@scotent.co.uk
Notes to Editors:
About HGSP
Scottish Enterprise's High Growth Spin-out Programme (HGSP) supports the creation of academic spin-out companies which in turn create high-value jobs and develop new products and services for international markets. These activities generate significant economic impact for Scotland. The HGSP team has a history of working collaboratively with the university teams, tailoring its support to best meet the project's needs. With a detailed understanding of the key requirements for successful commercialisation, it can help build credible management teams and secure investment.
About Scottish Enterprise
Scottish Enterprise is Scotland's national economic development agency and aims to deliver significant, lasting effect on the Scottish economy. Our role is to help identify and exploit the best opportunities for economic growth. We support ambitions Scottish companies to compete within the global marketplace and help build Scotland's globally competitive sectors. We also work with a range of partners in the public and private sectors to attract investment to Scotland and to help create a world-class business environment.
Follow us on Twitter at http://twitter.com/scotent
Follow us on Facebook at http://www.facebook.com/scottishenterprise
About Heriot-Watt University
Heriot-Watt University is a specialist, pioneering university with a reputation for innovative research and highly employable graduates. It has approximately 29,000 students at five campuses based in Scotland, the UAE and Malaysia, and in over 160 other countries through its distance learning programmes. It was named International University of the Year by The Times and Sunday Times Good University Guide 2018 and is ranked among the World's Top 500 by all three major rankings – QS World University Rankings, Times Higher Education World University Rankings and Academic Ranking of World Universities.

Follow on Twitter at http://twitter.com/HeriotWattUni
Follow on Facebook at https://www.facebook.com/HeriotWattUni/