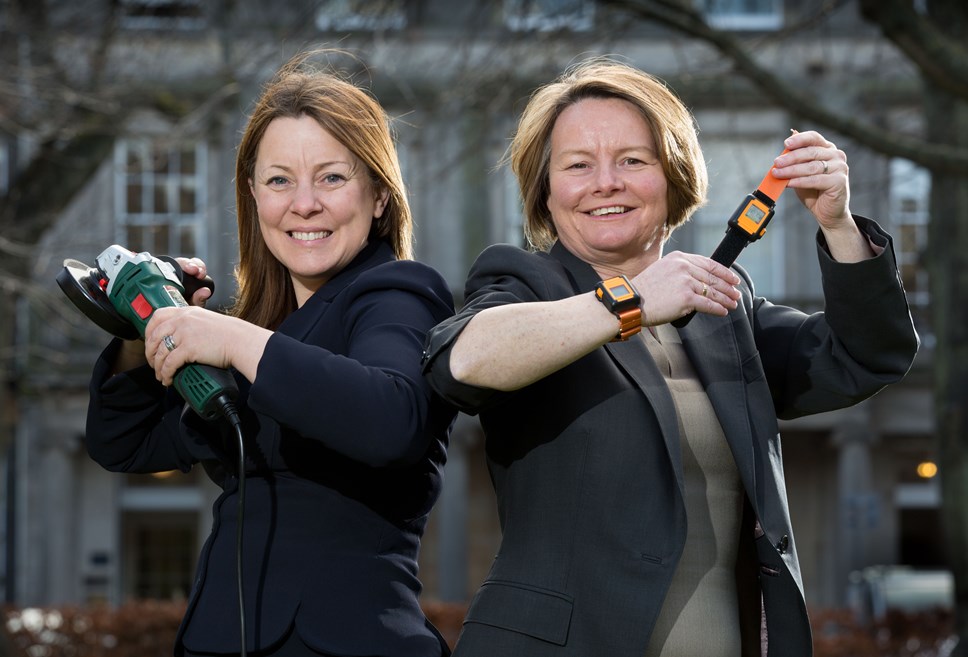 Fundraising round supports further development of HAVwear
Reactec staff join in £700k funding round with £122k investment of their own cash
Reactec, the market leader in monitoring and management support solutions for hand and arm vibration syndrome (HAVS) - one of the most common industrial diseases in the UK – has completed a further £700,000 round of fundraising for the ongoing development of its innovative HAVwear personal monitoring equipment and reporting technology.
The follow-on funding round was led by leading business angel investment syndicate, Archangels, with co-funding from Scottish Investment Bank, the investment arm of Scottish Enterprise. Significantly, the funding round included £122,000 of investment from Reactec's board, management and staff.
HAVwear is a wearable device that monitors the vibration an individual is exposed to when using hand held tools, providing real time personal data highlighting their exposure risk. Reactec's system, which was launched in 2016, provides reliable data analysis to customers that is clear, concise and tailor-made to support their measures to reduce workforce exposure to HAV.
Reactec plans to use the additional funding to build on the growth achieved since the release of HAVwear which saw it ship 10,000 units in its first year resulting in the company recording its first £1m sales quarter. The funding will support the recruitment of four additional sales and engineering team members, taking Reactec's headcount to 27 and enabling international expansion and further research and development.
Jacqui McLaughlin, Chief Executive of Reactec, said:
"HAVwear has achieved significant momentum since we launched it last year as the world's first wearable vibration monitoring device, making monitoring of workers' exposure to dangerous vibrations that cause HAVS more meaningful than ever before.
"I am thrilled that so many of our own people have chosen to invest their own cash in Reactec's future, alongside Archangels and Scottish Investment Bank. This will help us to grow the business internationally and undertake further R&D."
Sarah Hardy, Chief Investment Officer at Archangels, said:
"At Archangels, we are proud of our track record of follow-on funding for our investee companies. Reactec's HAVwear product meets a clear customer need in protecting users from the debilitating effects of HAVS and we look forward to seeing this product increasing its impact in this important area."
Kerry Sharpe, Director of Scottish Investment Bank, said:
"Reactec is a fine example of an ambitious, fast-growing Scottish company, whose focus on innovation has resulted in the development of a market-leading product. It's great to know that this funding will allow the company to expand its reach, target new geographies and create new employment in Edinburgh and we look forward to working with Reactec to help it to build on the commercial success it has already achieved."
28th March 2017 Ends
Further information:
Callum Spreng Tel: 0141 548 5191
Spreng Thomson Mob: 07803 970103
Email: callum@sprengthomson.com
Notes to editors:
About Reactec
Reactec is the UK market leader in the provision of monitoring devices and a management information reporting platform of Hand Arm Vibration (HAV) risk - the cause of one of the most common industrial diseases in the UK, Hand Arm Vibration Syndrome (HAVS) – also known as Vibration White Finger.
Reactec's Analytics Platform which includes the HAVwear is an automated solution for employers to monitor and manage vibration exposure risks. The HAVwear is worn by the tool user and exposure and tool data is transmitted online to provide companies with digital reports of their workforce exposure to potentially harmful levels of vibration. This product has c.50% market share of HAV monitoring devices sold in the UK. reactec.com @reactec
What is HAVS?
Hand Arm Vibration (HAV) is the cause of one of the most common industrial disease in the UK, Hand Arm Vibration Syndrome (HAVS) – also known as Vibration White Finger – with estimates that over 1 million UK workers are currently exposed to vibration over the HSE limit (source: HSE)
There is no cure for HAVS, there is only prevention
There is inadequate research on what "safe" levels of exposure to vibration are (source: HSE Laboratories)
2 million* people in the UK are at risk of HAVs. But currently there is under 100,000** take up of monitoring systems, around 5% (source: *HSE **Reactec)
139% surge in disease related employee personal liability claims (2011 – 2014, Weightmans)
42% rise in the number of 'Hand Arm Vibration' non-compliances recorded through 20,000 site inspections in 2016 (source: BSG)
There are 300,000 people suffering from HAVS in the UK
Successful HAVS related industrial disability claims have increased by 69% in last eight years (Industrial Injuries Disablement Benefit)
About Archangels
Archangels is a prominent business angel syndicate which has been at the forefront of early stage investing in Scotland for a quarter of a century. Its members invest in, and mentor, promising start-up and early stage companies from Scotland's vibrant technology and life sciences sectors. Originally formed in 1992 and based in Edinburgh, the syndicate now comprises over 70 investor members and leads investment of around £10m per year in early stage Scottish companies, including leverage from partners, the largest being the Scottish Investment Bank.
Archangels is interested in Scottish technology companies, which are looking for initial funding of £50,000 to £2m. In addition, Archangels is keen to welcome new investors to its syndicate. www.archangelsonline.com
About Scottish Investment Bank
The Scottish Investment Bank (SIB) is the investment arm of Scotland's main economic development agency, Scottish Enterprise, operating Scotland-wide in partnership with Highlands and Islands Enterprise. It manages a suite of co- investment funds including the Scottish Co-investment Fund and the Scottish Venture Fund, which are partly funded by the European Regional Development Fund (ERDF), Renewable Energy Investment Fund and the Scottish Recycling Fund. SIB is the cornerstone investor in the privately-managed Scottish Loan Fund, managed by Maven Capital Partners and an investor in Epidarex Capital's life sciences fund. SIB's investment funds support Scotland's SME funding market to ensure businesses with growth and export potential have adequate access to growth capital. SIB also provide a team of Financial Readiness specialists to help companies prepare for new investment and access appropriate finance.
Contact Information
Laura Suarez
Scottish Enterprise
0141 468 5728
07747 007256