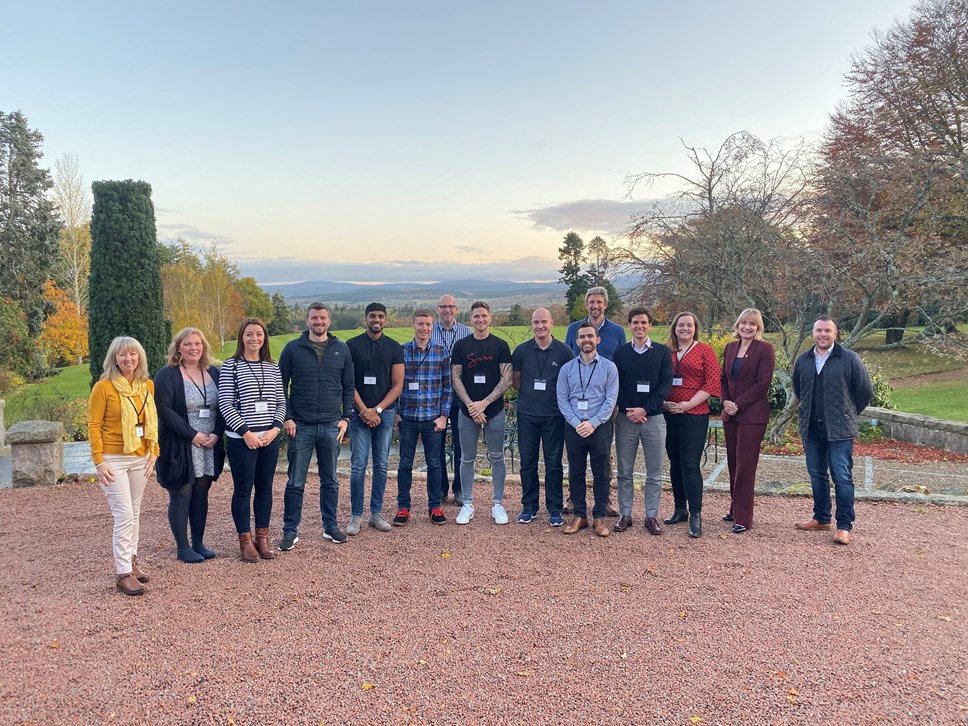 Future industry leaders programme aims to energise future leaders
A Future Industry Leaders Programme (FILP) has been developed by Scottish Enterprise to support both the energy and skills transition and equip leaders for the future energy market.
The oil and gas industry is changing rapidly as is evident looking at OGUK's 2035 roadmap, OGTC's Net Zero Centre and OPITO's Skills Landscape report that also highlights a need to up-skill the sector's leadership and management.
Delegates who attended the latest Future Industry Leaders Programme (FILP) in October took part in a presentation and discussion with Deirdre Michie of OGUK and gained the opportunity to speak to a leading light in the industry.
Chief Executive of OGUK Deirdre Michie said: "Innovative leadership development programmes like FILP are just what we need to harness the talent in our industry. Providing a broad industry perspective, FILP has been a game-changer in developing a network of individuals who can drive change and ensure our industry has an exciting role to play in the future."
Scottish Enterprise Oil and Gas Team Leader Kevin Taylor said: "The Future Industry Leaders Programme is about creating a growing network of vibrant, bright and talented individuals who bring fresh ideas and energy to the industry and I'm delighted to welcome our latest recruits.
"The programme supports our high performing companies to deal with the demands facing them in a constricted market and strengthens leadership skills to drive cultural change, encourage collaboration and importantly support the move to lower carbon energy too.
"I am passionate about bringing new leaders forward who can challenge the norm and also shape the future of an industry in transition too and encourage people across the energy industry to get involved."
FILP is a six-month leadership programme incorporating a leadership retreat and one to one coaching sessions.
The programme was established in 2016 and stemmed from work as part of the Energy Jobs Taskforce and the Oil and Gas Industry Leadership Group to nurture talent in the industry, change behaviours, create resilience, promote collaboration and support the move to Net Zero 2045.
Jointly funded with Opportunity North East and the Oil and Gas Authority with support from the Oil and Gas Technology Centre and OGUK the programme aims to nurture dynamic future leaders.
Sarah Stalker of Optimus Aberdeen, who attended the programme, said: "This is one of the most revolutionary and inspiring leadership courses I have ever been on. The content, pace and delivery are perfectly pitched."
The latest intake of participants will form part of an alumni of over 70 graduates of the programme who have taken knowledge back to companies across the energy industry as well as supporting working groups such as the O&G Industry Leadership Group and the Just Transition programme within Scottish Government.
Louise Thom of UQ who is one of the FILP Facilitators explains: "The programme is designed to build confidence and encourage participants to lead from the core of who they are rather than trying to be anyone else.
"Delegates learn to navigate complex environments to get the best from their teams and work together across their organisations and industry. This is all done through a lens of creating change that is truly sustainable by their behaviours, conversations and relationships across the supply chain."
To apply for the programme in 2020 visit www.filp.co.uk for more information as further dates are announced. Applicants should currently hold a managerial, supervisory or senior role and be passionate about the future of the energy sector. For more information contact Kevin Taylor at kevin.taylor@scotent.co.uk or info@filp.co.uk
Contact Information
Elaine Walker