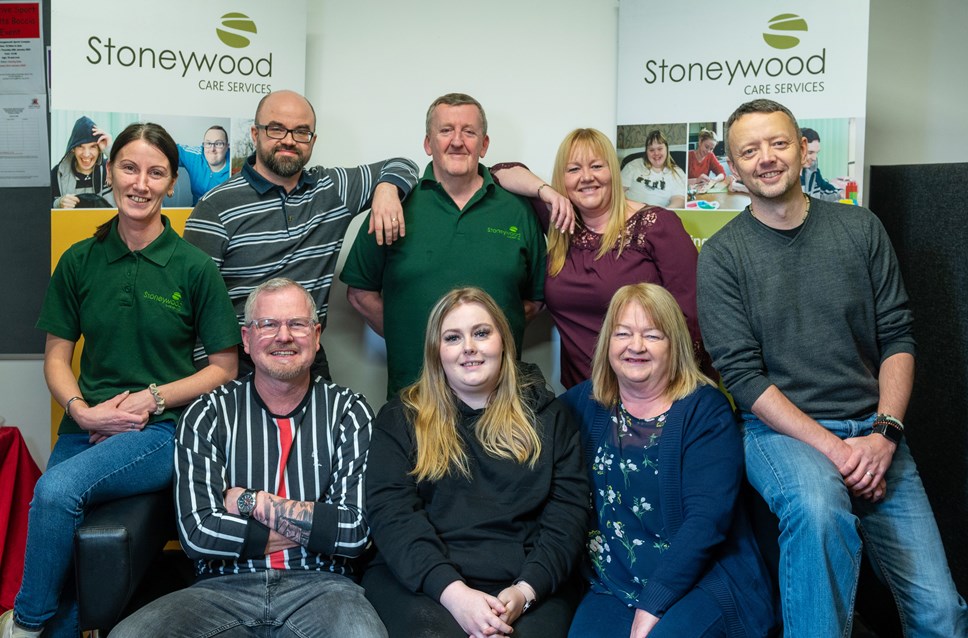 Great start to 2023 as Scotland welcomes three new employee-owned businesses
It was a great start to 2023 for employee ownership as three Scottish businesses implemented an Employee Ownership Trust (EOT), safeguarding the long-term future of their companies, retaining jobs, skills and investment
SVM Glasgow, Stoneywood Care Services in Denny and Oliver Chapman Architects in Edinburgh all made the move to employee ownership after working with Co-operative Development Scotland (CDS), which offers advice and support via a 100% funded ownership succession review and employee ownership feasibility study.
SVM Glasgow is an engineering service design firm which specialises in the rail industry. It employs 14 people, all of whom have joined the newly-formed Employee Ownership Trust (EOT). Owner Craig Thomas said: "We first heard about employee ownership from Scottish Enterprise. We looked at various exit options, but employee ownership was the clear preference as it allowed us to maintain the legacy of the business while enabling senior staff members to further develop their skillsets, manage the business for themselves and ultimately reap the rewards of their efforts as shareholders."
Social care provider Stoneywood Care Services is now 100% employee owned, with all 107 employees having a stake in the business. Co-owner Ian Howie said: "All exit strategies were explored for selling the business, but after attending several presentations with CDS it became clear to me and co-owner Mary Reid that employee ownership was the best option. Our employees were supportive of the idea and happy we weren't going down the route of a trade sale, which they felt could cost Stoneywood its identity. They're also happy to have a voice on the future of the company and feel included in major decisions, with business ownership staying in the local area."
Oliver Chapman Architects has handed all 6 employees a stake in the business. Company Director Oliver Chapman said: "We were looking at how we can make the business more resilient and employee ownership just made sense. I was aware of other architectural and engineering practices making the same decision in recent years, and CDS case studies showed that it was a good option in terms of employee engagement and a stable transition of ownership."
CDS is part of Scottish Enterprise and the arm of Scotland's enterprise agencies* that supports company growth through collaborative and employee ownership business models. Scotland is the third largest growth region in the UK for employee-owned businesses and CDS is the only dedicated service aimed at supporting business growth through more employee ownership and co-operative business models.
Clare Alexander, Head of CDS, said: "The consistent issues that arise in our discussions with growing companies are their desires to retain their unique identity and purpose, secure a future in the local community and reward their loyal teams – at the same time as increasing their profits.
"Welcoming these three very different companies to the employee ownership fold at the beginning of 2023 really demonstrates that employee ownership can work for businesses of all shapes and sizes. It's an increasingly popular choice among socially conscious firms who recognise the need to do things differently in the current challenging environment."
Employee ownership gives employees a meaningful stake in their organisation together with a genuine say in how it's run. Employee-owned businesses (EOBs) are also more resilient than non-employee-owned businesses during times of economic crisis, as well as being more profitable, more productive and having greater staff engagement.
The company transitions were project-managed by 4-Consulting and Co-ownership Solutions with legal services from Blackadders and financial inputs from Douglas Brotherston and Sharles.
* Scotland's three enterprise agencies are Scottish Enterprise, Highlands and Islands Enterprise and South of Scotland Enterprise.
ENDS 
Contact Information
Jennifer Stevenson
Notes to editors
SVM picture caption (l-r): Team members Craig Thomas, Calum Doherty, Ross Hamilton, Craig T Lennon, Allan Harkness, John Burn, Jamie Taylor, Elise McLean, Jim Weston, Gavin Morris and Benjen Reid.
Stoneywood picture caption (l-r): Team members Carrie Tadla, Bart Walkowiak, Richard Garner, Louise Berry and Robbie Corr (all back row), Frank Gardiner, Danielle Park and Carole Campbell (all front row).
Oliver Chapman Architects picture caption (l-r): Team members Oliver Chapman, Anna McLuckie, Pamela Feng, Martin Lambie, and Angus Henderson.
Contact information: 
Jennifer Stevenson  
Scottish Enterprise  
0141 468 5779 / 07919 227 836  
jennifer.stevenson@scotent.co.uk  
Notes to Editors: 
About SVM
SVM was established in Denmark in 1933, before branching out to the UK and Ireland. Its Glasgow office opened in 2004 and was the subject of a management buyout in 2008 in order to progress towards its chosen route of specialising in the rail industry. Over the past nineteen years SVM Glasgow has fulfilled its ambitions with an increased staff base, independent RISQS accreditation and an impressive portfolio including high profile, award-winning projects such as Borders Rail, Haymarket Station, Aberdeen Station and multiple non-publicised essential operational railway signalling power schemes, where SVM has been leading the way in Scotland and across the UK for the design delivery of these specialised services. SVM is proud of all of its achievements and looks forward to many more in the future as it continues to provide excellent mechanical and electrical design solutions to the country from its home in the heart of Glasgow.
About Stoneywood Care Services
Stoneywood Care Services was established in 1991 as a residential care firm with two properties. Today it provides a variety of care and support services to vulnerable people in the community. It specialises in supporting people with learning disabilities, people with mental health issues and vulnerable people with complex care needs who require assistance to live in a home of their own. It delivers its service from within four departments: residential care, community outreach, community housing support and the gateways service, which provides complex care needs support to people in their own home. Stoneywood also has its own in-house training department and many partnerships within the local community. It works with the Community Partnerships service, which helps Stoneywood's service users gain work skills in areas such as gardening and woodwork. The company is particularly proud of its community outreach and housing support services, which help people progress from residential care settings to a house of their own.
About Oliver Chapman Architects
The company was founded in 1997 by Oliver Chapman. From a starting point designing furniture, the studio has expanded its expertise into various building types and now works with large scale clients including Scottish Canals, housing associations and various community arts organisations, but still approaches each project as an opportunity to explore new themes regardless of scale. A strong team ethic, methodical approach to design and sense of enjoyment are central to the studio's track record. From its base in the centre of Edinburgh's old town, close to the university, its team has developed a network of international links with other individuals and practices with whom it regularly collaborates. Oliver Chapman Architects is a RIBA Chartered Practice with both RIAS Sustainable Architecture and Passivhaus accredited professionals in its team.
About CDS
Co-operative Development Scotland (CDS) is the arm of Scotland's enterprise agencies that supports company growth through collaborative and employee ownership business models. An employee-owned business is one in which the employees hold the majority of the shares either directly or through an employee ownership trust. Selling to employees allows owners to manage their exit and achieve fair value while safeguarding the long-term future of the company. Employee ownership gives employees a meaningful stake in their organisation together with a genuine say in how it is run. It roots business in Scotland, drives performance and delivers economic wellbeing. For further information follow CDS on Twitter @cdscotland or look at the blog www.cdsblog.co.uk
About Scottish Enterprise 
Scottish Enterprise (SE) is Scotland's national economic development agency and a non-departmental public body of the Scottish Government. It supports businesses to innovate and scale to transform the Scottish economy by focusing on new market opportunities through targeted investment, innovation and internationalisation. Follow us on Twitter and LinkedIn.