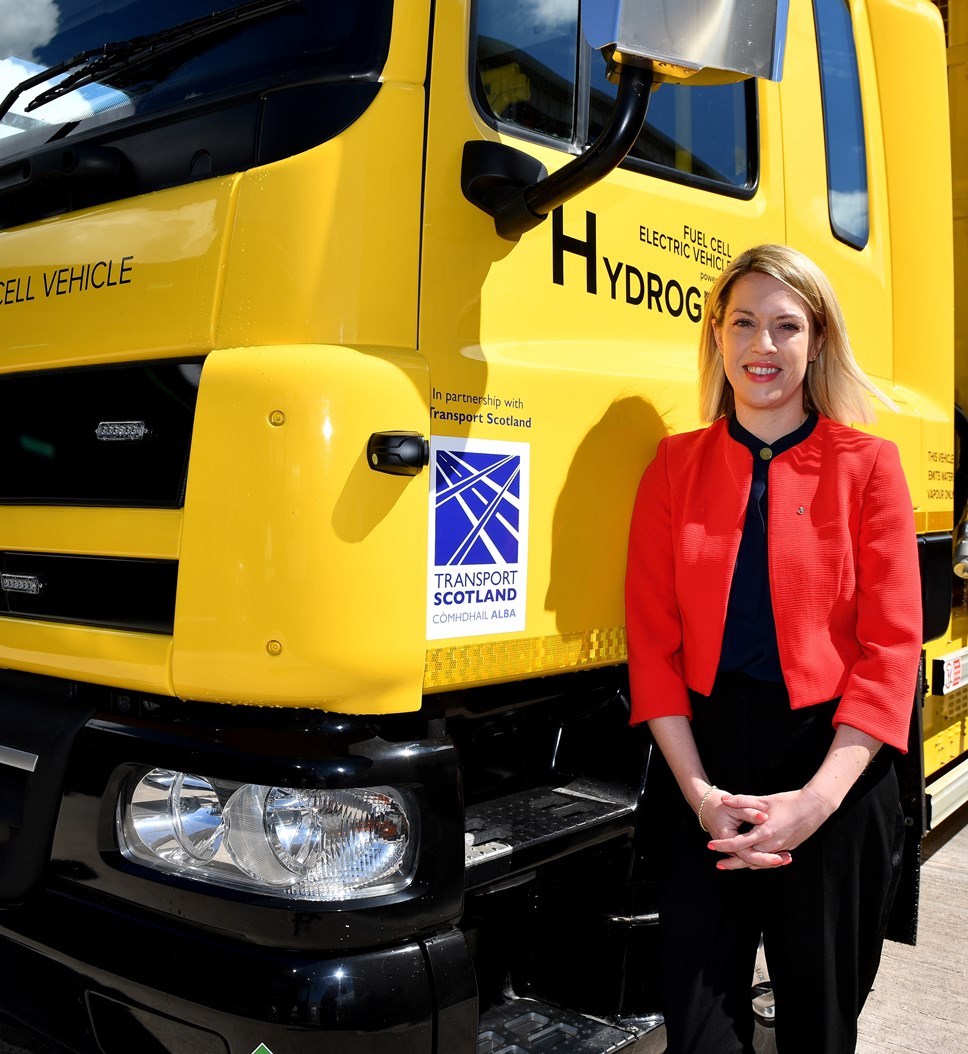 Greener power for boats, gritters and excavators – some of the 12 projects sharing over half a million in specialist funding
12 Scottish companies have been successful in receiving a share of £560,000 to support the decarbonisation of heavy duty vehicles.
A second challenge call for Zero Emissions Heavy Duty Vehicles was completed recently from Transport Scotland and Scottish Enterprise through its Can Do Innovation Challenge framework to support innovation around net zero transport.
This round of funding was an extension to a programme launched in 2021 and aimed to target a wider range of heavy duty transport with successful projects including boats, gritters and offroad excavators.
Electron Garage in Glenrothes is using the funding to develop a retrofit solution to electrify diesel gritters with swappable batteries. This will enable depots with 24-hour capability and also vehicle-to-grid capacity to tap into onsite renewables and off-peak electricity when the vehicle is not in use.
The retrofit aims to provide a more cost-efficient solution for public sector fleets and Wayne Campbell from Electron Garage said the company has already had support for the project from East Lothian Council.
He added: "We ultimately aim to help all local authorities to electrify all of their heavy duty vehicles – and save money in the process - factoring in their range of different duty cycles and providing retrofit solutions that work for them. We are thankful for the support of Scottish Enterprise's Zero Emissions Heavy Duty Vehicles challenge call as it is vital we look to reduce emissions around transport."
Ideas cover a range of projects from hydrogen refuelling to battery technology and two projects are based at Michelin Scotland Innovation Parc in Dundee including a hydrogen fuel cell powered truck being developed by Laidir Circular Mobility and a battery solution for a hydrofoil boat from OTG.
Scottish Enterprise director of economic opportunities and climate Suzanne Sosna said: "Our partnership with Transport Scotland is to encourage manufacturing innovation around heavy duty vehicles that both boosts our economy and helps meet environmental targets. Transport is one of the largest carbon emitters, so it's encouraging to see such innovative projects have won this funding.
"The impressive projects are providing solutions to fuel the heavy duty vehicles of the future and it is also great to see some emerge from flagship partnerships such as Dundee's Michelin Scotland Innovation Parc."
Minister for Transport Jenny Gilruth said: "I'm pleased that over half a million pounds from the Scottish Government will support 12 exciting transport decarbonisation projects across the country. This work can be complex, but our funding is helping to create commercial success stories – positioning Scotland at the forefront of the global low carbon economy we need to see.
"Whether it's trucks, boats or diggers – the climate emergency requires us to move away at pace from petrol and diesel vehicles and towards zero emission alternatives. The Can Do Innovation Challenge Programme, part of a package of Zero Emission Mobility Innovation funding delivered by Scottish Enterprise, is directly supporting the Scottish Government's 'Mission Zero' for transport and I look forward to visiting some of these projects to learn more in the coming months."
The projects receiving funding are:
ZEM Fuel Systems Ltd, St Andrews, is a start-up company developing direct ammonia fuel cells to decarbonise the maritime sector and is also working on projects funded by the Net Zero Technology Centre. The firm aims to develop and implement its zero-emission technology for use in offshore and onshore applications to help decarbonise the energy industry.
Laidir Circular Mobility, Dundee (MSIP) is developing a different type of Power Unit for electric Heavy Commercial Vehicles. By incorporating biological solutions it is possible to refill an electric truck with a liquid energy carrier, which supports long range and extended duty cycle applications
OTG, St Andrews and Dundee (MSIP) for a battery electric drive train for a hydrofoil boat
Orion Research, Renfrewshire, for a battery electric breaker tool for an offroad excavator
Zugbox, Glasgow, for the development of an innovative container system to support electric vehicle road to rail transport
HVS, Glasgow, will develop a bespoke energy storage system for its zero-emission hydrogen-electric fuel cell trucks
Davidsons Brothers, Shotts, will use the grant toward developing an innovative green hydrogen fuelling station
Electron Garage, Glenrothes, will take forward a project to develop a battery powered electric retrofit system for road gritters
Mage Control Systems, East Kilbride, is working on an innovative HDV control system for fuel cell systems
ULEMCo, Aberdeen, will utilise funding towards a hydrogen combustion powertrain solution for public sector HDV fleets
Industrial Systems and Control, Glasgow , will take forward a project for a battery control system to optimise the performance of battery electric trucks
Vahanomy, Edinburgh, will work on an AI system to optimise charging infrastructure investment planning
The Can Do innovation challenge call supports Scottish innovators to evaluate the feasibility of their concepts, detail designs and build the commercial case for ideas that will support Scotland's net zero ambitions and the development of a low carbon economy.
Contact Information
Press Office
Notes to editors
Picture caption: Minister for Transport Jenny Gilruth.
Additional images on request of Laidr's truck design. Also available are images of Scottish Enterprise director of economic opportunities and climate Suzanne Sosna.
Additional comments:
ZEM - Professor John Irvine, CTO, from ZEM Fuel Systems said: "We need a green fuel to replace marine diesel oil, especially for long distance shipping. Ammonia is zero carbon, a low cost fuel and easy to transport and store. The high efficiency of ammonia powered fuel cells provides game changing zero emission technology, well able to compete with internal combustion engines."