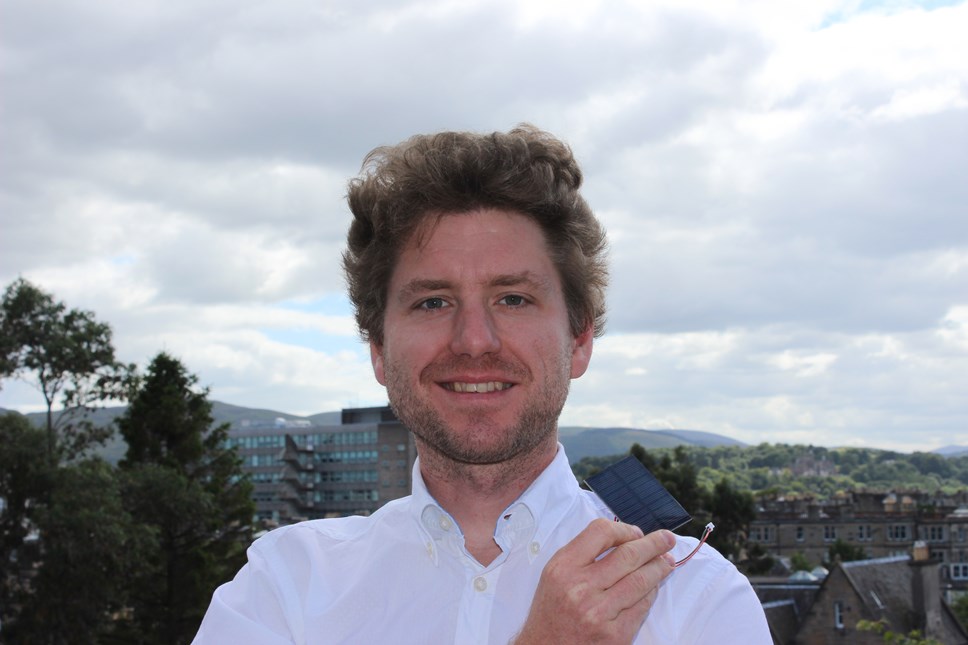 i4 Product Design wins Scottish Enterprise support to explore energy harvesting
Energy Harvesting captures power from various and often combined natural sources like solar or thermal to run electronics and wireless products known as 'Internet of Things' (IoT) devices.
IoT technology has integrated with physical products, such as wearables and medical devices that are embedded with sensors or software to exchange data over the internet. The increased use of this technology has left the market dependent on batteries to power these products at the cost of negative environmental impacts.
Only available to small and medium sized enterprises (SMEs) based in Scotland, the SMART: Scotland grant is one of Scottish Enterprise's research and development (R&D) grants that aims to support high-risk, highly-ambitious projects. It covers two key areas of R&D - conducting feasibility tests and developing prototypes - and it supports activities that have a commercial endpoint.
Istvan Csajaghy, i4pd principal electronics and systems engineer, is leading the project that will provide an alternative to batteries. He says the funding will help design innovative prototypes which will run on a combined use of Energy Harvesting technologies, acting as 'off-the-shelf' reference designs for future innovation.
Istvan says he plans to create those product designs with companies like Renesas, the world's largest microcontroller company, who are developing RE Family - a new dedicated family of ultra-low power microcontrollers with an integrated Energy Harvesting Controller which will enable i4pd to build a supply-chain for this emerging technology trend.
He said: "I am really excited to receive funding to work on, what I believe, will be a game changer in the world of wireless product design. Today's technology enables us to challenge the use of batteries in devices, and I look forward to seeing more self-powered products in our everyday life."
Mike Huston, team leader at Scottish Enterprise, said: "This project represents an opportunity to make everyday technology greener, which is more important now than ever. We're pleased to continue our support for i4 Product Design, having had a strong relationship with the company for some time including advising it about market development and becoming employee-owned."
It's a new venture for i4 Product Design and will mean patenting intellectual property from an innovative technology to partner with investors and researchers.
Managing Director Brian Combe founded i4pd with three other colleagues and grew the company from a mechanical/industrial design service-based business to a full-service, multi-disciplinary consultancy SME with 21 employees and a £1.85m turnover.
An innovative product development B2B and B2C consultancy, i4pd became Employee-Owned in 2018 with support from Scottish Enterprise's employee ownership arm, Cooperative Development Scotland (CDS). To date, i4pd has generated hundreds of millions of pounds of revenue for its clients by using various design methodologies to introduce more than 200 successful products into the consumer, medical, renewable and industrial markets.
The project's commenced on Monday 6 July and is partly-funded by the European Structural and Investment Funds (ESIF).
-ENDS-
Contact
Lynda-Marie Taurasi
Integrated Marketing Manager
i4 Product Design
About Scottish Enterprise
Scottish Enterprise is Scotland's national economic development agency. We're committed to growing the Scottish economy for the benefit of all, helping create more quality jobs and a brighter future for every region.
Follow us on Twitter at http://twitter.com/scotent and https://twitter.com/ScotEntNews
Follow us on LinkedIn at https://www.linkedin.com/company/scottish-enterprise/
Contact Information
Jennifer Stevenson