28 February 2018
Invest in Scotland – Minister Derek Mackay Hosts Investors at London Business Breakfast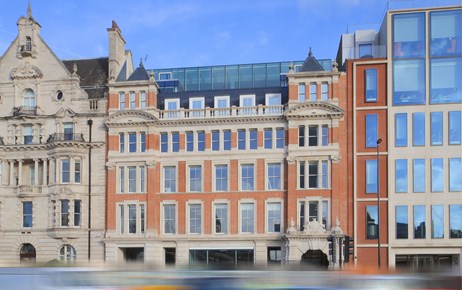 Three of Scotland's biggest commercial real estate propositions for 2018 will be unveiled to investors in London today [Wednesday February 28] at a business breakfast hosted by Derek Mackay, Cabinet Secretary for Finance and Constitution.
The potential investments include a £137m opportunity in Bothwell Street in Glasgow, the £150m Queen's Square, Aberdeen proposition and the Advanced Manufacturing Innovation District Scotland in Renfrewshire which is seeking £250m in investment. These opportunities will be presented to a targeted audience of investors, intermediaries and leading decision makers at Scotland House, the Scottish Government's headquarters in London.
This event is the second of its kind at Scotland House in a push by Scotland's economic agencies - Scottish Development International, the international arm of Scotland's enterprise agencies, and the Scottish Cities Alliance, which is the seven cities and Scottish Government working together to boost economic growth, along with the Scottish Property Federation, the voice of the country's real estate industry - working together to pool resources and maximise results.
Finance Secretary Mr Mackay said: "With more than 2,300 foreign-owned companies employing a total of 317,000 staff here and realising a combined turnover of £86 billion, foreign direct investment plays a vital role in Scotland's economy. A recent study reported that for every £1 spent on attracting inward investment, £9 is generated for our economy.
"Attracting inward investment is a key priority for the Scottish Government – something which assumes even more importance in light of Brexit – and is one of the aims of our Trade and Investment Strategy. The events at Scotland House, our innovation and investment hub in London, bring together senior investors, fund managers and decision makers to hear more about the benefits of investing in Scotland."
The latest EY Scotland Attractiveness Survey (2017) highlighted that Scotland won a record number of investments from overseas in 2016, with 122 foreign direct investment deals done over the course of the year, up from 119 in 2015. EY's report showed for the fifth year in a row, Scotland was the second most popular part of the UK to invest in behind London.
Events such as this aim to maintain Scotland's high ranking with the message that Scotland is a low-risk location with a variety of robust, investor ready propositions and a track record of success with international companies such as Spire, Genpact, Corporate Health and Dexcom all setting up operations here.
Neil Francis, interim managing director of Scottish Development International, said: "Much of Scotland's success in attracting international investment comes from the strength of our connected cities and competitive business environment, and together with the Scottish Cities Alliance, we are actively engaging with target audiences in London and further afield to promote Scotland to international influencers.
"We must continue to build on the international connections that exist across many parts of our economy to attract new investment, and this event at Scotland House is a great example of how we are working closely with partners to combine our voices, networks and resources to secure economic impact for Scotland."
The propositions on show will demonstrate the strength of Scotland's investment opportunity across the country with the public sector agencies working closely with the private sector.
Aberdeen's Queen's Square project centres on the city living approach in a bid to deliver housing and re-energise the heart of the city.
Chief Officer for City Growth at Aberdeen City Council, Richard Sweetnam, is presenting the city's Queen's Square scheme to the invite-only audience. He said: "This is a great opportunity to showcase the major investment potential in Aberdeen directly to London-based investors as well as several international investors. We are the first Scottish city to float a bond on the stock market, we have thriving energy, digital and life science sectors and Aberdeen is soon to be Scotland's first gigabit-speed fibre broadband city, so we have all the infrastructure in place for investors to make this their destination of choice.
"Queen's Square offers an excellent opportunity for the right investor – with a residential-led mixed use urban quarter in the heart of Aberdeen, the project has a GDV of £150million and sits next to the new Marischal Square development which brought in £107million to Aberdeen's economy. Events such as this, working with our partners in the Scottish Cities Alliance along with Scottish Development International, offer a fantastic opportunity to highlight the huge potential of Aberdeen."
Ends
NOTE TO EDITORS:
The Scottish Cities Alliance is a unique collaboration of Scotland's seven cities and the Scottish Government working together to deliver economic growth through investment in infrastructure. With a £7.5 billion Pitch Book promoting the great potential across the seven city regions, the Alliance aims to attract external investment, stimulate economic activity and create new jobs and business opportunities.
The body's ambitious plans range over the short, medium and long term to create the conditions to deliver expansion, by strategically focusing on infrastructure, low carbon and Smart Cities initiatives, aligned to City Investment Plans. By utilising the strengths of Scotland's seven cities, the Alliance engages with Scottish investors through events across the seven cities and beyond. By working together Scotland's cities can create projects of scale and achieve an economically stronger future for Scotland.
Visit www.scottishcities.org or to go straight to the Pitch Book www.scottishcities.org.uk/pitchbook
For further information contact Communications Manager Lillian McDowall
Email: Lillian.mcdowall@scottishcities.org.uk
Tel: 0141 222 9728 Mob: 07909 220799
Scottish Enterprise
is Scotland's main economic development agency and aims to deliver a significant, lasting effect on the Scottish economy. Our role is to help identify and exploit the best opportunities for economic growth. We support ambitious Scottish companies to compete within the global marketplace and help build Scotland's globally competitive sectors. We also work with a range of partners in the public and private sectors to attract new investment to Scotland and to help create a world-class business environment.
Follow us on Twitter at
http://twitter.com/scotent
Follow us on Facebook at
http://www.facebook.com/scottishenterprise