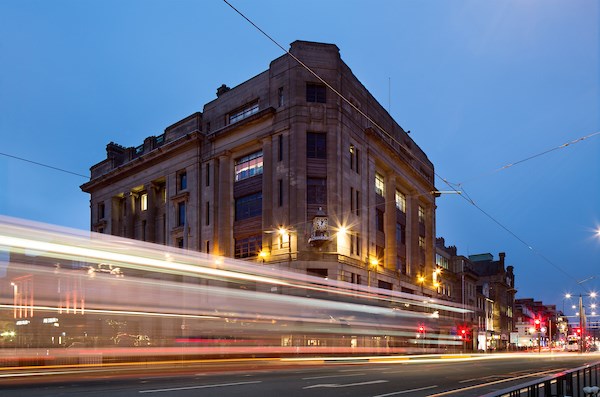 Inward investment in the digital age
US videogame ad platform firm latest company to choose Scotland
The recent publication of the Scottish Government's new inward investment plan underlined the importance of attracting global companies to locate, invest and grow in Scotland.
As Trade, Investment and Innovation Minister Ivan McKee highlighted when unveiling Shaping Scotland's Economy: Scotland's Inward Investment Plan, inward investors constitute just 3% of Scotland's businesses yet are responsible for 34% of our employment.
It's therefore no surprise that for the past seven years, Scotland has been the most attractive location in the UK outside of London for Foreign Direct Investment (FDI).
As our economic recovery from COVID-19 gets underway, encouraging international companies to choose Scotland as their home will be more vital than ever before. One such company that has recently made the move to our shores is US software development company, AdInMo.
The company has developed a platform for integrating brand advertising campaigns directly into the gameplay of Mobile, Augmented Reality (AR), Virtual Reality (VR), and eSports games. Rather than adverts interrupting gaming, AdInMo's technology ensures it becomes part of it, for example billboards in racing games.
AdInMo's decision to choose Edinburgh as its company headquarters was supported by a £200k Regional Selective Assistance award and a £100k SMART grant from Scottish Enterprise. The move will create at least 20 jobs over the next three years.
Mark Hallan, Director of Global Investment at Scottish Development International, said: "AdInMo is exactly the type of innovative company that we want to attract to Scotland.
"Since its arrival in Edinburgh, AdInMo has built an impressive team and is in the process of developing partnerships with companies here in Scotland, highlighting the spillover benefits that inward investment brings to our economy.
"Scotland has a long-standing reputation of excellence in the gaming industry, while our digital tech sector is going from strength to strength. Combined with the proximity to our world-class universities, Scotland remains an extraordinary proposition for exciting companies such as AdInMo to locate in."
Kristan Rivers, CEO & Founder of AdInMo, said: "The vibrant gaming and data science ecosystems, supported by a world-class university system, ultimately made Scotland a natural choice for AdInMo.
"We feel privileged to be part of Scotland's rich games industry heritage and hope that with the support and resources available to us, we can emulate the success of those Scottish companies that have blazed a trail for us to follow."
And Trade, Investment and Innovation Minister Ivan McKee, who referenced AdInMo when announcing the publication of the Scottish Government's new inward investment plan at the Scottish Parliament last week, added: "I am delighted to welcome AdInMo to Scotland.
"The company is another important addition to our world-class digital tech sector, providing high quality jobs, creating opportunities for indigenous businesses and helping to further build Edinburgh's reputation as the data capital of Europe.
"Inward investment has an important role to play in our economic recovery from the pandemic and AdInMo is a great example of the kind of business our new, targeted strategy seeks to attract.
"I look forward to Scotland's skilled workforce, global strengths and its progressive, outward looking approach attracting significant further investment in the coming months."
To learn more about AdInMo and its plans for Scotland, please take a moment to view a special digital introductory message we've worked with the company on: https://www.youtube.com/watch?edufilter=NULL&feature=youtu.be&v=S8RzONzsUjk
Contact Information
Robbie McGregor