30 August 2018
Jobs boost for Fife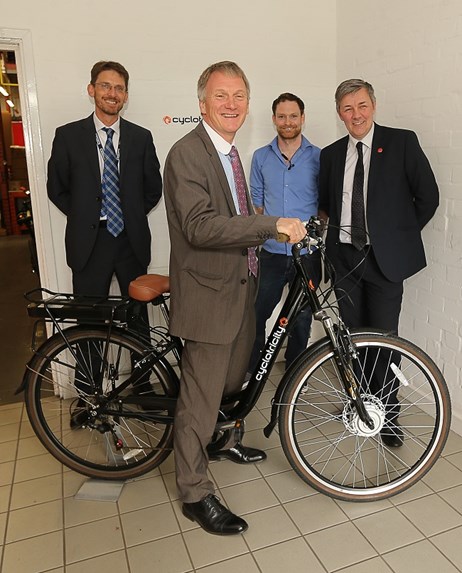 Two companies, Renovite Technologies and Cyclotricity, are creating 40 new jobs in Dunfermline and Glenrothes after receiving Regional Selective Assistance (RSA) grants from Scottish Enterprise. Fife Council is supporting both companies to settle including assistance with recruitment and upskilling.
Renovite Technologies, an electronic payment company from California, has received a £250,000 grant to help grow its Dunfermline location. 28 new high tech roles will be created to help meet demand for better payments software from banks and money management businesses worldwide.

Relocating from the south east of England, Cyclotricity will manufacture electric bicycles thanks to a £120,000 RSA grant, creating 12 manufacturing jobs at its new Glenrothes headquarters.

Minister for Trade, Investment and Innovation, Ivan McKee said:

"We want Scotland to be the best place to live, work and invest so we are committed to growing the economy in a sustainable and inclusive way. These awards will bring new high tech jobs to Fife, helping to grow the local economy thanks to £370,000 of investment support.

"The Scottish Government is supporting businesses to maximise the opportunities that come from established strengths in innovation and technology. Scotland has huge economic potential so we are determined to work with businesses to unlock more high skilled jobs like these.

Paul Lewis, managing director, international operations at Scottish Enterprise, said:

"Two new inward investors, bringing significant numbers of new jobs and economic impact is fantastic news for Fife, and is a real endorsement of this region's attractiveness to foreign investors, in terms of availability of skills, connected business infrastructure and quality of life.

"We will continue to work in partnership with our colleagues at Fife Council to support these companies as they establish roots in Fife and look forward to seeing them grow and expand in Scotland."

Cllr. Altany Craik, Convener – Economy, Tourism. Strategic Planning & Transportation Committee, Fife Council, said: "Fife Council through Invest in Fife is now actively working with both of these companies to help them further establish themselves here as quickly as possible and support their growth plans.

"Fife is a great place for businesses to establish themselves and grow, and this funding is delivering local employment opportunities as well as wider economic and community benefits.

ENDS


Background

Additional quotes
Jim Tomaney, chief operating officer at Renovite Technologies, said: "Increasingly, consumers demand new and innovative products in financial services and Scottish Fintechs have been able to satisfy that demand thanks to a highly skilled and experienced workforce, combined with a supportive business environment. We have, for example, grown our team in Scotland by more than three times this year and anticipate tripling this figure again over the next 12 months thanks to rising demand for better payments software from banks and money management businesses worldwide.

Ian Byrne, Regional Manager, Cyclotricity, said: "The move to Fife is designed to make us more competitive. We looked at every possible location, but quickly narrowed it down to two. After considering every aspect, we decided that Glenrothes ticked every box and offered us an edge that was unavailable in any other potential UK site.

"When coupled with the support provided by Scottish Enterprise and Fife Council it puts us on track to compete with much bigger players. We can now develop new products and make new hires because of RSA and R&D funding."

Scottish Enterprise
is Scotland's national economic development agency and aims to deliver a significant, lasting effect on the Scottish economy. Our role is to help identify and exploit the best opportunities for economic growth. We support ambitious Scottish companies to compete within the global marketplace and help build Scotland's globally competitive sectors. We also work with a range of partners in the public and private sectors to attract new investment to Scotland and to help create a world-class business environment.
Follow us on Twitter at
http://twitter.com/scotent
Follow us on Facebook at
http://www.facebook.com/scottishenterprise