22 June 2017
Kite Power Systems secure £2m investment from Scottish Investment Bank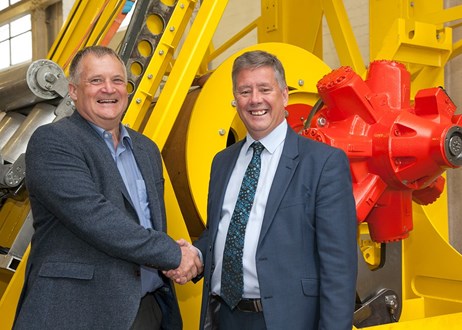 Kite Power Systems (KPS), the company developing innovative new kite power technology in Scotland, has secured £2million equity investment from the Scottish Investment Bank (SIB), the investment arm of Scottish Enterprise.
The news was confirmed today (Thursday 22nd June 2017) by Keith Brown, Scottish Government Cabinet Secretary for Economy, Jobs and Fair Work, on a visit to Kellwood Engineering in Dumfries, where KPS's latest 500kW demonstration model is being manufactured and assembled.
Mr Brown was joined on the visit by Paul Wheelhouse, Minister for Business, Innovation and Energy.
The news follows confirmation by KPS in February 2017 that it had re-located from Essex and consolidated all of its activities in Scotland, establishing a research and test facility near Stranraer and a head office in Glasgow.
The £2million investment makes SIB the latest investor in KPS, joining E.ON, Schlumberger and Shell Technology Ventures, who announced a combined £5million investment in the company in December 2016.
KPS' power system features two kites which fly up to an altitude of 1500 feet. Both kites are attached by tethers to a winch system that generates electricity as it spools out. This technology has the potential to transform the global offshore wind generation market, as it is cheaper to manufacture and requires less construction and installation materials than conventional wind turbines (See Notes to Editors).
Economy Secretary Keith Brown said: "Scotland has a long and proud history of innovation and Kite Power Systems' pioneering approach to harnessing wind energy shows great promise.
"The company has recently relocated from Essex to Glasgow and this £2m investment from the Scottish Investment Bank will enable it to expand further and demonstrate the latest iteration of its kite power technology in Scotland.
"Scotland has recently moved into the top group of EU nations as regards innovation performance, and the commercialisation of novel ideas – such as the technology being developed by Kite Power Systems – will help to drive us even further forward."
David Ainsworth, KPS Business Development Director said, "This very welcome new investment from the SIB is an endorsement of the extensive R&D work the KPS team has carried out and is a further vote of confidence in our technology and our business. Along with the support of our other investors, this backing will accelerate KPS's commercial development plans towards deploying lower cost, deep-water offshore wind energy on a global scale."
Iain Scott, Chief Financial Officer at Scottish Enterprise, who attended the visit, said: "Scotland has an excellent track record in renewables innovation, and Kite Power Systems' decision to move to Scotland is testament to our reputation in this area. Kite Power Systems is a great example of an ambitious and innovative company operating in this sector, and we look forward to continuing to work with the company to build on the success of its prototype."
KPS has already built a team of 20, mainly engineers and aims to grow to 34 by the end of 2017. The company's management and design engineering team are based in Glasgow, with a further team of test and development engineers based at the test facility, 8km south east of Stranraer.
The company has been flight testing its current 40kW system there over the past few weeks and has secured planning consent to deploy the new 500kW power system, following delivery of the completed model during August 2017. This will lead to a planned onshore demonstration array of multiple 500kW systems within the next 3-4 years, elsewhere in Scotland. Thereafter, KPS will develop a 3MW onshore system at the test facility and then deploy a similar sized power system in offshore waters.
Lower capital and operational costs means that kite power generation would not need government subsidies and could be deployed in UK and Irish waters (and other areas of the North Sea) and in waters up to and potentially deeper than 40m found offshore of countries such as Portugal, Japan and the USA. KPS's kite power technology can also be deployed onshore.
ENDS)
For further information /downloadable images & film footage:
Kite Power Systems (www.kitepowersystems.com / twitter @kitepowerltd)
David Ainsworth, Business Development Director: david.ainsworth@kitepowersytems.com / +44 (0)7966 937146
Paul Taylor, Taylor Keogh Communications: +44 (0)20 8392 8250 / +44 (0)7966 782611 / paul@taylorkeogh.com
For Scottish media inquiries
David Budge, Budge PR: 07831 156333 / david.budge@budgepr.com
Picture Caption
Cabinet Secretary, Keith Brown (right) with David Ainsworth, Director, KPS alongside the winch unit for the company's latest kite power generator.

Notes to Editors
The KPS power system has two kites that are flown as high as 1500 feet (450m); their tether is attached to a winch system that generates electricity as it spools out. By achieving flight speeds of up to 100mph (45m/s) in 20mph (9m/s) winds, the kite's tether tension causes the line to rapidly spool out from a drum, which turns a generator producing electricity.
KPS's technology can reduce the capex of conventional offshore turbines by as much as 50% because its patented power system doesn't require large quantities of steel or specialist installation vessels. In addition to the Balance of Plant being lower than traditional wind turbine, Kite Power Systems have a better effective wind efficiency per m² active area. The International Renewable Energy Agency's Innovation Outlook for Offshore Wind (IRENA, published in October 2016) states a levelised cost of energy (LCOE) for conventional offshore turbines of US$170/MWh in 2015 reducing to US$95/MWh in 2030. Independent assessment of the KPS technology indicates a LCOE of US$62.5/MWh by 2020, reducing to less than US$50/MWh by 2030.
While there are other high altitude wind power systems under development around the world, the patented KPS system is unique and KPS, established in 2011, is the only British company active in the kite power market.
Prior to the £7million investment by E.ON, Schlumberger, Shell Technology Ventures and the SIB, KPS had invested more than £3m in technology development, with financial support coming from the UK Government (via DECC's Energy Entrepreneurs Fund and Innovate UK), Shell's GameChanger programme and private investors.
Scottish Investment Bank
The Scottish Investment Bank (SIB) is the investment arm of Scotland's main economic development agency, Scottish Enterprise, operating Scotland-wide in partnership with Highlands and Islands Enterprise. It manages a suite of co- investment funds including the Scottish Co-investment Fund and the Scottish Venture Fund, partly funded by the European Regional Development Fund (ERDF), Renewable Energy Investment Fund and the Scottish Recycling Fund. SIB is the cornerstone investor in the privately-managed Scottish Loan Fund, managed by Maven Capital Partners and an investor in Epidarex
Capital's life sciences fund. Our investment funds support Scotland's SME funding market to ensure businesses with growth and export potential have adequate access to growth capital. We also provide a team of Financial Readiness specialists to help companies prepare for new investment and access appropriate finance.
Scottish Enterprise
is Scotland's national economic development agency and aims to deliver a significant, lasting effect on the Scottish economy. Our role is to help identify and exploit the best opportunities for economic growth. We support ambitious Scottish companies to compete within the global marketplace and help build Scotland's globally competitive sectors. We also work with a range of partners in the public and private sectors to attract new investment to Scotland and to help create a world-class business environment.
Follow us on Twitter at
http://twitter.com/scotent
Follow us on Facebook at
http://www.facebook.com/scottishenterprise