07 September 2018
Konrad-Technologies UK Leading the Way in Connected & Autonomous Vehicles (CAV) Testing for Scotland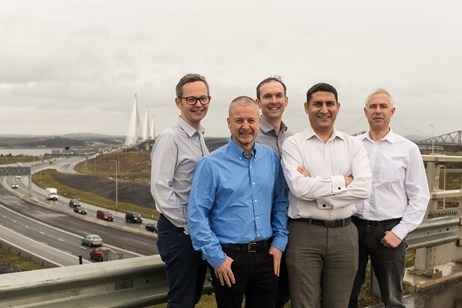 Konrad Technologies, a global leader in sensor testing of Advanced Driving Assistance Systems (ADAS), announces its intention to lead the Scottish market with the opening of its UK offices in Dunfermline, Fife.
Konrad-Technologies UK is at the forefront of test and measurement of ADAS sensors including Radar, LiDAR and vision cameras required for driverless cars. Konrad's focus on automotive vehicles and the Internet of Things (IoT) markets fits with one of the Scottish Governments six strategic themes on Intelligent Transport Systems (ITS) strategy for delivering provision of Intelligent Mobility.
The ability to test ADAS sensors that allow vehicles to "see" the road ahead is paramount to developing and delivering autonomous driving safety as more and more car manufacturers launch Connected and Autonomous Vehicles (CAV). Active safety systems for autonomous vehicles require millions of miles of test-drives to meet safety requirements. Moreover, these are typically complex test scenarios and often include the need to inject errors into automotive systems in order to test in non-ideal conditions.
Konrad-Technologies UK Managing Director, Robin Irwin said: "CAV testing is not possible to achieve by driving exclusively on test tracks or public roads. Konrad provide the ability to allow automotive parts or systems to be tested within a virtual environment, allowing for hardware-in-the-loop (HIL) testing. This allows automotive parts or systems to be tested within a virtual environment. For example, simulating radar signals representing a pedestrian on the road to test the reaction of the automatic braking systems.
"Moreover, with the increase in digitisation of road networks worldwide, we can provide complex test scenarios and simulate the trunk and rural road networks of Scotland, evaluating safety-critical systems in a laboratory environment and delivering CAV trials safely with no impact on public roads. Put simply, our testing approach to sensor fusion simplifies and shortens development time for car manufacturers."
The UK team's broad experience in wireless automation provides the support required to deliver quality test and measurement solutions for automotive Original Equipment Manufacturers (OEMs), automotive tier 1 suppliers and the vast array of companies developing new wireless Internet of Things (IoT) technology.
Konrad-Technologies UK will also support the interests of the ADAS iiT consortium, which provides a single source for customers seeking to fully test complete autonomous vehicles in a virtual environment, as well as continuing their partnership with National Instruments as part of the NI Alliance Partner Network.
Robin Irwin will be speaking at CAV Scotland 2018 (www.CAVScotland.co.uk) run in conjunction with Transport Scotland, 31st Oct - 1st Nov. at the Royal Highland Centre, Edinburgh, with keynote speaker Cabinet Secretary for Transport, Infrastructure and Connectivity, Michael Matheson MSP.
Notes to Editors
Photo: Konrad-Technologies UK - From left to right: Neil Clark, Malcolm Campbell, Robin Irwin, Nadeem Dar, David Mitchell
Automotive Infographic: Automotive Sensor Fusion Testing with Object Simulation & Generation
Robin Irwin Konrad-Technologies UK Managing Director
Robin has worked within the test and measurement industry for over 15 years with a number of leading test companies. Serving a global customer base and in conjunction with some of the world's leading silicon vendors and OEMs/CMs, Robin has experience in identifying test needs, recommending new test techniques, processes and software architectures to deliver optimised, custom turn-key automated test solutions. He is a Chartered engineer with a 1st class MEng in Electrical & Electronic Engineering from Queens University Belfast.
Konrad-Technologies UK Team
The UK team includes engineering expertise in protocol development, wireless network optimization, digital signal processing, measurement science, system design and software engineering. The Scotland team is located in Dunfermline. A second office is located in Bedford.
ADAS iiT Consortium
"ADAS iiT – Innovation in Test" is an amalgamation of four National Instruments partner companies formed with the goal of making autonomous driving even safer. Founded in March 2017, the ADAS iiT group offers a complete test of fully autonomous vehicles in a virtual environment, delivering ADAS turnkey, end-to-end solutions from one single source.
For more information visit www.adas-iit.com.
About Konrad Technologies
Since 1993, Konrad Technologies (www.konrad-technologies.com) has successfully developed, designed and integrated customer-specific test solutions providing customers with R&D, qualification and manufacturing of electronic products with tools to fulfill their quality goals, accelerate engineering and development throughput.
Konrad-Technologies, KT and Konrad GmbH are all representatives of the Konrad Technologies brand. Other products and company names listed are trademarks of their respective companies.
Press Contacts
For further information and interviews please contact:
Robin Irwin
Managing Director Northern Europe
+44 (0)7464 020973
r.irwin@konrad-technologies.co.uk
Carrie Anne Eyerly
Technical Marketing
Marketing@konrad-technologies.de
Scottish Enterprise
is Scotland's national economic development agency and aims to deliver a significant, lasting effect on the Scottish economy. Our role is to help identify and exploit the best opportunities for economic growth. We support ambitious Scottish companies to compete within the global marketplace and help build Scotland's globally competitive sectors. We also work with a range of partners in the public and private sectors to attract new investment to Scotland and to help create a world-class business environment.
Follow us on Twitter at
http://twitter.com/scotent
Follow us on Facebook at
http://www.facebook.com/scottishenterprise