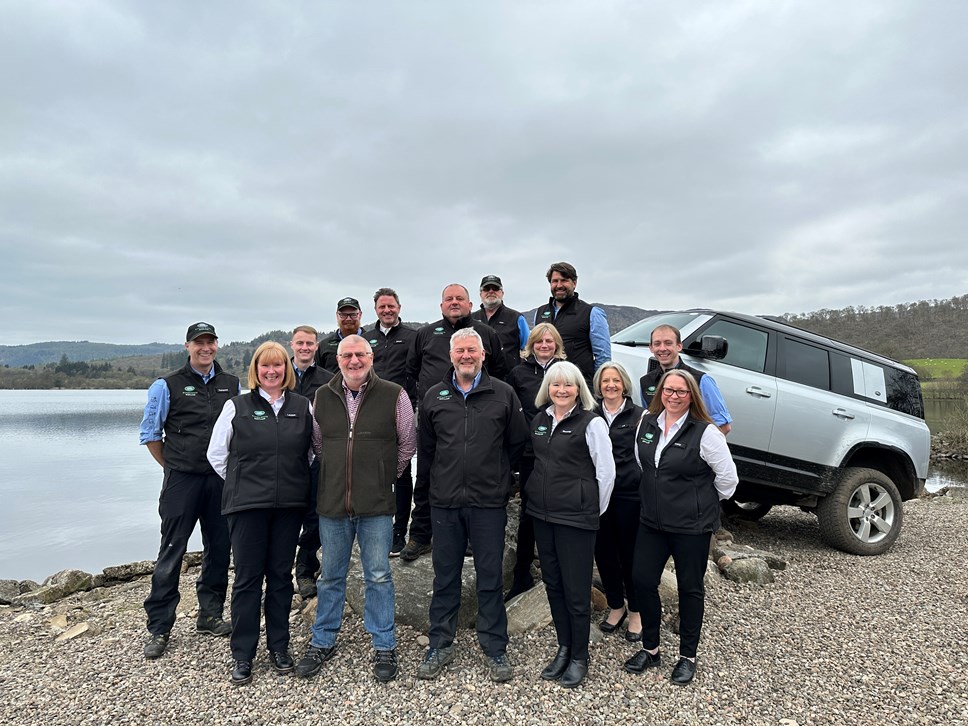 Land Rover Experience becomes Scotland's latest employee-owned businesses
Dunkeld, Perthshire based Land Rover Experience Scotland has become the country's latest employee-owned business after giving staff an 83% share in the company via the establishment of an employee ownership trust (EOT)
The company decided to transition to employee ownership after working with Co-operative Development Scotland (CDS), part of Scottish Enterprise, which offers advice and support to companies considering their succession options via a 100% funded ownership succession review and employee ownership feasibility study.
The off-road driving and training centre was established in 1996 and employs 28 people, all of whom now have a stake in the business. Based at Butterstone Loch and with a specialist off-road driving centre in Dunkeld, the company offers a range of driving experiences, corporate days and training courses in beautiful surroundings.
Director Will Cox said: "We were conscious some of our shareholders were due to retire, so began looking at options to sell the business commercially as well as internally. Through Scottish Enterprise we learned about employee ownership and, following discussion with our employees, decided to sell 83% of the business to the team, with one remaining director retaining the other 17%.
"Employee ownership ended up being a great fit for us, as we really wanted to ensure the business stayed in the local area and retained its existing management team. We believe it will ultimately make the team stronger and even more invested in ensuring the company's continuing success while maintaining the excellent level of customer service we've always provided."
CDS is part of Scottish Enterprise and the arm of Scotland's enterprise agencies* that supports company growth through collaborative and employee ownership business models. Scotland is the third largest growth region in the UK for employee-owned businesses and CDS is the only dedicated service aimed at supporting business growth through more employee ownership and co-operative business models.
Clare Alexander, Head of CDS, said: "It's easy to see why employee ownership would appeal to a business like Land Rover Experience Scotland, with its dedicated team of experts and firm roots in the local area, because there are so many advantages.
"Not only does it give employees a meaningful stake in their organisation together with a genuine say in how it's run, but employee-owned businesses are also proven to be more resilient during times of economic crisis, more profitable, more productive and have greater staff engagement. These are all key measures of business success and longevity."
The company's transition was project-managed by 4-Consulting with legal services from Blackadders and financial inputs from Milne Craig.
* Scotland's three enterprise agencies are Scottish Enterprise, Highlands and Islands Enterprise and South of Scotland Enterprise.
ENDS 
Contact Information
Jennifer Stevenson
Notes to editors
Photo caption: (l-r back row) Team members Cameron Allan, Mathew Munro, Ruaraidh Carmichael, Daryn Smith, Alan Robertson, Alan Rooke, Christina Simpson, Sandy Allan, Liz Hepburn, Dave Morrison and Tracey Valentine. (l-r front row) Louise Nowell, Graham Clark, Will Cox and Beverley Large.
Contact information: 
Jennifer Stevenson  
Scottish Enterprise  
0141 468 5779 / 07919 227 836  
jennifer.stevenson@scotent.co.uk  
Notes to Editors: 
About Land Rover Experience Scotland
From its centre at Butterstone Loch, Land Rover Experience Scotland provides the perfect opportunity for individual and group guests, away from the hustle and bustle of the city in a lovely rural location. Its specialist driving centre in nearby Dunkeld has been designed to provide the best off-road driving challenges. Land Rover Experience Scotland is a five-star VisitScotland accredited activity centre and current holder of the VisitScotland Thistle Award for Best Outdoor/Adventure Experience in Scotland.
About CDS
Co-operative Development Scotland (CDS) is the arm of Scotland's enterprise agencies that supports company growth through collaborative and employee ownership business models. An employee-owned business is one in which the employees hold the majority of the shares either directly or through an employee ownership trust. Selling to employees allows owners to manage their exit and achieve fair value while safeguarding the long-term future of the company. Employee ownership gives employees a meaningful stake in their organisation together with a genuine say in how it is run. It roots business in Scotland, drives performance and delivers economic wellbeing. For further information follow CDS on Twitter @cdscotland or look at the blog www.cdsblog.co.uk
About Scottish Enterprise 
Scottish Enterprise (SE) is Scotland's national economic development agency and a non-departmental public body of the Scottish Government. It supports businesses to innovate and scale to transform the Scottish economy by focusing on new market opportunities through targeted investment, innovation and internationalisation. Follow us on Twitter and LinkedIn.