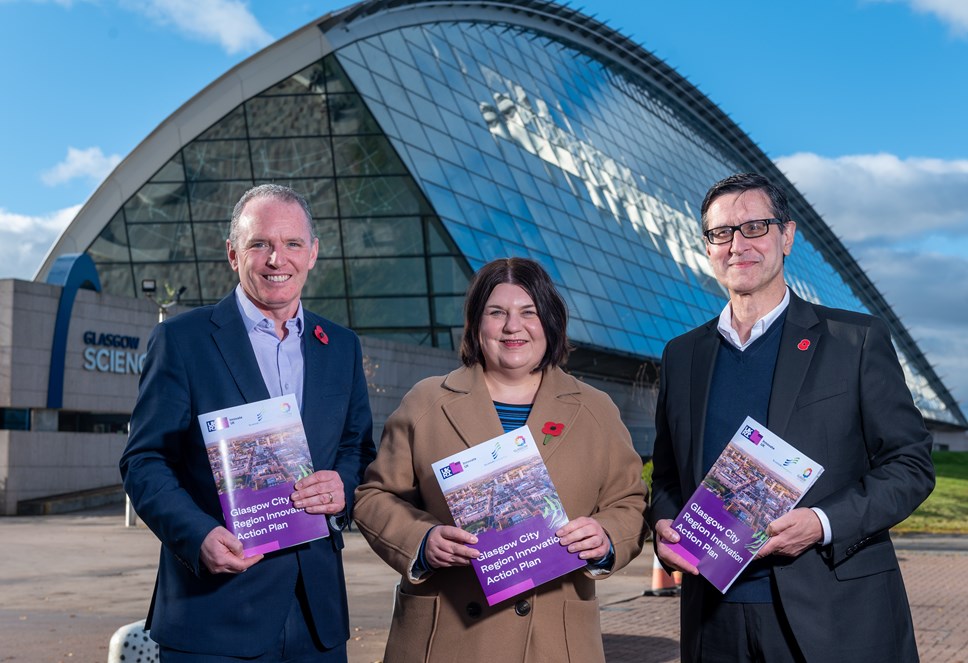 Landmark Scottish Enterprise and Innovate UK collaboration on Scotland's innovation economy
Scottish businesses are set to benefit from increased support and easier access to funding thanks to a new agreement between Scottish Enterprise and Innovate UK.
The two agencies have entered into a landmark Memorandum of Understanding which aims to streamline the journey through the innovation support system for companies and deliver "further and faster" assistance to Scottish businesses.
Adrian Gillespie, Chief Executive of Scottish Enterprise, and Indro Mukerjee, Chief Executive Officer of Innovate UK, both signed the agreement that will leverage additional innovation and investment into Scotland at the CAN DO Innovation Summit in Glasgow Science Centre.
They were joined by Chair of the Glasgow City Region Cabinet and Leader of Glasgow City Council Susan Aitken, who also revealed an Innovation Action Plan for the region, developed in partnership with Scottish Enterprise and Innovate UK.
Chief Executive of Scottish Enterprise Adrian Gillespie said: "Our collaboration with Innovate UK means business support that's easier to access and navigate. Companies will also benefit from our greater combined focus on place-based innovation support for stronger innovation infrastructure, clusters and regions throughout Scotland.
"This will start in Glasgow City Region with the Innovation Action Plan, but the impact will be felt much wider, across Scotland's unique assets and hubs - from energy transition in Aberdeen to tech clusters in Edinburgh.
"Working alongside Innovate UK and local authorities allows us to work smarter on transformational projects in future industries that create jobs, wellbeing and prosperity."
This activity supports Scottish Government's recently launched innovation strategy ambition to become a leading innovation nation.
In the last five years, Glasgow City Region has received £195million in funding for innovation through Innovate UK.
Scotland was also recently announced as one of the regions chosen for the Innovate UK Launchpad competition, which will provide up to £7million support to the country's flourishing biotech sector.
Chief Executive Officer of Innovate UK Indro Mukerjee said: "As the UK's innovation agency, Innovate UK is focused on building strong partnerships across the UK to support innovation and drive economic growth.
I am pleased to launch our collaborative innovation action plan, which is the result of a strong and close partnerships with Glasgow City Region and Scottish Enterprise. It is a significant opportunity to build stronger links with Scottish regions, giving businesses greater access to our innovation ecosystem, helping them grow and succeed."
The Glasgow City Region's Innovation Action Plan is the first in Scotland and sets the scene for a Scottish Action Plan due to be released next year which will align with Scotland's Innovation Strategy.
The Glasgow City Region Innovation Action Plan will cover six major themes: inclusive economy, skills, ecosystem, identity, investment and infrastructure.
Chair of the Glasgow City Region Cabinet Susan Aitken said: "Metropolitan Glasgow is already recognised as an innovation hub of international standing, a City Region forging a dynamic and diverse new economy.
"The Action Plan builds on our existing strengths and assets, allowing partners across all tiers of government, academia and industry to nurture a world-leading culture of creativity and invention.
"It's a huge opportunity to generate the employment, training, and productivity outcomes our citizens need and our economy demands, the start of a new phase in our journey to become the most productive, innovative, and resilient economy across these islands by 2030."
Specific actions include establishing innovation fellowships, entrepreneurial campuses and creating an investor roadmap of Glasgow's assets. In addition, all activities will complement an agreement from partners to work more closely to enhance the region's identity as a cluster for innovation.
Since 2020, Scottish Enterprise has supported businesses in the Glasgow City Region with £195million of grant support and collaborated with regional partners on the innovative place agenda with the establishment of the Technology Innovation Centre at the University of Strathclyde.
Glasgow's innovation districts have also been supported from initial development to delivery with £92million of Scottish Enterprise funding. In addition to funding and advice to circa 450 businesses from high-growth start-ups, SMEs and larger companies on activities from export to sustainable manufacturing.
Glasgow City Region's economic strengths from its industrial heritage to its innovation districts led to its selection for Innovate UK's £33million Innovation Accelerator programme that was the precursor to the Action Plan with 11 ambitious projects spanning a range of key sectors already in place.
The Glasgow City Region's Innovation Action Plan and Memorandum of Understanding were key components of the annual CAN DO Innovation Summit at Glasgow's Science Centre.
Susie Mitchell, programme director, Glasgow City of Science and Innovation, the lead agency for the innovation summit, said: "The CAN DO Innovation Summit exists to inspire SMEs to adopt productivity-boosting tech, and find the right support to enable their innovation journey.
"As we gathered top talent and pioneering businesses from all over Scotland and beyond, we were delighted to provide a dynamic backdrop to discuss the new Innovation Action Plan for the Glasgow City Region as well as the MOU - key developments underpinned by concerted action to unlock breakthrough innovation and achieve true competitive advantage in Scotland's existing and emerging clusters of strength for the benefit of people and place."
Over 1,000 delegates attended the annual CAN DO Innovation Summit from start-ups, small to medium sized enterprises (SMEs) to innovators and academics. They heard from 50 speakers on how new technologies can help to tackle the challenges faced by Scottish industry and society.
Contact Information
Press Office
Notes to editors
Notes to editors:
Picture caption: Adrian Gillespie Chief Executive of Scottish Enterprise, Susan Aitken Chair of the Glasgow City Region Cabinet and Leader of Glasgow City Council and Indro Mukerjee Chief Executive Officer of Innovate UK.
About Scottish Enterprise
Scottish Enterprise is Scotland's national economic development agency and a non-departmental public body of the Scottish Government. It supports businesses to innovate and scale to transform the Scottish economy by focusing on new market opportunities through targeted investment, innovation and internationalisation.
Follow us on X (formerly known as Twitter) at http://twitter.com/scotent and https://twitter.com/ScotEntNews
Follow us on LinkedIn at https://www.linkedin.com/company/scottish-enterprise/
About IUK
Innovate UK is the UK's national innovation agency. We support business-led innovation in all sectors, technologies and UK regions. We help businesses grow through the development and commercialisation of new products, processes, and services, supported by an outstanding innovation ecosystem that is agile, inclusive, and easy to navigate.
About Glasgow City Region
The eight Glasgow City Region member authorities are East Dunbartonshire Council, East Renfrewshire Council, Glasgow City Council, Inverclyde Council, North Lanarkshire Council, Renfrewshire Council, South Lanarkshire Council and West Dunbartonshire Council.
Media contacts:
Scottish Enterprise: pressoffice@scotent.co.uk
Alan Cowie InnovateUK Partnership, PR and Communications Lead / 07753 138581 / alan.cowie@iuk.ktn-uk.org
Paul Kane, Glasgow City Council / 0141 2875387 / 07766 802811 / Paul.kane@glasgow.gov.uk
Glasgow City of Science and Innovation - Lesley Ferguson / 07762 769 659 lesley.ferguson@perceptivecommunicators.co.uk