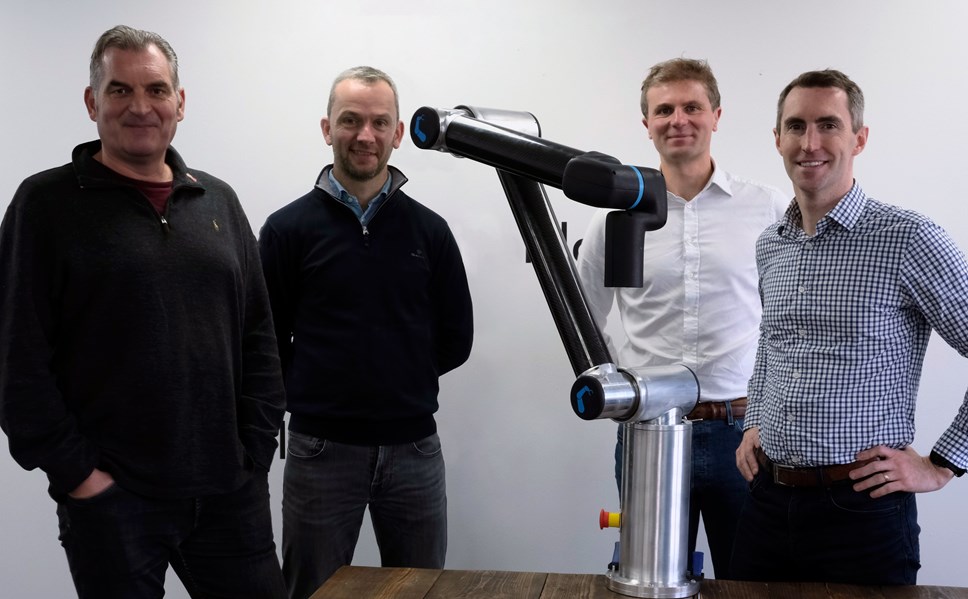 Leap Automation planning major expansion in team and tech
Aberdeen based technology company aiming to use multi-million-pound investment to combat labour shortages and drive efficiencies.
Leap Automation, an Aberdeen-headquartered technology company, is planning to ramp up operations following a seven-figure cash injection.
The organisation, which specialises in AI enabled robotics for food companies, has recently received a significant round of investment from Alba Equity and Scottish Enterprise, further bolstering previously raised funds. The company plans to consolidate its lead in the food packing automation sector by increasing its team of 21 and strengthening its production, product development and support capability.
Leap was founded in 2018 by Ben Bamford, and Ben Stuart, following careers developing and commercialising deep technology solutions within the energy sector. Having developed the underlying codebase and robotic technology over the past three years, the duo are now focused on helping the food sector address a critical labour and efficiency challenge.
Since its formation, Leap has built a diverse team of talent including robotics engineers, machine learning specialists, software developers, 3D printing and data specialists. The company plans to double in size following the fundraise.
Leap's cutting-edge software enables its systems to deliver more with less components and complexity than traditional packaging machinery. Combined with its vertically integrated approach – Leap design and build robotic systems from the ground-up while developing their own software – the organisation provides a simpler, more cost-effective option for robotic automation.
Following the launch of its first product in early 2022, the PikPak solution, Leap is working with a major international food conglomerate and one of Europe's biggest fresh food producers to roll out systems.
Ben Bamford, Leap CEO, said: "Our customers are facing tough times with labour shortages and cost inflation. Our AI enabled robots are helping to solve these challenges from our bases in Aberdeen and Edinburgh. The capital we have raised will help us expand the team and our facilities and enable us to scale up and deliver to a wider range of customers."
PikPak, designed and built in Scotland, is capable of packing a wide range of products at effective speeds and is compatible with a wide range of trays and boxes including those used by all key supermarkets and online retailers. Further product development is in progress to deliver enhanced quality control, advanced data analytics, increased efficiency, and faster, simpler deployment.
Ben Stuart, COO and Head of Product at Leap, said: "We want to unlock the market by providing intuitive, simple to use robotic systems with economics that work for producers of any scale."
Alba Equity, founded in 2019 and based in Aberdeen, has so far backed eight companies, four of which are based in the north-east, including Leap, its first robotics investment.
Jock Gardiner, Alba Equity co-founder, said: "Alba Equity is proud to back two exceptionally talented local entrepreneurs with the team at Leap having developed a compelling proposition. To be able to pivot the robotic technology and expertise that they have developed originally for the energy sector to the food industry due to market demand and customer-driven opportunities is visionary. Alba takes particular pride in supporting north-east Scotland based growth businesses such as Leap Automation."
Kerry Sharp, director of entrepreneurship and investment at Scottish Enterprise said: "Scottish Enterprise is pleased to invest in Leap Automation as it accelerates growth with its high tech robotic solution. It is an exciting period of expansion for the company that will have wider benefits for SME food manufacturers in automating processes and improving logistics across Scotland and beyond. Scottish Enterprise is helping innovative companies to scale up and shape the future of our economy and Leap Automation's robotics system highlights the tech talent in Scotland transforming industry."
Contact Information
Press Office
Notes to editors
Note to editors:
About Leap Automation
Leap Automation provide intelligent robotic systems to the food sector. Founded in 2018 by Ben Bamford and Ben Stuart, the organisation currently has 21 employees, and its board members include seasoned technology entrepreneurs, a former FTSE 100 CEO and the former president of Kraft Foods and Cadbury in the UK and Ireland.
About Alba Equity
Alba Equity is an investment syndicate based in Aberdeen which makes investments into businesses with high growth potential.
About Scottish Enterprise
Scottish Enterprise (SE) is Scotland's national economic development agency and a non-departmental public body of the Scottish Government. It supports businesses to innovate and scale to transform the Scottish economy by focusing on new market opportunities through targeted investment, innovation and internationalisation.
Follow us on Twitter at http://twitter.com/scotent and https://twitter.com/ScotEntNews
Follow us on LinkedIn at https://www.linkedin.com/company/scottish-enterprise/