29 January 2019
New prospectus showcasing Scotland's financial services launched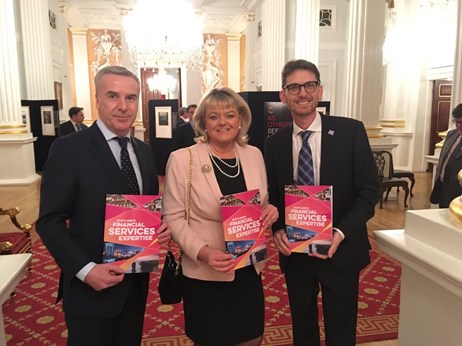 A new prospectus, created by industry, to showcase the strength of Scotland's financial services sector was formally launched in London last night (Monday 28 January).
The document was shared publicly for the first time at an appropriately themed Burns Supper event, hosted by the Lord Mayor of London at Mansion House and attended by Scotland's First Minister as well as more than 200 industry leaders.
Launching the prospectus at such an event highlights the strength of Scotland's financial services in The City and the close connection this represents between the two. The formal launch signals the start of a campaign, backed by both governments, to promote Scotland's financial services industry and the opportunities it offers.
First Minister, Nicola Sturgeon, said: "This prospectus is a first in several different ways. It is the first joint prospectus between government agencies and industry, showing the genuine strength and depth of partnership around the financial sector in Scotland. It is also the first sectoral prospectus promoted under the Scotland Is Now brand, deliberately linking the quality of life available in Scotland to the quality of work and investment available in the sector. Additionally, it is also the first prospectus to be supported directly by both the UK and Scottish governments, clearly illustrating Scotland's significant role in the UK's overall strength in financial services.
"I am very grateful to Scottish Financial Enterprise for driving the collaboration, and I look forward to using the prospectus to showcase Scotland's strength to the world."
UK Government Minister, Lord Duncan, said: "Scotland's financial sector punches above its weight with many renowned and growing firms. Our international reputation as a leader is well deserved and this new prospectus helps to show how important financial services expertise is to the vibrancy of our economy.
"The UK Government remains committed to working across the sector and with the Scottish Government as we look to grow our economy."
The Lord Mayor of the City of London, Peter Estlin, said: "Scotland is one of the most vibrant elements of the UK's financial services ecosystem, and this prospectus demonstrates very clearly how the industry there is going from strength to strength.
"Together, London and Scotland have enjoyed huge success as integral parts of the UK's financial services network. This document sets out considerable scope for future progress, and I'm determined that we work closely to realise the industry's full potential, creating jobs and prosperity across Scotland and beyond."
Graeme Jones, Scottish Financial Enterprise Chief Executive, said:
"This fantastic document is the result of extensive collaboration within our industry by people and organisations dedicated to driving the continued success of Scotland's financial services industry.
"This document sets out a compelling case for establishing or expanding businesses within our enviable financial services ecosytem. Most importantly this document is a statement of intent for further success and realising our collective potential.
"I am very grateful to industry for their work to produce this prospectus and to both governments for their continued support of Scotland's financial services sector."
ENDS (29.01.19)
Notes to editors
The prospectus was developed by members of Scotland's financial services industry, Scottish Financial Enterprise and Scottish Development International with input from the UK Government as well.
Click here for more information and to view the prospectus: http://bit.ly/FSprospectusLP
Scottish Enterprise
is Scotland's national economic development agency and aims to deliver a significant, lasting effect on the Scottish economy. Our role is to help identify and exploit the best opportunities for economic growth. We support ambitious Scottish companies to compete within the global marketplace and help build Scotland's globally competitive sectors. We also work with a range of partners in the public and private sectors to attract new investment to Scotland and to help create a world-class business environment.
Follow us on Twitter at
http://twitter.com/scotent
Follow us on Facebook at
http://www.facebook.com/scottishenterprise