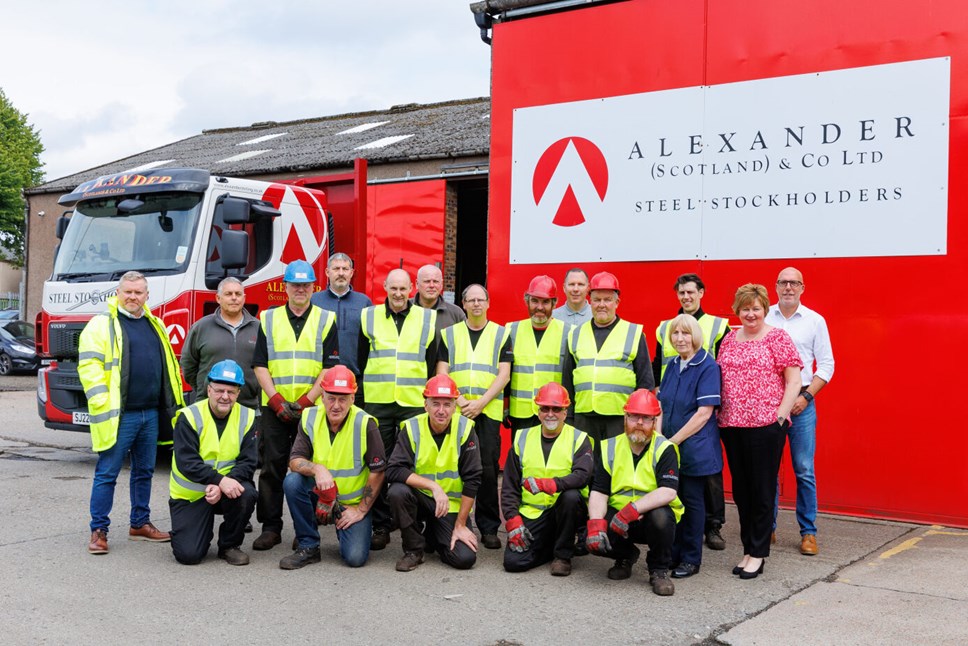 No Succession-style drama here – Alexander (Scotland) & Co Ltd and Glen Drummond Chartered Accountants make the move to employee ownership.
While one trades in Steel and the other in Numbers, two more Scottish companies - Alexander (Scotland) & Co and Glen Drummond Chartered Accountants - have proved they see the value in becoming employee owned, handing their respective employees a 100% share via the creation of an employee ownership trust (EOT).
It is a choice being made by an increasing number of companies in Scotland as the employee ownership business model becomes more widely understood.
Scotland is the third largest growth region in the UK for employee-owned businesses and Co-operative Development Scotland (CDS), part of Scottish Enterprise, offers guidance and support to companies considering their succession options via a fully funded succession review and employee ownership feasibility study.
Alexander (Scotland) & Co Ltd has been serving steel customers across Central Scotland for almost 75 years. From humble beginnings at a small premises in Stirling, with just a horse and cart for delivery, the company has grown to forty employees with two premises in Stirling and one in Bathgate.
When the current owner, Mr Glenn MacLachlan, came to look at retirement options, he was keen to ensure the company started by his grandfather continued to thrive. Glenn said: "When we looked at the options with CDS, creating an EOT seemed to tick a lot of boxes. It offered longevity for the business but also gave control to, and rewarded, the people who were a key part of our success in the first place. The process was relatively speedy given everything that was involved, and I can retire now knowing I have left the business in safe hands."
Just down the road in Livingston is Glen Drummond Chartered Accountants, yet another company who has taken the decision to move to employee ownership,
As Chartered Accountants, Glen Drummond were no strangers to the concept of employee ownership - in fact they helped Alexander (Scotland) & Co Ltd cross the I's and dot the T's on their transition – and, having seen the benefits for themselves, were confident it would be a good fit for their business too.
When Chris Wilson CA, took over as Director from a founding partner in 2016, it was always his intention that, when the time came, he would hand the business over to the staff who have worked hard to maintain a high quality of service to clients. Chris said "I had been aware of employee ownership for years, having assisted several clients transition their business. I am confident our employees have the right mix of skills, and the positive group attitude needed to continue the success of the business. Together they can now guarantee their own job security, something that may have been a worry with an external sale."
Chris reflects that there are clear benefits for customers too, adding: "Clients are at the heart of everything we do. Employee ownership allows our customers to continue getting a quality service from the people they know and trust for years to come."
Clare Alexander, Head of CDS, said: "It is great to see two more Scottish companies embracing the opportunities of employee ownership. The advantages are easy to see – not only does it give employees a meaningful stake in their organisation together with a genuine say in how it is run, but employee-owned businesses are also proven to be more resilient during times of economic crisis, more productive, more profitable and have more engaged staff.
"These companies are a welcome addition to the growing employee-owned Scottish business community and we're confident many other businesses will see the benefits and follow suit."
Support to transition to employee ownership was provided by 4-consulting (Ralph Leishman), TLT LLP (Douglas Roberts), Blackadders (Campbell Clark), Glen Drummond CA and Sharles CA.
Contact Information
Press Office
Notes to editors
About CDS
CDS is part of Scottish Enterprise and the arm of Scotland's enterprise agencies (Scottish Enterprise, Highland and Islands Enterprise, South of Scotland Enterprise) that supports company growth through collaborative and employee ownership business models. CDS is the only dedicated service aimed at supporting business growth through more employee ownership and co-operative business models.
CDS provides a variety of advice and assistance to companies interested in exploring employee ownership, whether that be providing background reading, an initial succession review or a subsequent employee ownership feasibility study. Visit www.scottish-enterprise.com/eo to find out more.
About Alexander (Scotland) & Co. Ltd
Alexander (Scotland) & Co Ltd: A family-owned steel company with 75 years longevity. One of Scotland's largest independent Steel Stockholders serving central Scotland from Stirling & Bathgate supplying a variety of customers from local DIY enthusiasts to agricultural, engineering & construction markets, from one -man bands to multi-national companies.
About Glen Drummond Chartered Accountants
Glen Drummond is a friendly chartered accountancy practice with ten staff based in Livingston. They provide a wide range of compliance and advisory services in relation to accounting, tax and payroll for clients throughout Scotland and the UK.
About SE
Scottish Enterprise (SE) is Scotland's national economic development agency and a non-departmental public body of the Scottish Government. It supports businesses to innovate and scale to transform the Scottish economy by focusing on new market opportunities through targeted investment, innovation and internationalisation.
Follow us on Twitter at http://twitter.com/scotent and https://twitter.com/ScotEntNews
Follow us on LinkedIn at https://www.linkedin.com/company/scottish-enterprise/
Contact information
Wendy Fleming