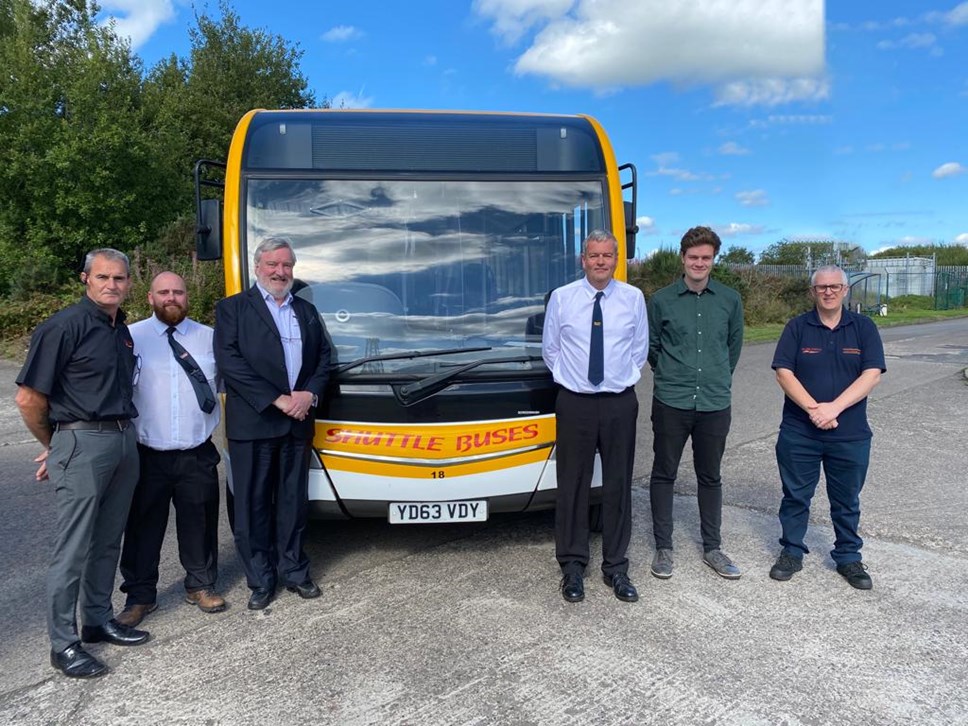 North Ayrshire bus firm gives all employees a company stake
Kilwinning-based Shuttle Buses has become employee-owned, giving all 70 employees a stake in the business as the current MD plans for his eventual retirement
Established in 1990, the bus and coach company has 60 vehicles and operates both commercial and subsidised local bus services – including school and private contracts, the MyBus on-demand service and private coach hire. A key motivation for transitioning to employee ownership was to retain the ethos and culture of the company whilst anchoring it in the local community – something that could not be guaranteed with a trade sale.
Co-operative Development Scotland (CDS) – part of Scottish Enterprise and the arm of Scotland's enterprise agencies* that supports company growth through collaborative and employee ownership business models – assisted the company in its transition.
David Granger, Managing Director of Shuttle Buses, said: "Having considered various exit strategies, it was clear that employee ownership was the best way forward for both me and the business. We have a great workforce, some of whom have been with the company for almost as long as I have, and safeguarding their future was equally important to me as my own.
"Despite having grown to 70 employees we have managed to retain much of the ethos of a family company; my son and youngest daughter both work here and I think a trade sale could have been disastrous for both them and our other employees. Employee ownership gave me a tax-efficient exit, yet retaining both a role and a shareholding in the business, whilst passing on the role of Managing Director to my son."
In May this year an Employee Ownership census commissioned by CDS showed that there were 195 employee-owned businesses operating in Scotland. That number has now grown to more than 200.
Employee ownership gives employees a meaningful stake in their organisation together with a genuine say in how it is run. Employee-owned businesses (EOBs) are also more resilient than non-employee-owned businesses during times of economic crisis, as well as being more profitable, more productive and having greater staff engagement.
Clare Alexander, Head of CDS, added: "It's wonderful to see a company like Shuttle Buses embracing employee ownership. Adopting this business model is a great way to preserve the company's culture even after the original founder retires – something that's especially important when that company is providing vital lifeline services to the local community.
"More and more Scottish businesses are transitioning to employee ownership and we're proud to support them on that journey. The fact that we've already reached more than 200 employee-owned businesses in Scotland is a fantastic achievement, but with a Scottish government target of growing that to 500 by 2030, we're working hard to raise awareness and facilitate even more transitions."
The company commissioned a feasibility study, which allowed it to make an informed decision on whether to move to employee ownership. Once the company had decided to proceed, its transition was project-managed by 4-consulting, with legal services from Blackadders and financial inputs from Williams & Company.
Scotland is the third largest growth region in the UK for EOBs, with the sector here increasing by 13% since June 2020. CDS is the only dedicated service in Scotland aimed at supporting business growth through more employee ownership and co-operative business models. To help business owners decide if employee ownership is the right exit strategy for them, CDS currently offers advice and support via a 100% funded ownership succession review and employee ownership feasibility study. Specialists are also able to advise around implementation.
* Scotland's three enterprise agencies are Scottish Enterprise, Highlands and Islands Enterprise and South of Scotland Enterprise
ENDS 
Contact Information
Jennifer Stevenson
Notes to editors
Picture Caption: The EOT trustees and other employees of Shuttle Buses are pictured on 31 August 2022, the day the business became Employee Owned (see individual file names for L-R captions).
Contact information: 
Jennifer Stevenson  
Scottish Enterprise  
0141 468 5779 / 07919 227 836  
jennifer.stevenson@scotent.co.uk  
Notes to Editors: 
 About Shuttle Buses
Shuttle Buses Limited is a bus and coach operator based in Kilwinning, North Ayrshire, with 70 employees operating 60 vehicles. Established in 1990 by the current Managing Director, David Granger, it has grown to become the largest independent bus and coach operator in Ayrshire. Local bus services run in North, East and South Ayrshire covering an area stretching from Largs to Girvan, and across to Cumnock. 23 school contracts cover a similar area, and the company is the largest contractor on Strathclyde Partnership for Transport's (SPT) MyBus network of routes throughout Strathclyde for elderly and disabled people. A separately branded Shuttle Coaches private hire arm provides quality coach services to a number of private and corporate clients.
About CDS
Co-operative Development Scotland (CDS) is the arm of Scotland's enterprise agencies that supports company growth through collaborative and employee ownership business models. An employee-owned business is one in which the employees hold the majority of the shares either directly or through an employee ownership trust. Selling to employees allows owners to manage their exit and achieve fair value while safeguarding the long-term future of the company. Employee ownership gives employees a meaningful stake in their organisation together with a genuine say in how it is run. It roots business in Scotland, drives performance and delivers economic wellbeing. For further information follow CDS on Twitter @cdscotland or look at the blog www.cdsblog.co.uk
About Scottish Enterprise 
Scottish Enterprise is Scotland's national economic development agency. We're committed to growing the Scottish economy for the benefit of all, helping create more quality jobs and a brighter future for every region. Follow us on Twitter at http://twitter.com/scotent and https://twitter.com/ScotEntNews. Follow us on LinkedIn at https://www.linkedin.com/company/scottish-enterprise/.