29 March 2019
Our love never dies, Scotland tells Europe on 'Brexit day'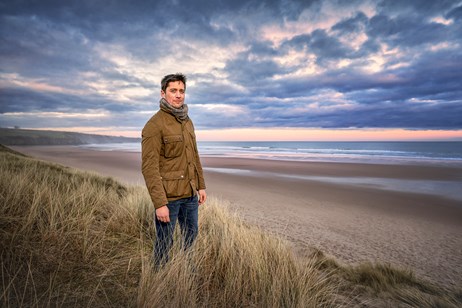 Scotland has declared its enduring relationship with Europe in a heartfelt message to demonstrate that Scotland is open on the original date that the UK had planned to leave the EU.
The latest chapter in the global marketing campaign, Scotland Is Now, launched today (29 March 2019) with a simple, powerful message: "Europe, let's continue our love affair".
The launch deliberately coincides with the UK Government's original 'Brexit day' and is designed to tell the continent that Scotland remains an open and welcoming nation.
Specifically targeted at key European markets - France, Germany and Spain – where Brexit may be having a negative impact on investment and tourism to Scotland - the campaign builds on existing relationships and reinforces Scotland's reputation as a world-class place for people to live, work, visit, study and do business.
Using a mix of new creative online content and advertising, the campaign will be rolled out online and in key locations including Munich and Paris airports and in major international titles such as Le Monde, El Pais, and Der Spiegel.
Scotland's First Minister Nicola Sturgeon said: "In the face of uncertainty over the UK's plans to leave the EU this campaign sends a strong message that Scotland continues to be a welcoming and outward looking country that will always be open for business.
"We cannot sit back and allow Brexit to damage investment and tourism. It is right that we promote Scotland across Europe and there is no better time to remind our European neighbours of our values, our talents, and our friendship than right now.
"Through the expansion of our network of innovation and investment hubs and the latest phase of the Scotland is Now campaign we are positioning Scotland as a place that people will want to visit - and where they will want to study, live and work."
Director of Brand Scotland, Cat Leaver, said: "Scotland is Now is an exciting collaborative campaign which leverages our rich mix of people, places and experiences to share Scotland's story with the world.
"This latest phase of the campaign recognises that as Brexit uncertainty continues, Scotland's love affair with Europe absolutely endures.
"Competition is increasing and uncertainty prevailing, so it is more important than ever that we continue to attract students to our universities, visitors to our shores, talent to our labour market and investment in to our business environment."
Currently, Europe provides six out of Scotland's ten key tourism markets. In 2017, 1.6 million EU residents visited Scotland, generating £956 million for our economy. And, at home, the contribution of EU workers to Scotland's tourism industry should be celebrated, with 21,000 workers (around 11.6%) employed in the sector during 2017/18.
Trade and investment with Europe is equally as critical with around 32% of Scotland's inward investment projects having come from the continent. In addition, nine of the top ten export destinations are in Europe, accounting for a significant £13.2 billion of trade for Scotland.
And with population growth in Scotland projected to be amongst the lowest across comparator European countries, it is widely recognised that net in-migration of EU citizens coming to live and work in Scotland is critical to the future of the country's demography, economy and society.
Bringing together VisitScotland, Scottish Enterprise, Highlands and Islands Enterprise, Scottish Government and Universities Scotland for the first time with a single, bold narrative for Scotland, the Scotland Is Now initiative was launched in April 2018.
In its first year, the campaign aimed to grow awareness of the nation targeting the key markets of New York, San Francisco and London. Within its first nine months, the campaign delivered in excess of 127 million views of its videos, attracted over 1000 uses of the #ScotlandIsNow hashtag every day, reached thousands of businesses worldwide and drove increased referrals to all partner channels.
This aspect of the campaign is funded by Visit Scotland and Scottish Enterprise.
Notes to editors
Website: scotland.org
Twitter: @Scotland
Facebook: /ScotlandIsNow
Instagram: @ScotlandIsNow
Scottish Enterprise
is Scotland's national economic development agency and aims to deliver a significant, lasting effect on the Scottish economy. Our role is to help identify and exploit the best opportunities for economic growth. We support ambitious Scottish companies to compete within the global marketplace and help build Scotland's globally competitive sectors. We also work with a range of partners in the public and private sectors to attract new investment to Scotland and to help create a world-class business environment.
Follow us on Twitter at
http://twitter.com/scotent
Follow us on Facebook at
http://www.facebook.com/scottishenterprise