03 September 2018
Palimpsest Book Production Ltd Enters New Chapter with Employee Ownership Transition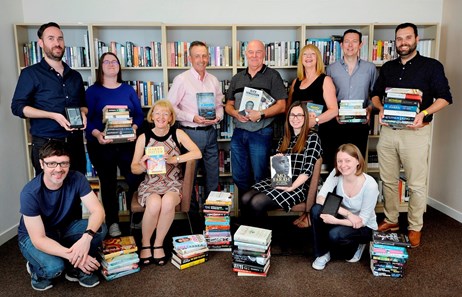 Falkirk-based Palimpsest Book Production Ltd, one of the UK's market leaders in book production, has become the latest Scottish business to announce its transition to employee ownership with 21 employees given a stake in the business.
Established in 1994 by Craig and Ruth Morrison, Palimpsest provides the full range of pre-press services, including typesetting, proofreading, digital publishing, design and reprographics, to the UK publishing market. From modest beginnings based in the Morrisons' home, the company quickly grew, adding several staff and moving to new premises within 12 months. Combining innovative workflows with exceptional quality, the company is the supplier of choice for many of the UK's leading publishers. Ongoing investment in staff training and technology, particularly at the advent of 'e' publishing, has helped maintain Palimpsest's position at the forefront of the industry.
Looking to the future, Craig and Ruth realised that at some point they would need to create a succession plan for the business. As founders they wanted to ensure that when they did eventually retire, they could guarantee that Palimpsest would continue to operate successfully.
Craig attended a seminar on succession planning organised by Co-operative Development Scotland, the arm of Scotland's enterprise agencies that supports company growth through collaborative and employee ownership business models.
Craig commented: "We were immediately attracted to the idea of transitioning to employee ownership because it would enable us to realise part of our investment while continuing to work in the business until we are ready to retire.
"Employee ownership will also ensure that Palimpsest continues to thrive, offering employment and careers in Scotland into the future. With a client base ranging from leading international publishing companies to self-publishing authors and an 'end to end' range of pre-press services, the new Employee Ownership Trust has a strong foundation."
Craig and Ruth have now sold a controlling interest in the business to an Employee Ownership Trust which will hold the shares on behalf of the 21 employees and allow them to participate in the future success of the business.
Craig continued: "We've had an amazing journey over the last 24 years, with clients telling us that we have become their trusted partners in both print and digital book publishing. Ruth and I are delighted we now have a succession solution in place, though have no plans to retire for a while yet."
Sarah Eddie, newly elected employee trustee, added: "I'm delighted to have been elected to this position by my colleagues. Palimpsest has an exciting future ahead and I look forward to our continued growth under the Employee Ownership Trust."
Sarah Deas, director at Co-operative Development Scotland, said: "It's excellent to see yet another business recognising the many benefits of employee ownership, and we are confident the decision will see Palimpsest further cement its position as a market leader in the UK's book production sector as it continues to flourish and grow."
Palimpsest's transition to employee ownership was supported by Co-operative Development Scotland (CDS), with the process managed by adviser Alistair Gibb of Ownership Associates and legal services provided by Douglas Roberts of Lindsays.
ENDS
For further information, commentary or photography, please contact the CDS team at Smarts Communicate on 0141 222 2040 or email cds@smartscommunicate.com
NOTES TO EDITORS
Statistics consistently demonstrate that employee-owned businesses outperform their non EO counterparts in terms of higher levels of profitability; improved business resilience during times of recession; increased productivity brought about by higher levels of engagement and enhanced employee wellbeing.
Co-operative Development Scotland (CDS) is the arm of Scotland's enterprise agencies that supports company growth through collaborative and employee ownership business models.
An employee-owned business is one in which the employees hold the majority of the shares either directly or through an employee ownership trust. Selling to employees allows owners to manage their exit and achieve fair value while safeguarding the long term future of the company. Employee ownership gives employees a meaningful stake in their organisation together with a genuine say in how it is run. It roots business in Scotland, drives performance and delivers economic wellbeing.
Scottish Enterprise
is Scotland's national economic development agency and aims to deliver a significant, lasting effect on the Scottish economy. Our role is to help identify and exploit the best opportunities for economic growth. We support ambitious Scottish companies to compete within the global marketplace and help build Scotland's globally competitive sectors. We also work with a range of partners in the public and private sectors to attract new investment to Scotland and to help create a world-class business environment.
Follow us on Twitter at
http://twitter.com/scotent
Follow us on Facebook at
http://www.facebook.com/scottishenterprise