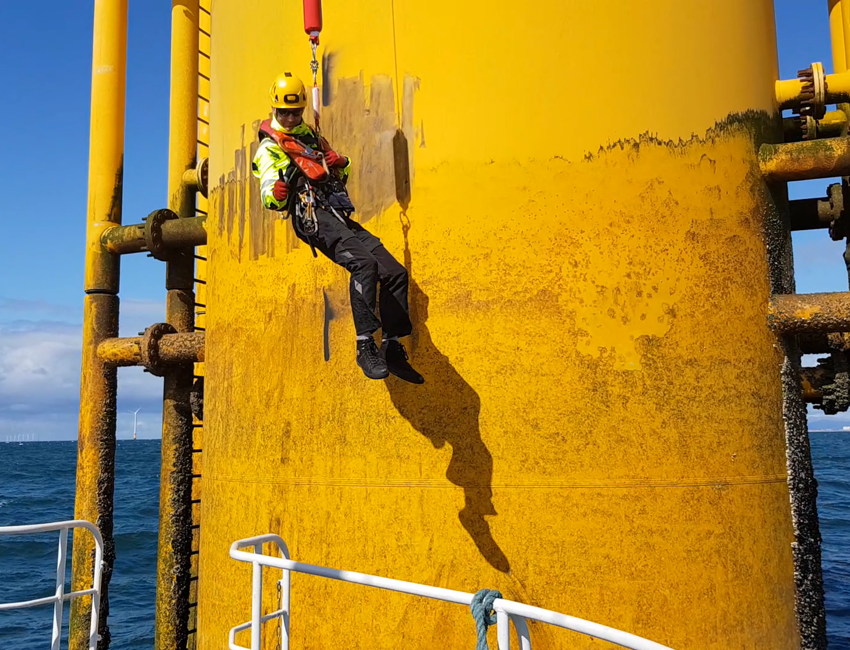 Pict Offshore's expansion plans take off with Scottish Enterprise support
The Fife-based hoist manufacturer will expand production of its Get Up Safe system for technicians working on wind turbines.
Pict Offshore develops solutions for the offshore wind market and has received a £250k Regional Selective Assistance grant from Scottish Enterprise to expand production at its site in Inverkeithing, Fife and create up to 13 new jobs in a boost to the Scottish renewables industry.
The funding is part of a wider multi-million-pound investment by Pict Offshore to expand manufacturing at its Inverkeithing site and allows the firm to accelerate the development of its R&D and assembly capabilities as it ramps up production for the offshore wind market.
Pict Offshore was formed in May 2019 and is a joint venture between Orsted and Limpet Technology, which had previously been supported by Scottish Enterprise and Strathclyde University to develop the new hoist technology.
The partnership between Pict Offshore and Orsted, the world's largest developer of offshore wind farms, has led to the commercialisation of the 'Get Up Safe' (GUS) system, a motion compensated personnel hoist.
The hoist allows technicians to transfer on and off turbines more safely and increases the competitiveness of offshore wind energy - as the use of the technology also means that there is no longer a need for access ladders and boat landing metalwork on turbines.
The Get Up Safe system also won an innovation award at the prestigious Scottish Green Awards in December 2019.
Scotland's Energy Minister Paul Wheelhouse said: "I am pleased to see this RSA award. Indeed, we want to encourage and enable other offshore wind developers and Scottish supply chain companies to adopt a similar partnership approach to Orsted and Pict Offshore.
"If this collaborative approach was more widely adopted in the sector, it would be a very positive step towards increasing the level of local content in projects for Scotland and further afield.
"In addition, the Scottish Government, through Scottish Enterprise in this instance, is happy to invest in a project that ultimately creates a personnel access system which ensures that those working offshore can undertake their duties safely - which is of paramount importance and I congratulate Pict Offshore for developing such an innovative approach with Orsted."
Head of Low Carbon Transition at Scottish Enterprise, Andy McDonald, said: "We have witnessed this innovative Scottish company's growth over many years to develop a transformative product for offshore wind – made in Fife and used across the world.
"The network of support around Fife Energy Park is also at the heart of this project as it is host to ORE Catapult's Levenmouth Demonstrator Turbine and allowed the company to test its products on the world's most advanced open access offshore wind turbines.
"This collaborative approach underpins Scottish Enterprise's ethos in enabling growth alongside partners and highlights our focus on renewables and commitment to a low carbon economy too."
Assembly of the Get Up Safe' (GUS) systems will take place in Inverkeithing and Pict Offshore aims to add 13 high skilled jobs throughout 2020 and to start placing orders with the local supply chain that is already well set up to cater to the offshore wind industry.
Pict Offshore Managing Director Philip Taylor said: "The local expertise in offshore wind that exists in Scotland continues to play a key part of our growth.
"The support we have received from Scottish Enterprise and the ORE Catapult as well as Orsted has also been instrumental in bringing this new technology to market and to bringing down the time to market for the GUS system.
"We have ambitious plans for the future and the expansion of our capabilities will allow us to continue our growth as we lead the way in ensuring the safety of offshore wind personnel."
Contact Information
Elaine Walker
Notes to editors
Scottish Enterprise is Scotland's national economic development agency. We're committed to growing the Scottish economy for the benefit of all, helping create more quality jobs and a brighter future for every region.
Follow us on Twitter at http://twitter.com/scotent and https://twitter.com/ScotEntNews
Follow us on LinkedIn at https://www.linkedin.com/company/scottish-enterprise/
Pict Offshore is a new joint venture between Orsted, the world's largest developer of offshore wind, and Limpet Technology, a Scottish engineering innovator, that specialises in the development of powered rope access and lifting systems. Pict Offshore has been set up to develop innovative commercial solutions for the offshore wind market. Its first product, which has been under development since 2016, is the 'Get Up Safe' system, a heave compensated personnel hoist aimed at transforming the way that construction, inspection and maintenance technicians access offshore wind turbines.