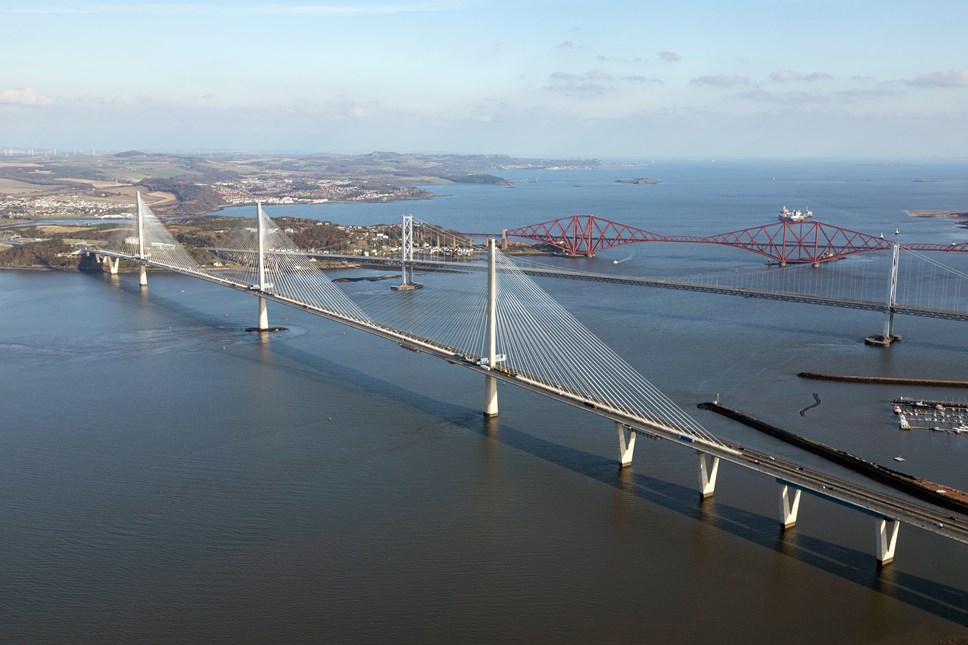 Promoting Scotland's economy on a global scale
SDI interim Managing Director at Scottish Enterprise, Neil Francis highlights how Scotland's international networks are enabling our trade and investment activities
In what has been a difficult 15 months for Scotland's economy, it was wonderful to have some good news to cheer earlier this week with the publication of EY's Attractiveness Survey 2021.
The report revealed that Scotland was yet again the most attractive location for inward investment in the UK outside of London. Despite the difficulties of COVID-19, there was a 6% increase in the number of Foreign Direct Investment (FDI) projects in Scotland in 2020 compared to 2019.
EY's survey also revealed that Scotland was bucking UK and European trends of declining inward investment in 2020 and that Edinburgh was now the number one city in the UK for FDI projects outside of London. Glasgow and Aberdeen were also within the top ten list of UK cities.
These figures underlined something we already know: that Scotland remains an incredible proposition for companies to locate, invest and grow in. Such a positive story needs to be shared as far and wide as possible.
And that's exactly what Scottish Enterprise's international networks do.
Across the world, there are powerful advocates for Scotland who are promoting our links with the global economy and encouraging businesses overseas to look at our country for investment opportunities, whilst also providing Scottish companies with guidance and insights that allow them to trade globally.
One such cohort are our GlobalScots, a prestigious diaspora group of successful entrepreneurs, business leaders and community figureheads who voluntarily help the wider Scottish business community thrive internationally by providing market intelligence, connections and mentorship.
The Scottish diaspora include some of the world's most highly educated, motivated business leaders, and through the GlobalScot community they are working to drive business back to Scotland by offering their time, experience, contacts, knowledge and skills to businesses and other domestic beneficiaries.
GlobalScots make things happen for businesses in Scotland. They open doors for companies and make connections via their networks that result in tangible economic opportunities.
One glimpse at the GlobalScot website shows the incredible work of the network over the years. Whether in America, Asia or anywhere in between, GlobalScots have helped our firms locate, grow and adapt internationally.
But it's not only Scottish businesses that are benefiting from the skills and experience of our international networks.
Attracting investment and supporting Scottish companies enter new markets is a globally competitive business. Whether it's our GlobalScots, Scottish Development International (SDI) in-market colleagues, universities and alumni, industry associations or our trade envoys, Scotland is truly blessed to have such a considerable array of international assets. It's vital this resource is fully utilised and united behind a single proposition.
That's why the role of international networks is fully embedded in the three pillars of the Scottish Government's global trade and investment strategy: Shaping Scotland's economy: inward investment plan; Scotland: A Trading Nation; and Investing with purpose: global capital investment plan
Those within Scotland's international network are ambassadors for our country. As identified within Scotland's Vision for Trade, GlobalScots, trade envoys our diaspora and other alumni can project our principles internationally and enhance the international reputation of our products and services.
Our GlobalScots also provide SDI trade and investment specialists across the world with vital insight and intelligence on a daily basis, allowing us to deliver targeted promotional activity in key markets.
And this support from GlobalScots and our wider international networks will be critical to ensuring Scottish Enterprise achieves its ambitions for the coming year ahead. As we recently outlined, Scottish Enterprise intends to support the delivery of:
Up to 10,500 planned jobs paying at least the real living wage, including green jobs
Up to £1bn of planned international exports
Up to £425m planned R&D investment by businesses/projects
We know COVID-19 had a disproportionate impact on international trade and investment across the world. Scotland was not immune to this. But this week's EY Attractiveness Survey shows our country continues to be highly skilled at enticing investment projects to our shores.
Scotland's international networks will continue to promote the very best our country has to offer and ensure trade and investment is at the centre of our ongoing economic recovery from COVID-19.
Contact Information
Robbie McGregor