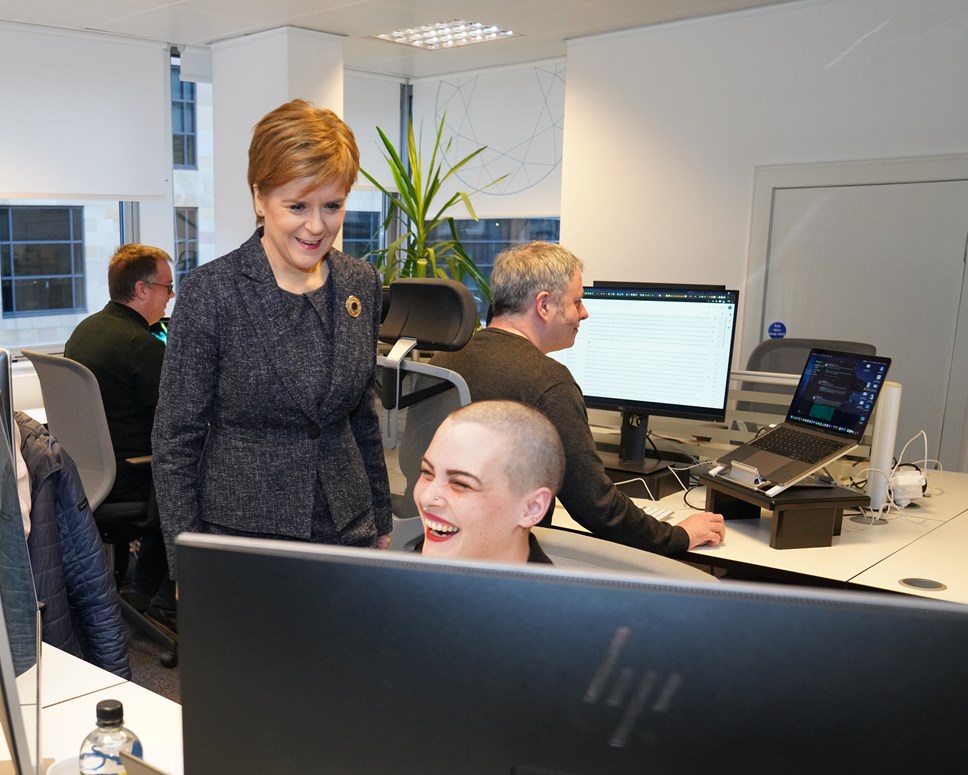 RegTech firm receives £1.97m grant to develop AI tool for the financial services sector
Glasgow-based regulatory technology (RegTech) firm Encompass has received a £1.97m research and development (R&D) grant from Scottish Enterprise to develop an Artificial Intelligence (AI) Platform for its financial services clients, it was announced by First Minister Nicola Sturgeon today.
The funding is part of a project with a total value of £4.9m, which will create 33 new high-value RegTech jobs in the city. The AI service being developed will help Encompass customers to quickly and accurately find risk-relevant information about their customers, organisations and investments, from a wide-ranging pool of data.
Adverse news reports and risk-relevant data can have a significant impact on the market value of companies. Encompass has heard from many clients who want to avoid carrying out manual searches and instead find an accurate and automated way to collate this type of data in order to help manage their reputational risk.
Encompass' work in Glasgow, where it already employs 46 people, has primarily been focused on its Know Your Customer (KYC) product – using data analytics to ensure its clients do not unknowingly trade with organised crime or the proceeds of crime, in keeping with new legislation introduced after the global financial crisis.
First Minister Nicola Sturgeon said: "Encompass is one of a number of international companies that have chosen to locate and steadily expand their operation making Scotland an attractive place to grow its business. From its Glasgow base, the company has access to markets, a supportive business environment and has been able to identify local talent from Scottish professionals in the engineering and software development sector.
"Backed by almost £2 million of R&D investment from Scottish Enterprise, Encompass will be able to develop artificial intelligence software tools that will assist companies in the financial sector to reduce operational risks associated with meeting compliance and regulatory standards."
Wayne Johnson, Co-Founder and CEO, Encompass, said: "We are delighted to receive this grant, which will allow us to carry out crucial, timely work. There is a considerable demand in our space for a solution of this kind, and this development will be central to us continuing to bring innovative solutions to the market and our customers.
"We are particularly pleased to be able to advance our work in Glasgow in this way. We have enjoyed excellent support and growth here, and look forward to furthering that growth, while bringing in more skilled employees as a result of this project."
Paul Lewis, Manging Director, Scottish Enterprise, said: "We have a long-standing relationship with Encompass, having supported the company to choose Glasgow for the development of its initial KYC product. It's great to see Encompass expanding its presence into this new area of AI with its adverse news screening tool – for which there is a strong and immediate market demand. The decision to bring further investment to Glasgow is another vote of confidence in Scotland's already-strong reputation for tech innovation and as a location for skilled and high-value jobs."
ENDS
Image caption 1 - The First Minister chats to Associate Software Engineer Louise Meney
Image caption 2 - Encompass Co-Founder and CEO Wayne Johnson with the First Minister
Contact Information
Jennifer Stevenson
Notes to editors
Contact information:
Jennifer Stevenson
Scottish Enterprise
0141 468 5779 / 07919 227 836
jennifer.stevenson@scotent.co.uk
Notes to Editors:
About Scottish Enterprise
Scottish Enterprise is Scotland's national economic development agency. We're committed to growing the Scottish economy for the benefit of all, helping create more quality jobs and a brighter future for every region.
Follow us on Twitter at http://twitter.com/scotent and https://twitter.com/ScotEntNews
Follow us on LinkedIn at https://www.linkedin.com/company/scottish-enterprise/
About Encompass
Encompass intelligently automates information and news discovery for Know Your Customer (KYC) requirements for onboarding, event-driven refresh and remediation.
Driven by a firm's internal policies and choice of reliable, independent sources, Encompass automatically constructs corporate ownership structures, discovers beneficial owners, and screens relevant entities and persons for regulatory, reputational and financial risk in minutes.

Encompass uses advanced intelligent process automation to dynamically build a comprehensive KYC profile from multiple sources, including corporate registries, company and regulatory data, adverse media and identity verification - enabling fast, confident decisions.

With Encompass, firms can:
Improve the quality of their KYC - get the full picture of a customer for safer, more informed decisions
Reduce the cost of KYC - eradicate valuable hours wasted on repetitive, manual tasks
Gain full control of KYC - full automation ensures policies and procedures are consistently enforced
Improve customer experience - reduce onboarding times from up to four hours to just four minutes

For more information, visit www.encompasscorporation.com
Follow us on Twitter: @encompasscorp
Follow us on LinkedIn: https://www.linkedin.com/company/encompass-corporation