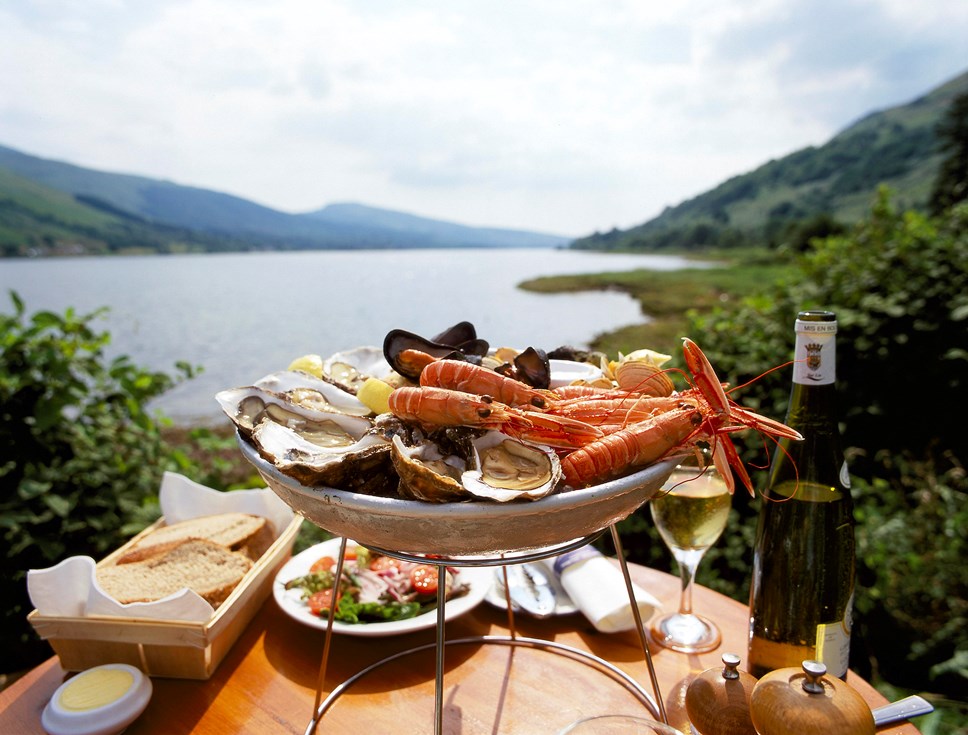 Scotland food & drink partnership launches 'Make Innovation Happen'
Single gateway launched connecting food and drink businesses with innovation support
Scotland's food and drink industry has today launched Make Innovation Happen, a new and ambitious service to support food and drink businesses to innovate. The service is delivered through a coalition of key public sector and industry bodies working together collaboratively to drive innovation, with £1.1m of critical funding coming from Scottish Enterprise and Highlands and Islands Enterprise.
In March, the Scotland Food & Drink Partnership* launched 'Ambition 2030', the industry's new strategy. This bold strategy establishes a vision to cement food and drink as Scotland's most valuable industry and outlines the goal to double turnover in the sector to £30 billion by 2030.
Make Innovation Happen is being launched by the Scotland Food and Drink Innovation Working Group** as the first step towards Ambition 2030 which prioritises innovation as critical to continued success in the sector.
Innovation in farming, fishing, food and drink is vital to empower Scotland's food and drink businesses to respond to today's consumer and market needs and to adapt to future challenges and opportunities.
Research shows that when a company innovates, they are twice as likely to grow and three times more likely to export successfully. Many companies are already making good use of the world-class research base on their doorstep, but there is room to do more.
Feedback from farming, fishing, food and drink businesses suggests that they value the range of support on offer but feel finding and navigating to the right support could be improved and simplified.
The new Make Innovation Happen service will provide food and drink businesses in Scotland looking for information and support with a single, streamlined access route to help them innovate. This service includes support for both incremental and disruptive innovation and is open to all businesses across the supply chain from farm to fork.
The Make Innovation Happen service will support innovation within food and drink businesses by:
Supporting businesses on their individual innovation journey through Innovation Connectors who can help businesses tap into the resources available in Scotland from public sector and academia
Providing access to technical knowledge and expertise, specialist facilities, market insights and advice on innovation funding
Ensuring businesses receive support which is aligned, not just across Scottish Enterprise, Highlands and Islands Enterprise and Interface, but to the broader delivery partners that are supporting innovation.
Co-chairs of the Scotland Food & Drink Innovation Working Group David Thomson, Food and Drink Federation Scotland CEO and Dr Alan Rowe of The Rowett Institute, said: "The food and drink sector is one of the star performers in Scotland and innovation is critical to its continued success. The Food and Drink Partnership has shown exceptional collaboration to create a single gateway to make it easy for businesses to access the various types of support available all under one roof. There are already three experienced Connectors on the ground who are dedicated to driving innovation in our food and drink businesses and we look forward to announcing further initiatives in the months ahead. I would encourage businesses to look at the website and get in touch."
Rural Economy Secretary, Fergus Ewing, said: "We want to see the value of Scotland's food and drink sector double to £30 billion by 2030. Innovation will play a key role in the delivery of this ambition.
"Scotland's reputation as an innovative and globally trading nation is recognised but we need to keep moving forward. We want more food and drink businesses across Scotland to sell more goods and services to more markets. We want existing investors to develop, grow and expand in Scotland and that we remain a location of choice for inward investors.
"Make Innovation Happen' offers an excellent opportunity to support businesses on their innovation journey. I would urge any food and drink businesses thinking of innovation to make use of this new service."
Jim Watson, director of Innovation at Scottish Enterprise, said: "Business innovation is fundamental to Scotland's future economic growth. We know innovation has a direct impact on business growth, with £488 million of additional domestic and international sales forecast from the companies we supported to innovate in 2015/16. That's why we're fully committed, alongside our partners, to the new Make Innovation Happen service to help Scotland's food and drink industry accelerate market-driven innovation across the whole supply chain, from primary producers all the way to consumers, to open up new markets and revenue streams."
Andrew Richardson, Director at Black Wolf Brewery in Stirling said: "If you aren't innovating then you're going backwards as your competitors continually move forward. Thanks to the support we've received, Black Wolf Brewery has invested in a new bottling line which has enabled us to launch new packaging formats and access new markets. We look forward to exploring innovative new ways of working with the support of the Make Innovation Happen initiative."
Contact Information
Ruth Andrew
Notes to editors
Media contact details:
Nick Hudson, nick@foodanddrink.scot 07464 483 762
Kathryn Mutch, kathryn@foodanddrink.scot 07917 355 918
Notes to Editors:
Make Innovation Happen has been developed to encourage businesses involved in the food and drink industry – from primary producers to food and drink production - to embark on an innovation journey. The Scotland Food & Drink Innovation Working Group identified the wide range of excellent support already available and from this, built Make Innovation Happen, which ensures the excellent range of support currently available is retained, as well as offering solutions to gaps in support.
Make Innovation Happen is available to access here: www.makeinnovationhappen.scot
*The Scotland Food & Drink Partnership consists of AHDB, Dairy UK, Highlands & Islands Enterprise, Improve Ltd, Interface, LANTRA, NFU Scotland, Quality Meat Scotland, Rowett Institute, SAOS, Scotch Whisky Association, Scottish Bakers, Scottish Development International, Scottish Enterprise, Scottish Food and Drink Federation, Scottish Government, Scottish Salmon Producers Organisation, Seafish, Seafood Scotland, Skills Development Scotland, SRUC, Zero Waste Scotland.
** The Scotland Food & Drink Innovation Working Group consists of representatives from Highlands & Islands Enterprise, Interface, The Rowett Institute, Scotland Food & Drink, Scottish Enterprise, Scottish Food and Drink Federation, Scottish Funding Council, The Scottish Government.