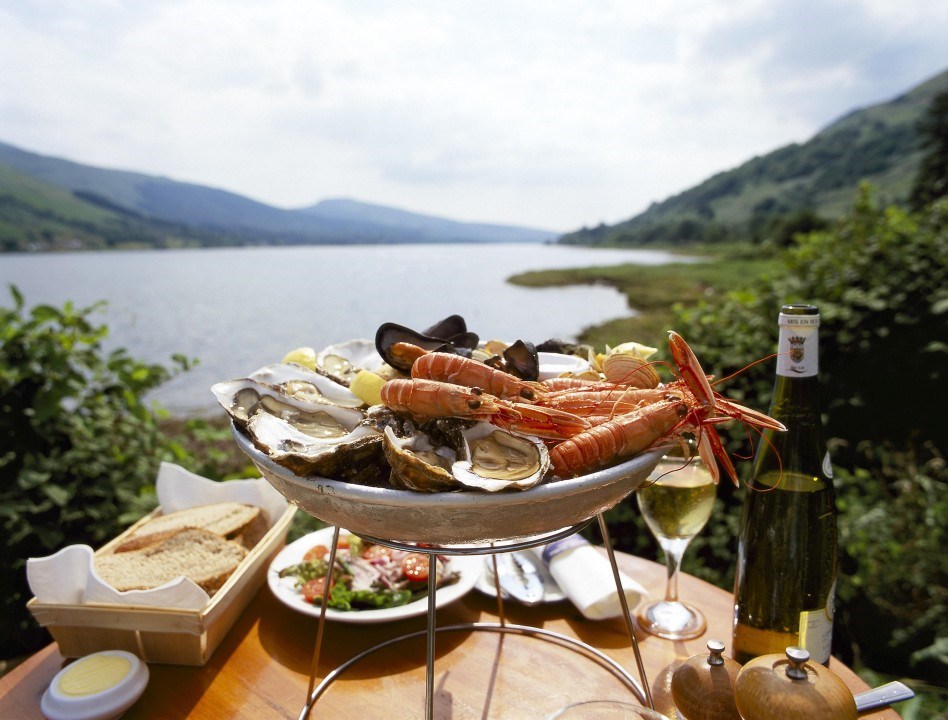 Scotland on the menu at global food & drink virtual summit
International export opportunities served to Scottish producers
Scotland's food and drink sector will be showcased to the world when a unique, virtual summit begins today (Monday, 15 March).
Approximately 100 culinary leaders from North America, Europe, the Middle East and Asia will dial-in to Scotland's Global Foodservice Summit, a digital programme that highlights the country's finest produce and enables long-term, international relationships to be made.
Organised by Scottish Development International (SDI) trade specialists at Scottish Enterprise, alongside industry partners and other public-sector bodies, the summit will feature bespoke, engaging content that tells Scotland's culinary story. This includes interactive meet-the-producer sessions, live demos by some of the country's leading chefs, including Scotland's National Chef Gary Maclean, and virtual tasting sessions.
It is hoped that the summit will generate up to £20m in new export opportunities for Scottish food and drink companies and raise awareness of the sector in targeted markets following the twin-challenges of COVID-19 and the end of the Brexit transition period.
Speaking ahead of the summit, the Scottish Government's Cabinet Secretary for Rural Economy Fergus Ewing, who will deliver a welcome message to delegates, said: "Scotland is home to much of the world's finest food and drink produce and this summit will be a great opportunity to showcase that.
"Despite the challenges of the last year, I know that the talent and ambition of our producers will see the sector continue to thrive whether that be in areas like Scotch Beef, dairy, bakery and seafood, or craft beer, gin and whisky.
"The Scottish Government is committed to supporting our producers with a £5m contribution towards the work of the Food and Drink Recovery Plan to help mitigate the impacts of COVID-19 and Brexit.
"I hope this summit will help forge meaningful connections with delegates from around the world and play its part in ensuring our food and drink industry remains a great success story as we navigate these uncertain times."
Executive chefs, culinarians and other industry leaders from 15 different countries will attend the summit, including senior representatives from global organisations such as Hilton, Marriott, Hyatt, Disney and Google.
The international attendees will have the opportunity to hear from, and connect with, more than 50 producers covering every part of Scotland's food and drink offering.
J-C Jeffrey, one of SDI's globally-based trade specialists who helped organise the virtual programme, said: "The Global Foodservice Summit brings the culinary world to Scotland.
"Foodservice professionals need an immersive experience to discover and ideate what goes on the plates of their customers. As the summit will be held virtually due to COVID-19, we've created powerful, engaging and insightful content that will resonate with our global audience, whether they are an executive chef in the United States or a menu development professional in China.
"Scotland's produce is globally renowned for its quality. We are incredibly excited to showcase our food and drink industry to the world at this summit and establish meaningful connections between Scottish producers and international culinarians."
James Withers, Chief Executive of Scotland Food & Drink, said: "The Global Food Summit will provide a fantastic opportunity to showcase the very best of Scottish produce, and the amazing businesses behind it, to customers across the world.
"After a year like no other we have had to adapt and innovate to ensure we are still able to showcase the very best of Scotland to the world and the Summit is one of the ways we are doing so.
"We know that consumers across the world continue to want our produce – the quality, provenance and taste that we are renowned for remains constant and the summit will shine a bright light once again on the very best of Scotland."
Scotland's National Chef, Gary Maclean, added: "Scotland's Global Foodservice Summit will allow international food and drink leaders to interact with fellow chefs, culinarians, and beverage professionals and discover the very best our country has to offer.
"As a Chef and educator, I've seen the huge upheaval the food and drink industry has faced this past year and how much it will continue to adapt. However, the sector is also incredibly resilient and outward looking, with all of us keen to share our ideas with the world. The Global Foodservice Summit allows delegates and participants alike to do exactly this."
The food and drink industry is worth around £15bn each year to Scotland's economy, with more than 17,000 businesses employing approximately 120,000 people. Food and drink remains Scotland's top international export sector, with the latest HMRC statistics showing these exports to be worth £6.7bn in 2019.
Contact Information
Robbie McGregor
Notes to editors
More information about Scotland's Global Foodservice Summit can be viewed here: https://scotlandexports.co.uk/summit2021
Producers from Scotland's seafood, Scotch beef, dairy and bakery sectors will attend the summit
A day exclusively dedicated to showcasing Scottish alcohol beverage products has also been arranged for 18 March, which will include two virtual roundtables focusing on sustainability and inclusive community growth
To ensure specific focus on geographical markets, the summit has been split into two programmes: virtual engagements for Europe, Middle East and North America will take place between 15-17 March, while the focus will shift to Asia from 29 March – 1 April
The full list of partners involved in the summit are:
Scottish Government
Scottish Development International
Scotland Food & Drink
Agriculture & Horticulture Development Board
Opportunity North East
Quality Meat Scotland
Scotch Whisky Association
Scottish Dairy Growth Board
Scottish Salmon Producers Organisation
Seafood Scotland