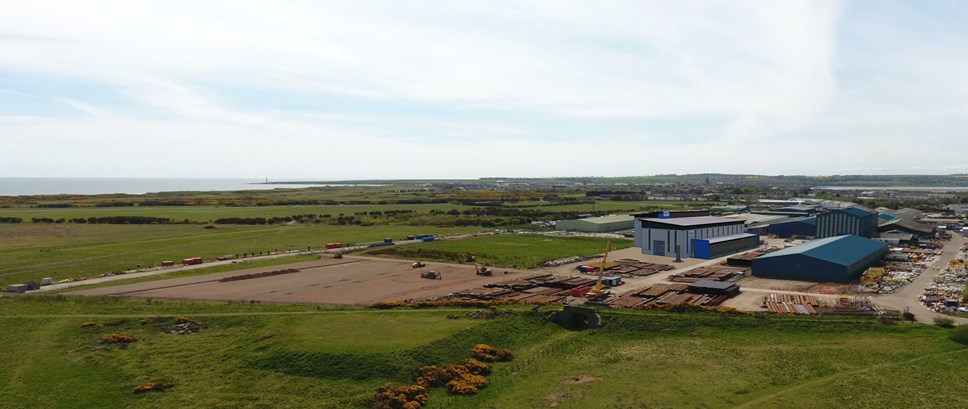 Scotland's First Minister announces £31 million boost for global oil and gas manufacturing campus
Factory of the future will provide cutting-edge products and services for oil and gas projects worldwide.
First Minister Nicola Sturgeon today announced £4.9 million in funding as part of a £31 million investment being made by Baker Hughes, a GE company (BHGE), in its manufacturing footprint in the North East of Scotland. The funding package – provided to BHGE following an application to Scottish Enterprise - will support the transformation of an existing facility, creating an ambitious new Centre of Excellence (CoE) that will support the global oil and gas industry.
The First Minister made the announcement during her keynote speech at the Scottish Manufacturing Advisory Service (SMAS) conference and said that the government funding would directly support people training and Research & Development (R&D) activity at the new CoE. BHGE's investment will fund infrastructure improvements, enabling the company to upgrade and expand its Montrose operations, creating a state-of-the art manufacturing 'campus'.
This is an important boost for the region, which supports oil and gas activity globally. Subsea equipment designed and manufactured at this facility will support activity worldwide, from 10,000-ft water depths offshore West Africa and Australia, to the Gulf of Mexico and some of the world's most remote oilfields, such as the Barents Sea off the coast of Norway.
The new campus will benefit from advanced manufacturing tools and processes, designed to improve efficiency and productivity, including:
 Virtual reality tools to help technicians assemble equipment digitally and troubleshoot issues before construction begins;
 Automation to boost efficiency on activities like welding, testing and material-handling;
 Sensor-equipped machines that allow customers to view updates of manufacturing activities and equipment test results via an iPad in real-time. The sensors will also provide BHGE with critical data to improve operations and increase productivity;
 3D printers to help quickly develop fully-functional prototypes of components and highly complex structures, as well as actual production parts;
 Laser measuring devices, including trackers and scanners, allowing engineers and designers to make better, faster measurements of components and improve equipment build accuracy.
R&D activities will focus on bringing new technologies to market that reduce costs, enhance productivity and lower the carbon footprint of oil and gas operations in some of the world's most demanding offshore and onshore environments, including ultra-deep water, and high pressure-high temperature subsea wells.
The First Minister said: "Manufacturing, which employs more than 180,000 people in Scotland, is crucial to the success of our economy. Therefore I welcome the ambitious plans by BHGE to create a world-leading subsea centre of excellence in Montrose, supported by Scottish Government funding.
"This facility will bring new jobs and investment to Scotland. And as one of the most advanced centres of its type in the world, it will underline our international reputation for oil and gas innovation, developing the products and services the industry needs for the future."
Graham Gillies, Vice President-Subsea Production Systems & Services, BHGE, said: "This is very welcome news for the oil and gas industry, and for the UK manufacturing sector in particular. We are investing in our facilities globally and our collaborative approach with Scottish Enterprise is a strong example of how we are supporting a more sustainable future for this industry. Subsea technology is undoubtedly one of the UK's greatest export success stories, with industry-leading technology and solutions being designed and manufactured here, and installed across basins worldwide.
"The downturn has been immensely tough for all industry players and the world we operate in has fundamentally changed. We have to challenge ourselves to find more efficient, smarter ways to reduce cost and increase productivity, driving greater value for our customers. We also need to develop the skills of our existing workforce, and bring on the future generations to ensure we are well-positioned and ready to adopt the new ways of working demanded by a pioneering digital manufacturing environment."
Paul Lewis, managing director, Scottish Enterprise, added: "Scotland's oil and gas industry, and in-particular the subsea sector, is in the vanguard of global industrial development in this field and BHGE is at the forefront. We are pleased to be able to support this exciting project which is testament to BHGE's vision and ambition, and the company's skilled and talented workforce here in Scotland."
ENDS
About Baker Hughes, a GE company
Baker Hughes, a GE company (NYSE: BHGE) is the world's first and only fullstream provider of integrated oilfield products, services and digital solutions. We deploy minds and machines to enhance customer productivity, safety and environmental stewardship, while minimizing costs and risks at every step of the energy value chain. With operations in over 120 countries, we infuse over a century of experience with the spirit of a startup – inventing smarter ways to bring energy to the world. Visit us at BHGE.com.
Video animation of the new campus: https://youtu.be/4mtiS39UB78
Contacts
BHGE Media Relations:
Gavin Roberts
External Affairs Leader-Europe
gavin.roberts@bhge.com
+44 7775547365
Lynne Turnbull
External Affairs Specialist-Oilfield Equipment
lynne.turnbull@bhge.com
+44 7771996140
Contact Information
Aileen Hotchkiss